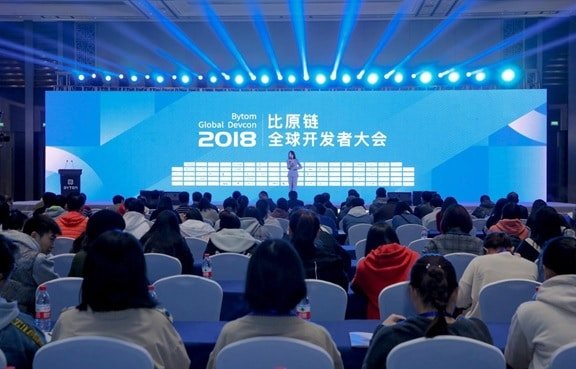 Bytom Global Devcon 2018 was successfully held at Hangzhou International Expo Center (G20 venue). About 300 audience attended this developer conference. More than 50 heavyweight speakers including founder of 8btc and Bytom Chang Jia, Bytom co-founder Duan Xinxing, former chief engineer of Shanghai stock exchange Bai Shuo, as well as hundreds of well-known blockchain projects have presented at the conference.
Hosted by Bytom, a decentralized network for multi-assets registration and flow with the aim of bridging the byte world and atomic world, the Bytom Global Dev Competition has drawn over 100 teams competing for the top 16 to take home 2 millions of BTM.
Duan Xinxing, founder of Bytom, expressed his appreciation for all the Bytom supporters in the opening remark and spoke highly of the blockchain spirit – the spirit of open source and openness. He stressed that Bytom, in this spirit, is seeking to serve the public and working out issues the current society is facing to finally bring prosperity both in economy and society.
On the DevCon, Bytom's CTO Lang Yu announced the official release of  Bytom's Sidechain "Vapor" and made it open source the same day. This sidechain will be connected to Bytom mainnet first and to Bitcoin mainnet and Ethereum mainnet in the future after gradual iteration.
In the finals of the Bytom Dev Competition, a selection of 16 out of 100 teams from China, the United States, Europe, South Korea presented their projects:
JoyPub – 

JoyPub is a decentralized social network group application that integrates PPk open protocol and multi chains. It can be reagarded as a decentralized Facebook or Twitter, which will help to push users to gradually reduce their dependence on traditional centralized social network platforms and to move to credible open social network which can independently grasp identity and data rights.

V-Story – 

V-Story is dedicated to creating an all-round social life service platform of next era. In this project, social behaviors from users will not be wasted which happens in many existing social network software, instead, it is able to generate benefits with the adoption of blockchain.

Bluechain – 

Bluechain is a blockchain-based system designed to manage industrial water and waste resources in an efficient and transparent way. It will connect with communities of government, industrial enterprises, natural environment and scientific research, to form a transparent and decentralized system to improve water pollution control via digitalizing environmental resources and migrate these data onto blockchain.

Block Contract – 

Block Contract is a trusted transaction solution based on blockchain technology, mainly providing customers with services of distributed identity, blockchain signature, evidence repository and smart contract.

HOS blockchain house rental – 

HOS platform is committed to creating a real and credible rental ecosystem and solving the painpoints in the housing rental market with the help of blockchain. The project will bring information of 800,000 properties onto blockchain.

EONE – 

EONE is a decentralized asset circulation platform based on Bytom, committed to data sharing of asset circulation as a middleware. The biggest advantage of this project that distinguishes it from the current centralized asset circulation platform, is "open source" and "free".

Aidipusi – 

It is a blockchain-based advertising distribution platform, mainly focusing on helping advertisers distribute ads and luring users by games and incentives. Differing from the current advertising model, users will actively choose ads themselves on this platform, and thus the distribution of advertising budget will be more accurate and effective.

Automatic agricultural disaster insurance based on blockchain – 

The project applies the idea of blockchain to manage the agricultural insurance operations. Using smart contract as the management terms, and storm index as the compensation basis, it's able to immediately pay insurance claims for insured crops damaged by heavy rain, realizing automatic and real-time payout based on rainstorm as object of insurance in the field of agricultural insurance.

Bytomswap – 

Bytomswap is decentralized digital asset trading platform based on Bytom. All kinds of digital assets can Bytomswap – exchange with "a basket of stable coins" backed by fiat currency and other assets. This project will make the circulation and interaction of varied digital assets simpler and more efficient.

JoyIOT – 

JoyIOT is an interactive prototype of Internet of Things (IOT) information based on Bytom, an example of the combination of blockchain and IOT. It takes the Bytom platform as the hub of IOT information storage and transmission, and releases the control information of the equipment and obtain the equipment production information via Bytom's transaction features.

VolunteerX – 

VolunteerX is a decentralized public welfare crowdfunding platform based on Bytom, which allows public funds to be regulated and the flow of donations be tracked with transparency and trust.

CRT asset circulation platform – 

CRT, short for "Copy Right Transaction", is a Dapp based on Bytom, committed to establishing a transparent, decentralized and innovative copyright circulation platform which pushes forward legit copy trade so that participants could get rid of the dilemma brought by piracy and share the benefits of copyright.

Fitness Energy – 

Fitness Energy is a project run on Bytom. It is convenient to manage asset and record sports step on it by using Bytom's smart contract. It is also possible to donate tokens and record the donation permanently on Bytom blockchain, which could be later used in WeChat sports.

Carblock – 

Carblock is a vehicle data trading platform based on Bytom. In the process of migrating vehicle data onchain, Carblock first come to settle the trust issue in data storage, and at the same time ensure privacy and security.

66Wallet – 

66Wallet is a smart wallet based on Bytom and can support multiple cryptocurrencies. The wallet is featured by absolute security of private key via storing users' private keys on an offline hardware and security measures combining fingerprint and gesture password.

Bytom DevTools – 

2100 is the Bytom DevTools. By building the full node of Bytom and parsing Bytom's block info, it can be stored into relational data according to the desired business logic and realized via Bytom's json-rpc call. Users can get the information they want through web access.
The Bytomswap team from Seattle ended up winning the first prize of 200,000 BTM tokens. By utilizing Bytom smart contract, Bytomswap facilitates the exchange between multiple crypto currencies and a "basket of stable coins" in a decentralized way.
This is Bytom's first global developer conference. With the goal of strengthening Bytom's development capability as well as enhancing a sustainable open-source ecosystem, this event will be held every year in the future.