1. How CME Bitcoin Future is going to function?
If a trader buys a bitcoin futures contract and hold it when it expires, nobody hands over the 5 bitcoins underlying the contract at the time of expiry. Instead of that, CME (NASDAQ:CME) computes a daily Bitcoin Reference Rate (BRR) which aggregates the trade flow of major bitcoin spot exchanges during a calculation window into the U.S. Dollar price of one bitcoin as of 4:00 p.m. London time, and if the Bitcoin Reference Rate at the expiry of underlying futures contract is higher than the BRR when he opened the contract, the investor get paid the difference (times 5), and vice versa.
The BRR is designed around the IOSCO Principles for Financial Benchmarks and Bitstamp, GDAX, itBit and Kraken are the constituent exchanges that currently contribute the pricing data for calculating the BRR.
This means that traders are "cash settled" and they get exposure to bitcoin without ever actually handling bitcoins.
2. Who is going to short Bitcoin futures?
Till now heavy weight institutional investors have no choice to short Bitcoin as they do it for other commodities and stock futures. I am not expecting any major participation from retail investors, but most of the short trades will be initiated by below two categories
Miners
Institutional Investors
Why miners: Every month, miners have to maintain their cash flows to pay their expenses including electricity and hardware costs. Unrealized profits always belong to market. If they believe that Bitcoin price is about to go down they could hedge their price by shorting a minimal percentage of holdings which can be covered later. Since miners have direct access to all "insider information", I believe they could use Bitcoin futures aggressively going forward.
Why Institutional investors: As we all know, many of the major institutional players like J.P. Morgan Chase & Company (NYSE:JPM) are not so happy about the recent price rise of Bitcoin. According to me, they would be equally looking for shorting opportunities in Bitcoin. Any negative news in the entire crypto space will be "optimistically exploited" by them which can lead to substantial price correction.
3. Bitcoin to Stabilize and Become More Popular
2017 is one of the best years in Bitcoin history. It has given almost 700% return from the start of the year, till date. CME is about to start Bitcoin Futures in second week of December which will make BTC more popular among heavy weight institutional investors. I am sure that December 2017 will be the month where Bitcoin registers its highest ever volume recorded in its history. Also we should not expect exorbitant returns like 500% or 700% return from current level on an yearly basis. Investors who bought below $3000 should not worry about any short term fluctuations and sit tight with a stop loss of $4500.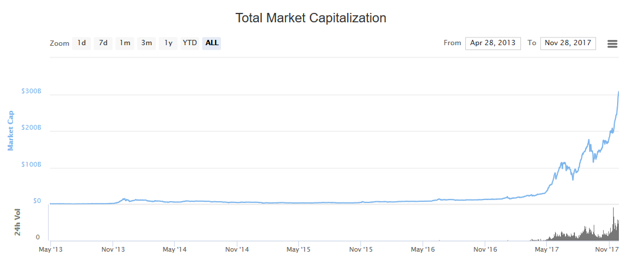 source: coinmarketcap
4. Nearly 120 Hedge Funds Focus Solely on Bitcoin
According to CNBC, and financial research firm Autonomous Next, the number of funds investing in digital assets like bitcoin has grown rapidly to 124 by October 2017. These crypto-funds have about $2.3 billion in total assets under management. Hedge fund managers are foreseeing heavy targets to BTC. For example hedge fund legend Novogratz has a target of $40,000 for BTC by the end of 2018.
There's a big wave of money coming, not just here but all around the world. Due to no supply response it is going to get exaggerated on the way up. There will be 50 percent corrections. It will get exaggerated on the way down as well.
~ Michael Novogratz, Hedge Fund Manager
Once CME Bitcoin future is operational these hedge funds will move to Bitcoin future market and we can expect the asset under management would grow higher in coming months.
Data shows that the number of crypto-funds and their assets under management is still negligible compared to the $3.15 trillion hedge fund industry. Let us wait and see how much more funds will flow into crypto market in the coming quarters.

Bitcoin Wallet count graph from blockchain.info
5. Speculation to Increase Due to Margin Availability
Option players will have to keep less initial margin for a buy or sell Bitcoin future. At the end of the day, settlement happens from account to account on the basis of daily movements. For example, money moves from "short contract" to "long contract" in case of price rise and money moves from "long contracts" to "short contracts" in case of price fall. The margin is yet to be confirmed by CME, but we can expect somewhere around 10% to 20%. This means that option players can buy a lot (5 Bitcoins) of Bitcoin future at $10,000 if the market price of 1 Bitcoin is $10,000 at an assumed margin of 20%. Speculation on both long side and short side will increase which would increase the volume and in turn reduce the volatility.
Conclusion
Along with CME, CBOE is also coming with Bitcoin futures, which would make the space even interesting. I am foreseeing more Governments will start looking at how to regulate the whole crypto trading. Any regulations would turn out to be a positive event for the crypto space. As long term investors, we should not get excited about the price movement and wait till 2020 to see how the story unfolds. More than money and graphs, we are following the story behind it – the decentralized, trans-national, one world currency.
Disclosure: I am/we are long BITCOIN.
I wrote this article myself, and it expresses my own opinions. I am not receiving compensation for it (other than from Seeking Alpha). I have no business relationship with any company whose stock is mentioned in this article.