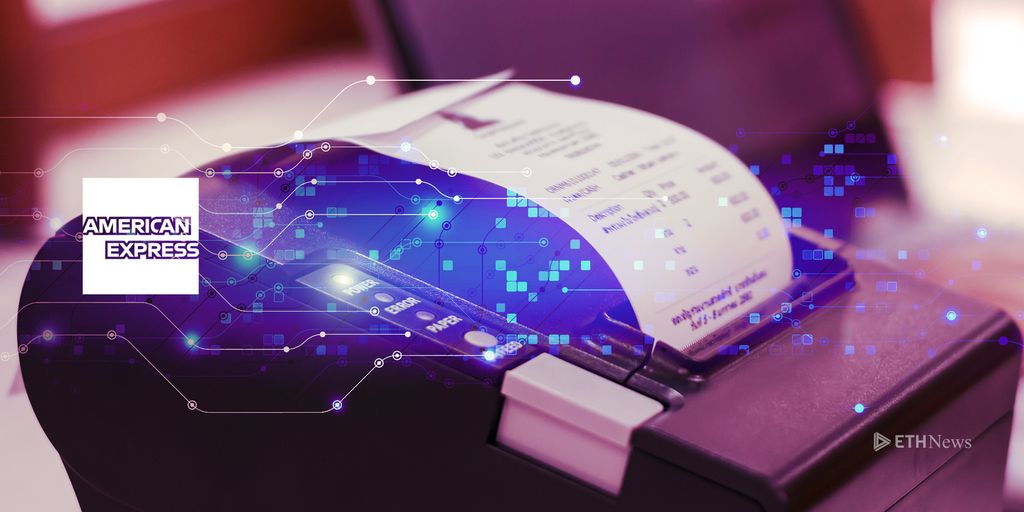 The credit card giant's newly published blockchain patent application proposes a different way to obtain proof of payment.
On Thursday, the US Patent and Trademark Office (USPTO) published a blockchain-related patent application that was filed in January 2017 by American Express Travel Related Services Company Inc., which is a travel-based subsidiary of the American Express Company. The patent calls for a "proof-of-payment" (PoP) system that encrypts payment information, such as the transaction amount and merchant identifier, through a public key added to an initial blockchain node.
Furthermore, the inventors describe a second blockchain node meant to maintain a copy of the first node's information. The data from the second node could then be fetched by a smart device (like a smartphone) and decrypted. This process would allow the smart device to detect the PoP. The patent states:
"A payment processing entity (e.g., a credit card network, bank, debit, bitcoin, rewards points, or ACH) provides evidence of a payment in a tamper-proof manner by writing the proof of payment to a blockchain. A smart device connected to the blockchain may detect the proof of payment and can extract relevant information. The information may be encrypted on the blockchain such that access is restricted to entities having the correct cryptographic keys. The information may be verified in presence of a customer as desired."
The patent also lists various use cases for the proposed PoP system. One such example is rental property:
"Using the systems and methods described herein, the proof-of-payment process for payees may be near-instant. For example, a buyer might identify a rental house on a web site, pay via the web site, and have the house unlocked automatically upon receiving the PoP in a matter of seconds."
According to the patent, the system would ultimately work because of each smart device's unique registration and identity.
AmEx has previously expressed interest in blockchain technology. In October 2017, the USPTO published a patent application filed by the credit card company that mentions the possibility of a blockchain-based database. In November 2017, AmEx partnered with Santander UK, a British bank, to test a cross-border business payment system using Ripple.
News of AmEx's patent application comes after one from Mastercard, published in late June, for an anonymous blockchain transaction system. It seems that certain financial services companies are taking the leap and looking to develop blockchain solutions, although major industry players remain circumspect about their associated cryptocurrencies.
Daniel Putney is a full-time writer for ETHNews. He received his bachelor's degree in English writing from the University of Nevada, Reno, where he also studied journalism and queer theory. In his free time, he writes poetry, plays the piano, and fangirls over fictional characters. He lives with his partner, three dogs, and two cats in the middle of nowhere, Nevada.
ETHNews is committed to its Editorial Policy
Like what you read? Follow us on Twitter @ETHNews_ to receive the latest American Express, credit card or other Ethereum technology news.