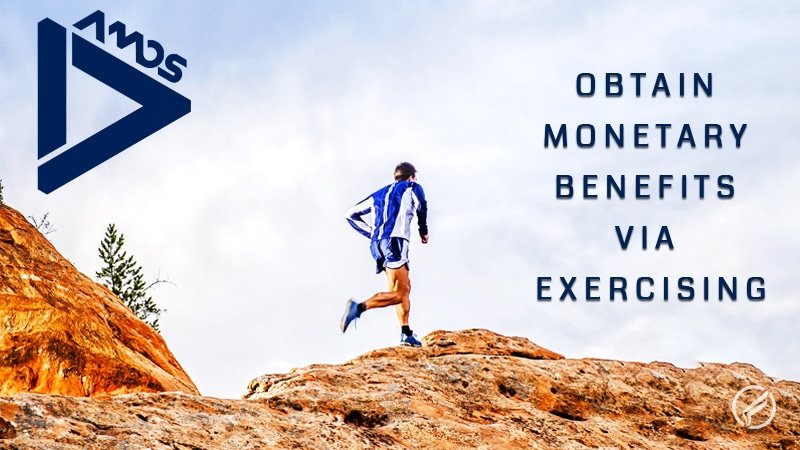 A study by the University of Cambridge revealed that 6,76,000 people die annually merely due to the lack of exercise. Furthermore, with the sedentary lifestyle that people live today, this number is only speculated to increase in the near future. It has become imperative to exercise daily for at least thirty minutes to maintain one's well-being. AMOS is an unconventional platform that has combined blockchain and fitness to develop a revolutionizing health-based platform. It is basically a sports mining system that rewards users for their contributions. By offering economic rewards, AMOS has introduced an interesting way to encourage people to exercise and stay fit. Moreover, it also offers users vital data that constantly help them improve their health condition.
The Components  of AMOS Ecosystem
The concept of AMOS rests on two imperative components that include:
AMOS Wearables
AMOS Smart Sport Watch monitors and calculates critical health aspects of the users wearing the watch and provide valuable information with respect to their health and fitness status. Moreover, based on the time and effort they spend on exercise and physical activities, the platform incentivizes users via token feedback. All the data gathered by the Smart Sport Watch is stored within the AMOS app and users can access the data anytime to evaluate the results. The accumulated data also help the system understand the unique fitness need of each user and offer tailored training programs. Features of the Smart Sport Watch:
Sport Incentive Reward
Rewards in exchange of gathered mileage and calorie consumption
Releasing quests for rewards
Sport Community
Chat and Network
Create teams to complement quests
App Health Management
Monitoring sport condition
Physical improvement plan
Sport Intelligence Analysis
Giving feedback with sport data
AI Algorithm
Health Info
Improvement plans
Smart Gym
AMOS envision to bring the concept of smart fitness offline as well. To accomplish this objective, the platform has teamed up with Strength Master Group to built smart gyms across the globe. By implementing its expertise in R&D (Research and Development) the platform intends to build smart equipment that will be integrated with technologies including, AI, machine learning and big data. The incorporation of these technologies will allow AMOS to acquire accurate health and sport related data for analysis. The team also plans to offer users AI coaches that will impart valuable training to users on how to work with particular equipment and adjust postures to avoid chances of physical injuries. Features of Smart Gym:
Reservation
Reserve system for equipment
Notifications
Population control
Autonomous Management
Pay on mobile
Door lock by the app
Data Gathering
User verification
Equipment data
Transformation data
Action track
Smart Environment
Temperature sensors
Oxygen level sensors
Customized equipment
Data Analysis
Analyze collected data
Offer goals for customers correct training postures
AI Analysis
A majority of sports equipment or vehicles are able to collect their users' health index, physical and exercise-related data via sensors, but fails to analyze gathered information. Along providing vital data, AMOS also facilitate analysis via AI and machine learning. This allows users to monitor their progress and take corrective measures in order to strengthen their fitness and improve future results.
AMOS Token Sale
AMOS has issued total 50 Million tokens out of which 20 Million was allocated to the crowdsale. The presale began from October 10th, 2018 and ended on November 30th, 2018. The public sale was launched on December 1st, 2018 and will last till February 2018. The token was distributed in the following manner:
   Presale – 7%
   Public sale – 30%
   Incentive tokens – 30%
   Founding team – 11%
   Market Development Application – 11%
   Technology Platform – 11%
AMOS – A Unique Exercise Mining Platform
AMOS is a exercising mining platform based on blockchain technology that encourages people to stay fit and earn rewards in return. Moreover, it integrates AI, machine learning, and big data technologies to offer accurate and insightful data that further enables users to constantly improve their health and fitness conditions.