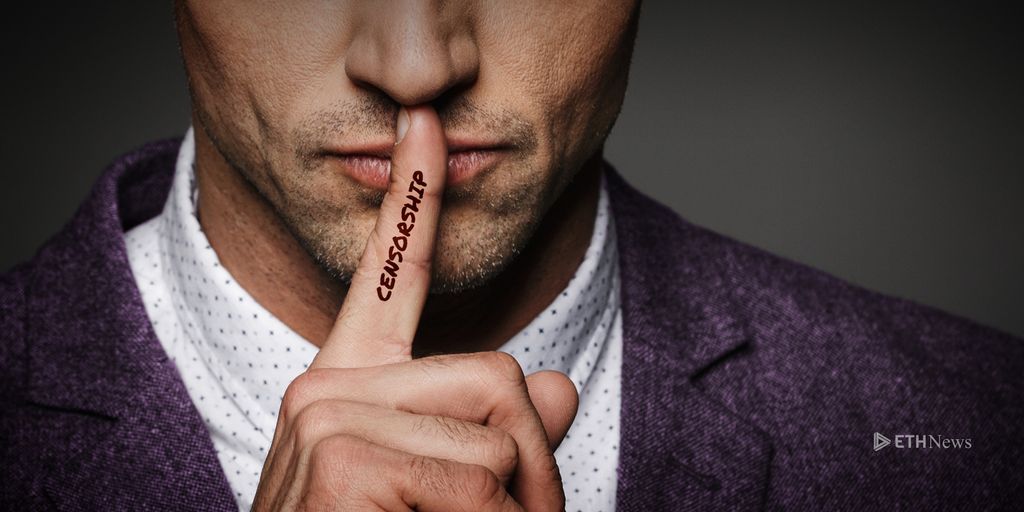 After Medium began censoring certain cryptocurrency posts, decentralization advocate Aragon decided to move to a new platform. Will others follow?
You probably didn't notice.
Sometime between March and June, Medium, a publishing platform ubiquitous in the blockchain sphere, updated a page called "Cryptocurrencies on Medium." (ETHNews reached out to Medium for this article but did not receive a reply.)
In the post, the publisher sets out rules "for companies announcing ICOs, coins or tokens." A quick reading of the guidelines suggests that Medium wanted to curtail fraud. Article posters, for instance, were told they must verify their email address and provide contact information on their website.
In the updated terms, there's also a list of things users may not do:
"You may not:
Use an anonymous email address which is not linked to your project domain. (e.g., gmail, protonmail, mail.ru, etc.)
Advertise or participate in bounty campaigns, pump and dumps, reviewing for reward, or other forms of brigading or inauthentic activity.
Include naked links or shortened URLs in your posts. 
Use or re-use content templates with slight modifications across multiple posts and accounts.
Include multiple wallet addresses (or similar) in a post."
Note: Somewhat hypocritically, Medium has its own bug bounty program.
Not everyone is cool with those restrictions. (And it's not just spammers and ICO con artists.) In a blog post Wednesday, blockchain project Aragon, which just announced it is creating a "decentralized altruistic community" with Giveth, declares why it takes umbrage:
"What this means, for example, is that as we move closer to the Mainnet launch of the Aragon Core platform and we want to write a blog post about our live bug bounties, Medium would censor that post with the threat of suspending our account."
It continues:
"We are creating a platform for thousands of decentralized organizations to exist and in some of our posts we might want to mention multiple DAOs by their addresses for people to view or join them. Soon addresses could even be ENS names, but they are still wallet addresses, and that would be against the Medium policy."
Aragon isn't the first to take issue with these limitations. Status says it had a blog post suspended in June after it announced its bug bounty program. In a June 15 post (on, yup, Medium) explaining the incident, the company stated that although it shared the platform's concerns about ICO-related fraud, "We believe the forces of censorship and centralization often are closely bound and we worry when we see the power to freely express ourselves so arbitrarily limited."
What Medium has done is undoubtedly censorship. But it also has the right to do it. It doesn't have to let everyone use its megaphone.
This issue comes in the midst of a national conversation about censorship. Just this week, Apple, Facebook, and YouTube removed Alex Jones and "InfoWars" from their platforms. Twitter, as of press, remains a defiant holdout – although Jack Dorsey did imply that it may follow suit in the future if its terms of service are violated. With platforms, there are always rules.
Unfortunately, big conversations tend to distort big issues. Many feel that Jones' First Amendment rights are being violated. They are not. As David French, a National Review writer and constitutional law scholar, wrote in The New York Times this week: "There is no First Amendment violation when a private company chooses to boot anyone off a private platform."
To their credit, Aragon and Status have not argued as such. They just wish Medium would let them publish freely.
For its part, Aragon has said it will take its posts to Ghost, a competing publishing platform with a hands-off approach to content oversight. The question, though, is whether anyone will follow. Part of what makes Medium attractive for companies is its high traffic (in the top 300 worldwide) and recommended posts that allow content to be seen. Ghost can't boast anywhere near the same exposure. Which may be why Status is still publishing some of its content on Medium, even after having launched its own blogging portal on June 4 (prior to its run-in with Medium's crypto policy).
Regardless of what other players do, this may be a war Aragon has to wage, given its mission. As Tatu Kärki, an Aragon core contributor told ETHNews:
"The Aragon Project is built on the premise of creating a more free and fair world using decentralized, open-source technologies … Most of us in the Ethereum space are working hard to build systems that allow people to interact with each other freely, without requiring putting all their eggs in one basket just to have it taken away from them."
That's something that Status understands as well. Co-founder Jarrad Hope told ETHNews:
"On a high level, we're trying to regain our independence from centralized platform plays. This makes a lot of sense when we realize that a centralized platform can pull the rug from beneath our feet at any moment (and it's hard to appreciate until that happens to you) and we're working toward the transition to a decentralized publishing platform, which guarantees our content will be around for at least multi-decades."
But moving to Ghost, he said, would just be "a transitionary step" – its open-source status would mean "when we go fully decentralized we can migrate our content with ease."
If that's the case, it seems almost preordained that cryptocurrency projects will move away from Medium. And then from Ghost. And from whatever comes after that. With platforms, there are always rules.
Jeff Benson is Managing Editor of ETHNews. He's worked as a writer and editor everywhere from Sudan to Reno. He holds a bachelor's in politics from Willamette University and a master's in nationalism studies from University of Edinburgh. When he's not in the newsroom, he trots the globe and writes about it. He holds a bit of value in ETH.
ETHNews is committed to its Editorial Policy
Like what you read? Follow us on Twitter @ETHNews_ to receive the latest Aragon, Medium or other Ethereum ecosystem news.