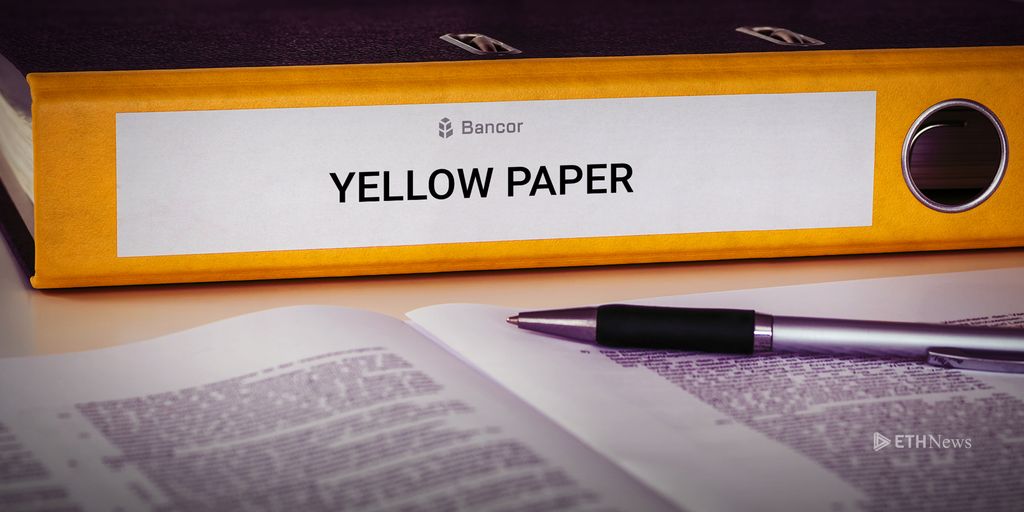 The cryptocurrency protocol and network now has a yellow paper under its belt, but the publication's timing points to a larger debate about decentralization.
Bancor was hacked last month. Roughly $23.5 million in Ether, Pundi X tokens, and Bancor Network tokens (BNT) was stolen, though the Bancor team was able to freeze the compromised wallet and prevent the thief from making off with the BNT, worth about $10 million.
The event led to a debate centered around decentralization – its purported pros, of course, but also the nature of decentralization itself and whether centralized systems have any place in the blockchain space. One major point of contention was Bancor's ability to intervene and stop the repossession of BNT. Litecoin creator Charlie Lee and Lightning Labs co-founder Elizabeth Stark were among the critics of Bancor's approach, calling into question the decentralized nature of the network and protocol.
Perhaps to help clear the air and diminish confusion, Bancor recently released a yellow paper further explaining its technology and vision. The paper maintains that the network is decentralized and "provides automated and continuous liquidity for over 100 ERC-20 Tokens." In further describing such decentralization, the paper notes:
"The Bancor Network uses a decentralized architecture, meaning that no user or Smart Token reserve funds are stored within the network, and users and Smart Token creators are always able to access their tokens through third-party wallets such as MEW [MyEtherWallet], using their own keys and passphrases, which Bancor also does not store."
The paper then delves deep into the process of token conversions, liquidity, and the concept of Bancor's Smart Token (which is a cryptocurrency that "can hold balances of one or more tokens within its smart contract as connected 'reserves'"), among other topics.
Additionally, part of the team's vision is to develop cross-chain functionality so that it can expand its network across other blockchain ecosystems. Bancor also plans to list more tokens, both within and outside Ethereum's network.
Although the information presented in the yellow paper is generally valuable in that it attempts to improve individuals' understanding of the Bancor network and protocol, the paper's key insight is regarding the team's approach to decentralization. Folks like Lee and Stark may not see Bancor's decentralized nature, but the Bancor team holds its ground.
Bancor ultimately calls its network decentralized in a certain way – no funds are stored on it, anyone can add ERC-20 tokens, and users always have access to their assets. This choice of words resists the assumption that the system operates under decentralized maximalism because the larger network, according to Bancor, is decentralized.
Galia Benartzi, co-founder of Bancor, spoke to this sentiment and the spectrum of decentralization in a July 21 interview on the Keiser Report:
"Decentralization is something that you look at on a spectrum and on many, many different parameters. Having some kind of centralized design mechanism does not make a network centralized, especially when these mechanisms are transparent, are openly discussed, [and] are very clearly explained how and if they will be used."
Eyal Hertzog, product architect at Bancor, also published a Medium article following this vein of liminality, or in-betweenness, that patterns the concept of decentralization. In the post, he essentially argues that, as Benartzi described, networks can remain decentralized if emergency control functions (such as the ability to freeze a wallet in the case of the Bancor hack) are fully transparent and there is the ability to easily fork networks for those who may disagree with their execution.
Bancor's yellow paper, then, seems like the cherry on top of the network and protocol's endeavors to recast itself as a legitimate decentralized technology. The specificity of the paper's language and its nuanced approach may not sit well with decentralization maximalists, but the Bancor team does not claim to represent that, nor does it even agree with that extreme.
Still, the concerns of others within the cryptospace are valid, as the promise of decentralization is front of mind for many blockchain enthusiasts. In an environment of automation and trustlessness, a downfall manifested by something such as the Bancor hack is serious business. Decentralized technology is purportedly the future, but how can that future be truly decentralized with holes in the system?
In this sense, the debate falls onto the definition of decentralization. Understanding decentralization through both the lenses of maximalism and liminality is important to the discussion, but the debate will never be resolved if the idea and eventual goals of decentralized technology are not agreed upon. Individuals in the space may as well be speaking past one another.
Perhaps the conundrum that is the decentralization debate is aptly summarized by the title of Hertzog's Medium article: "Decentralization is a journey, not a destination."
Daniel Putney is a full-time writer for ETHNews. He received his bachelor's degree in English writing from the University of Nevada, Reno, where he also studied journalism and queer theory. In his free time, he writes poetry, plays the piano, and fangirls over fictional characters. He lives with his partner, three dogs, and two cats in the middle of nowhere, Nevada.
ETHNews is committed to its Editorial Policy
Like what you read? Follow us on Twitter @ETHNews_ to receive the latest Bancor, decentralization or other Ethereum technology news.