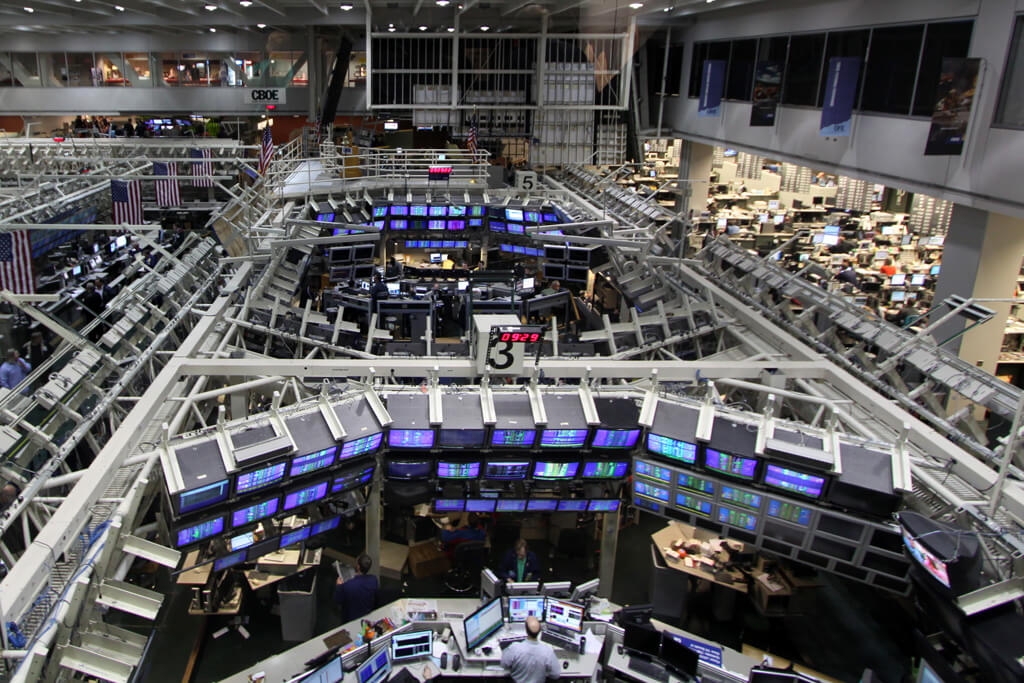 Bitcoin market is again flooded with huge investor orders as the CBOE's futures contracts go live.
The past weekend has been quite a bumpy ride again for Bitcoin, as a lot of volatility was seen yet again specifically before the Chicago Board Options Exchange's (CBOE) Bitcoin futures contracts went live on Sunday evening December 10.
On Saturday, the price of the most valued cryptocurrency slipped by more than 15% making a 24-hour intraday low of $13,674.90, according to CoinMarketCap.
This fall further intensified and continued on the next day of Sunday, and just hours before the launch of the much-awaited Bitcoin Futures contracts by CBOE exchange.
However, as the launch time was approaching closer, Bitcoin again managed to regain its lost ground and was seen trading on a positive momentum. Soon as the Bitcoin futures launched at 6 pm EST, December 10, as per the scheduled time there was a huge rush and traffic of orders and the CBOE website crashed in a few moments as the contracts went live.
The CBOE Exchange soon took it to its official Twitter handle to announce that the website downtime was the result of the massive influx of traffic.
Due to heavy traffic on our website, visitors to https://t.co/jb3O722hoo may find that it is performing slower than usual and may at times be temporarily unavailable. All trading systems are operating normally.

— Cboe (@CBOE) December 10, 2017
Ever since the launch of Bitcoin futures contracts a positive wave has swept the investors as Bitcoin continued to rally above $17,000 following huge orders. Currently, at the press time, Bitcoin is trading at $16,699.30 with a 22% increase over its 24-hour intraday low.
So far the data suggests that buyers are dominating the charts at the moment and the orders are majorly centered around the first expiry of the futures contracts scheduled on January 17, 2018. As per the current data of CNBC, 2308 contracts have been sold as of 0:25:07 AM EST, December 11.
Post-launch, the scenario shows that Bitcoin futures contracts have received quite a positive response till now and the momentum in the price can continue further. CME Group too will launch the futures contracts on next Monday on December 18, 2017.
Several executives from CBOE say that the launch of futures contracts will give a further boost to the launch of different products and services around Bitcoin with a possible shift towards notes and exchange-traded funds.
With the increase in global acceptance of Bitcoin and its further penetration into the mainstream economy, analysts have started predicting that Bitcoin's rise from here onwards is certain. Managing partner at Kenectic Capital, Jehan Chu, said Bitcoin could well possibly reach $50,000 by the end of 2018.
During an interview with Bloomberg TV, Jehan said: "I think we're going to see $50,000 by the end of 2018 for bitcoin. I think with the one-two punch with the CBOE and CME I think the entire world is on watch now for what is to come and what the real liquidity that can enter this market will actually look like."
With China withdrawing itself from the cryptocurrency trading market, Jehan believes that PBoC is making serious efforts to bring its own state-owned cryptocurrency in 2018. Jehan said: "I think in 2018 we will see the first state-backed digital currency in one form or another and I bet you it will come from Asia."
Michael Novogratz, a famous investor and creator of $500 million crypto-hedge-fund, has also predicted that Bitcoin can touch $40,000 by the end of 2018.