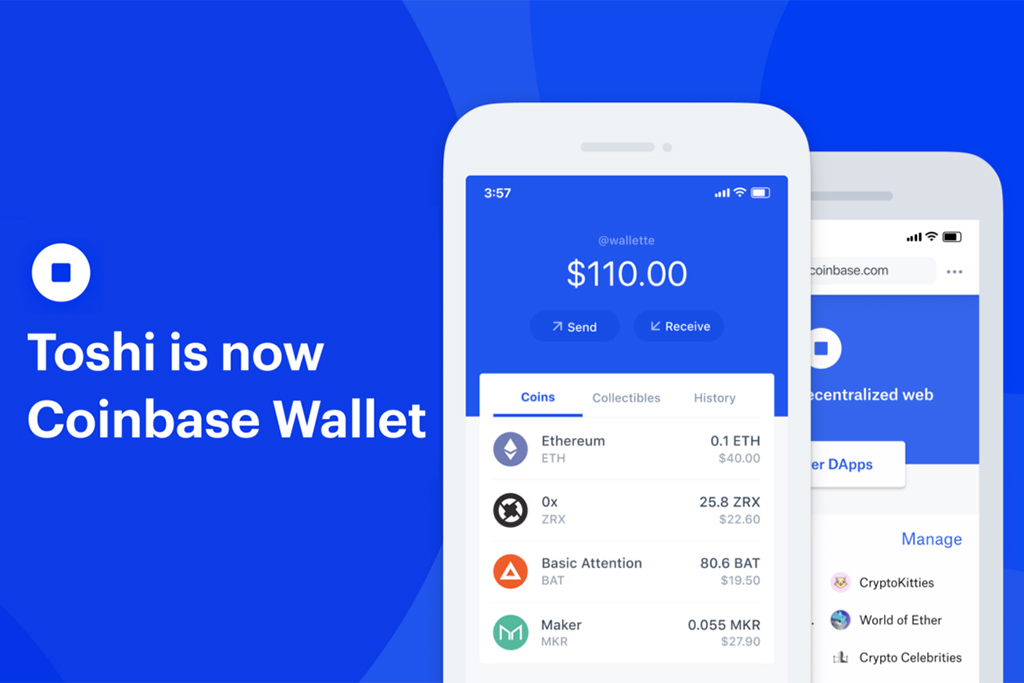 One of the major cryptocurrency exchanges Coinbase has announced the re-branding of their Toshi crypto wallet. Now it will be known as Coinbase Wallet.
The Ethereum wallet called Toshi that was presented by Coinbase team a little bit more a year ago now will function under the name of Coinbase Wallet. The company claims that this strategic rebranding will not only bring a new name but also open new opportunities for the product that is aimed to lead the future of the decentralized web and to make it closer to a wide audience.
When the wallet was launched, it was presented as the first mobile dapp browser in the world. A little bit later, it became the first wallet with crypto collectibles. The main goal that had the developers of the wallet was to facilitate managing crypto and accessing the decentralized web and to make this just as simple as downloading an app on a smartphone.
The team also was doing its best to build for their product a reputation of the most reliable wallet. Bearing this idea in mind, Toshi offered its clients best-in-class secure storage. Security will remain one of the main priorities for the Coinbase Wallet team: the user's private keys would be securely kept via the device's Secure Enclave and biometric authentication technology.
Users of Coinbase Wallet will have an opportunity to manage Ethereum (ETH) and all ERC-20 tokens. Nevertheless, some plans to add other coins have been already revealed. It is said that Bitcoin (BTC), Bitcoin Cash (BCH), and Litecoin (LTC) can join the list of offered coins quite soon.
The company will offer its clients an access to major decentralized exchanges and relayers. As a result, they will have a possibility to buy and trade tokens free of charge without any restrictions according to geographical principle.
Moreover, there will be an access to a diverse range of third-party DApps. Some of them will enable users to earn cryptocurrency. To do it, they will be asked to fulfill different task, render some services or answer questions of different surveys.
Though the date of an official release still hasn't been announced, it is already known that users of the Toshi app have nothing to worry about. Their app will upgrade to Coinbase Wallet automatically.
In their official blog post the Coinbase team commented their new product the following way:
"We view our job at Coinbase as building the easy to use, trusted products that move the world closer to an open financial system. Coinbase Wallet is one part of our effort to accelerate the adoption of crypto and dapps around the world."
Nevertheless, that's not all about the news from Coinbase. Just recently it has become known that Coinbase won a patent that is aimed at protecting a technology to increase a security level of Bitcoin payments for customers.
The team of Coinbase has found the way to create a payment portal that could let users pay in Bitcoins directly from their digital wallet.