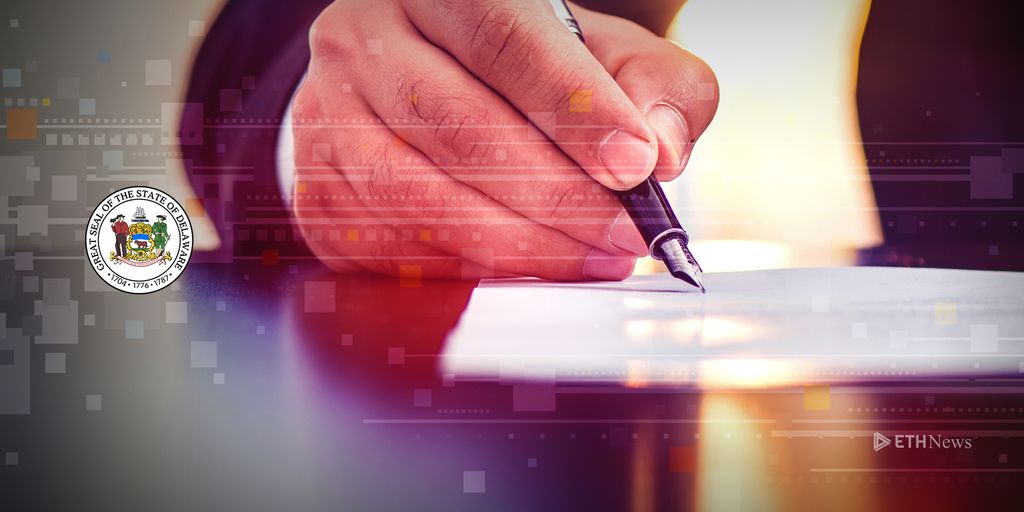 Earlier this week, Governor John Carney signed into law three bills that change the state's corporate and trust laws to better accommodate blockchain technology.
With more than half of all Fortune 500 companies incorporated in Delaware, the state prides itself on a statutory framework attractive to businesses. The state doesn't want to see its dominant position eroded by a failure to adapt its laws to new technologies. To that end, this week, Delaware Governor John Carney signed into law three bills that specifically address the legal status of blockchain records.
Carney signed SB182 and SB183 (earlier reported on by ETHNews), which amend the limited partnership and LLC codes, respectively, and a third bill, SB194, which amends the state's statutory trust laws. Put simply, all three laws provide clarity regarding the use of blockchains as legal instruments. While the technology was not illegal before this, there was no guarantee that records created and/or stored on a blockchain would be considered legally binding in a court of law. These laws are an attempt to remove that uncertainty.
SB182 and SB183 add language, nearly identical, stating that they provide "specific statutory authority…to use networks of electronic databases (examples of which are described currently as 'distributed ledgers' or a 'blockchain') for the creation and maintenance of … records and for certain 'electronic transmissions.'"
Unlike those two acts, SB194 does not apply to business entities; it updates the Delaware Statutory Trust Act. However, like SB182 and SB183, it is also part of an effort to maintain the state's economic advantages by adapting to, and adopting, blockchain technology. The bill's summary claims the changes it makes to the trust law are intended "to keep it current and to maintain its national preeminence."
SB194 clarifies that ownership of trusts can be proven by electronic means. It also states that "the vote of the trustees may be provided by electronic transmission, including by use of electronic networks or databases, including distributed electronic networks or databases."
The issue of EDCCs, however, will have to be dealt with in later legislation – the phrase "smart contract" is notably absent from all of the bills. 
Tim Prentiss is a writer and editor for ETHNews. He has a master's degree in journalism from the University of Nevada, Reno. He lives in Reno with his daughter. In his spare time he writes songs and disassembles perfectly good electronic devices.
ETHNews is committed to its Editorial Policy
Like what you read? Follow us on Twitter @ETHNews_ to receive the latest Delaware, SB182 or other Ethereum law and legislation news.