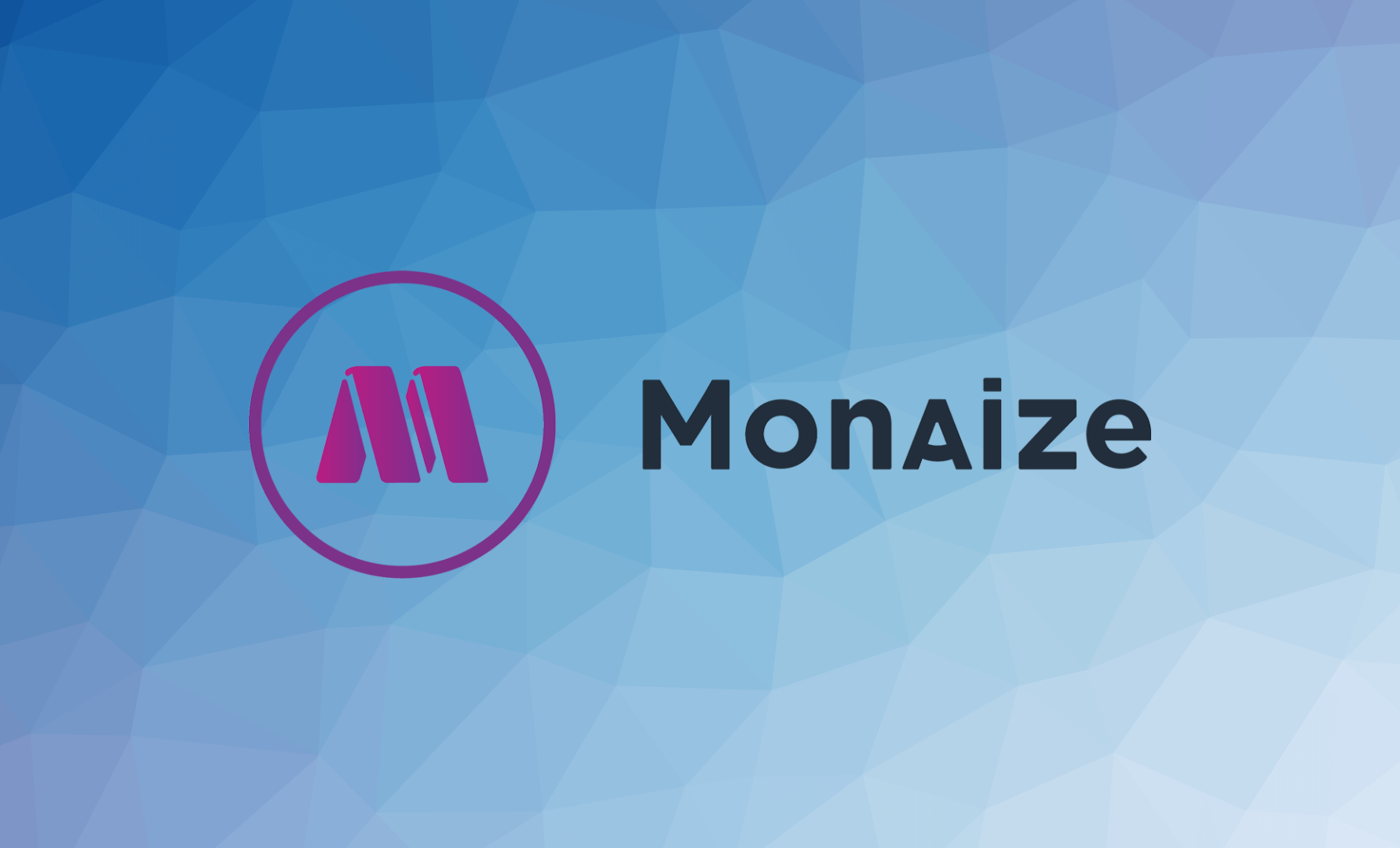 Monaize ICO
Monaize is an e-banking platform that provides a mobile-first current account and Business Mastercard for freelancers and small businesses. The platform has an extensive range of third party services integrated in to it including professional insurance, payment solutions, cryptocurrency wallets, blockchain-based lending and factoring; empowering entrepreneurs to focus on their business.
Monaize

ICO Status: Coming

15 d : 9 h : 46 m : 36 s

Concept:

In partnership with Komodo Platform, an open source project that thrives on solving existing socio-economical problems through decentralised technologies, our joint vision is to bridge banking and blockchain. Monaize Token holders are rewarded through reward distribution API in the form of KMD (Komodo Coin) based on the number of monthly sign ups to Monaize Business Account. Blockchain is yet to make significant breakthroughs in finance and grow beyond the early-adopter phase due to regulatory and technical limitations. Monaize, a leading banking platform that functions within the legacy banking infrastructure and has formed a deep partnership with Komodo Platform in order to bridge the worlds of banking and blockchain, and help cryptocurrencies achieve mainstream adoption. Monaize already has a working product which is in final beta testing and will be launched on the French and UK markets in the final quarter of 2017. An aggressive international expansion strategy will take Monaize to Germany in mid 2018 before launching the US, Asia and Africa in the coming years. Monaize has huge plans to push the boundaries in blockchain innovation by setting up a blockchain research and development team to explore the different ways in which blockchain technology can be integrated into its services including global payments, KYC on the blockchain, decentralised storage and in app crypto currency wallets to encourage adoption by small businesses and freelancers. This will be the first ever dICO (decentralised Initial Coin Offering) via Atomic Cross Chain Coin Swap.

Whitepaper:
Get more information

Venture

Raised Capital:
Funding to date has been private + a small 1% pre-ICO with core members of Komodo Platform.

Venture Round:
Round 1

Price:
1 BTC = 15,000 MNZ. There are also early bird bonus schemes available including an exclusive first 6 hours during which Komodo Coin users get a 20% bonus.

ICO token Distribution:

40% Product Development, 25% Marketing and Customer Acquisition, 15% Blockchain R&D, 15% CAPEX, 5% Legal

Mining

Supply:

The asset chain contains 257,142,857 MNZ tokens. This is the maximum amount that could possibly be needed taking into account maximum raise and bonuses. Tokens that are not allocated following sale will be burned.

Usage:

Loyalty Reward Distribution Based on Monaize Business User Growth. An automatic Loyalty Reward Distribution API has been developed by Komodo Platform to allow simple yet efficient decentralised reward distribution through the MNZ blockchain. This API crawls through the blockchain and creates a list with all MNZ public keys and their current holdings. The loyalty reward distribution API takes a predefined amount in Komodo Coin and distributes it accordingly (based on the percentage of tokens held) to public key holders. The amount distributed is calculated taking into account the year, the price of Komodo and the number of new users signed up in the given month.

Competitors

Monaize is often compared to N26, Revolut and other smaller players like Tide.co (UK) and Qonto (France). These players function more like a bank. Whereas Monaize functions as an open technology platform into which different financial service providers plug-in, in order to serve business users.

Initial Coin Offering

ICO Launch:
10th of November 2017

ICO Finish:
9th of December 2017

ICO Tradable on Exchanges since:
still not tradable

Platform: Komodo Platform

Offices/Locations

Singapore/France/UK
Team behind Monaize
---
Vincent Rajoo
CEO
1994: Co-founded first start-up, Megadrive Inc. (USA) and raised 1.8M$. 1999: Sold easytransfer.com, an airport shuttle services to a large UK group. 2001: Sold yellowsolutions.com, a parcel-tracking software solution to Yellow Freight Inc. (USA) 2004: Helped to raise 1.5M€ for Siriona SA (availpro.com), a hotel booking engine thru Siparex as a shareholder & CMO Has been investing and playing key roles in multiple projects since 2006. Vincent is a visionary – capable of constantly pushing the thought process in terms of how Monaize can do things differently. He is behind the "collaborative, innovative, ethical banking" slogan, a message he drives home constantly. He also has a unique ability to quickly identify the perfect people and opportunities to work with, something which is paramount in Fintech.
Robert Miller
Blockchain Innovation Strategist and Head of UK Market.
Robert has been working in sales and consulting for technology companies, from multinationals to small startups since 2011. He first took an interest in Fintech, and notably Blockchain technology, in mid-2014 after purchasing his first bitcoin whilst working for a well-known start up in Copenhagen. His fascination with the technology, and the implications that he believes it will have on all aspects of our everyday lives, has not stopped growing since. Robert has a deep understanding of Blockchain technology and will happily discuss not only the technical aspect but also the economical, political and business ramifications. He is passionate about the subject and will continue to work with stakeholders and the Monaize Token holder community in the coming years to help Blockchain and cryptocurrencies achieve mainstream adoption through Monaize and the partnership with Komodo Platform.
Guillaume Derivery
CTO
Guillaume graduated from both EPITECH (one of France's top programming schools) and CSUSM (California State University of San Marcos) majoring in computer science & software engineering. He spent the last few years building platforms (as services) as a software architect & lead developer, from the sports industry to Fintech through gaming. Guillaume acquired his knowledge and sharpened his coding skills through different successful global projects involving end to end solutions. That's how he has been involved in major events to build the future of second screen services e.g Fox Sports One App (Australia), UEFA 2016 European Championship, FIFA 2014 football world cup mobile Apps… For Guillaume, software architecture comes with elegant solutions devoted to innovation. Having breakfast rhymes with a few lines of C after coffee, followed by its progeny…C++ Obj-c C#. Javascript for lunch, Java @ tea time, but never CSS before going to bed, it gives him some nightmares. He definitely lives to code, or maybe he codes to live. However, as a recent hobby he is doing some permaculture that brings human beings closer to understanding nature mechanisms which is way more efficient than any human process. Indeed, nature might be the best carbage collector conception!
---
Visit monaize.com for more info.
Social stats of Monaize
---