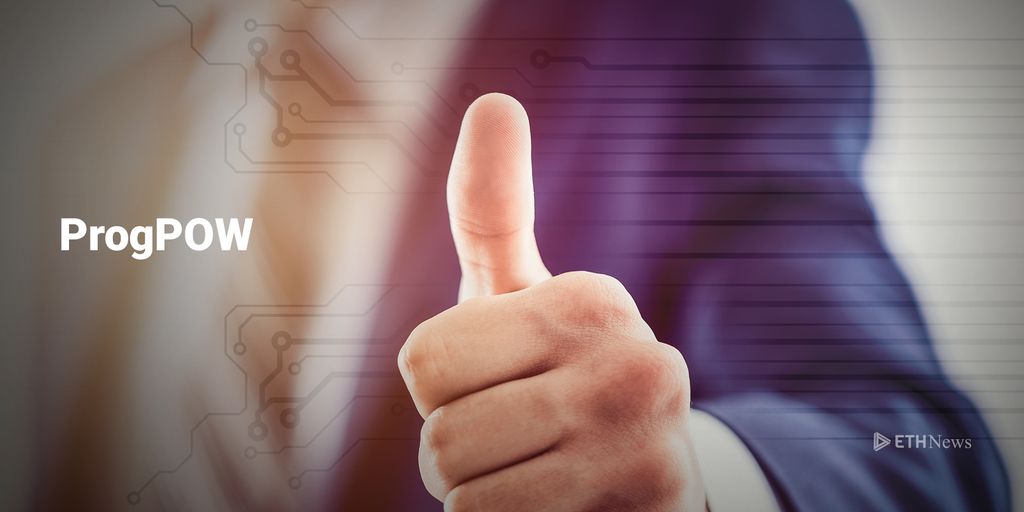 September 20, 2018 10:00 PM
After speaking with the blockchain space's own OhGodAGirl, the Go Ethereum core developer now supports the adoption of a programmatic proof-of-work algorithm for Ethereum.
Although initially skeptical, Nick Johnson of the Ethereum Name Service and Go Ethereum recently tweeted his support for programmatic proof-of-work (ProgPoW), an "algorithm designed to close the efficency [sic] gap available to specialized ASICs." He mentioned having a "very productive chat" with prominent ProgPoW backer Kristy-Leigh Minehan, known throughout the internet and the blockchain community as OhGodAGirl, which made him feel "fairly convinced" that the algorithm is necessary for the Ethereum network.
Johnson noted that he believes ProgPoW "achieves its goal of being resistant to performance gains on fixed function hardware" like ASIC mining rigs, which generally have an advantage over GPU machines. He continued, "The operations selected are designed to use GPU hardware that's underutilised by ethash [Ethereum's PoW algorithm] presently," therefore "eliminating efficiency gains realised by omitting them from ASICs."
Matthew Di Ferrante of the Ethereum Foundation joined the Twitter discourse, asking whether the benefits of implementing ProgPoW outweighed the potential risks. Johnson responded, "ProgPoW is a fairly conservative change to ethash, which reduces implementation risk."
Johnson's change of heart, though, is informed by information privately shared with him, which is "not [his] metrics to share, unfortunately." On a related reddit thread, Minehan voiced her support for ProgPoW regardless of this confidential data:
"The metrics shown to Nick don't need to be detailed to the public – I'd rather ProgPoW stand on its own two feet because of its technically sound implementation. If it can't do that, there's no reason for it to be adopted."
In addition to ProgPoW implementation itself, another facet of the debate is when it would take effect. The two primary camps are (1) implementation during Istanbul, the hard fork that would occur after Constantinople, and (2) implementation beforehand (whether that be during Constantinople or some other time between the two hard forks).
One redditor said "that by the time Istanbul roles [sic] around, a lot of the network will be owned by ASICs which will introduce a host of new problems. Hope they can include it in constantinople." Various commenters on the thread seemed to agree with this sentiment, some even saying they would "support a short delay in the upcoming fork" if that meant including ProgPoW with Constantinople.
At any rate, another key stakeholder in the Ethereum community agrees that ProgPoW is a good move for the network.
Daniel Putney is a full-time writer for ETHNews. He received his bachelor's degree in English writing from the University of Nevada, Reno, where he also studied journalism and queer theory. In his free time, he writes poetry, plays the piano, and fangirls over fictional characters. He lives with his partner, three dogs, and two cats in the middle of nowhere, Nevada.
ETHNews is committed to its Editorial Policy
Like what you read? Follow us on Twitter @ETHNews_ to receive the latest Nick Johnson, ProgPoW or other Ethereum ecosystem news.