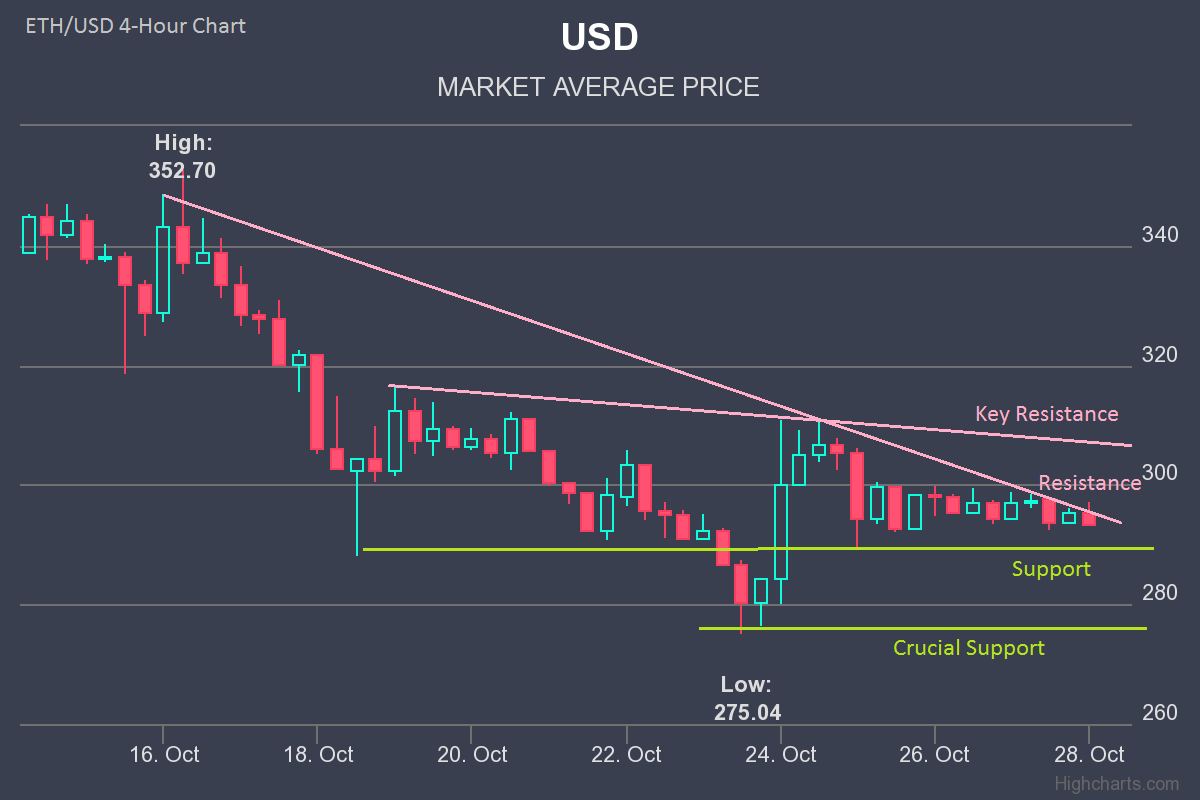 Ether Technical Analysis
Ether had a quiet day against the US Dollar and bitcoin. The overall trend is still bullish, but ETH/USD looks to surpass $295.00 and $300.00 for further upsides.
Technically, the hourly chart indicators are pointing toward an extended range pattern.
What's Major Hurdle for Ether Price?
There was no major move during the past few days in ETH/USD, but the outlook was not negative as the pair stayed above a few important support levels such as $290.00 and $275.00.
Let's start with the 4-hour chart of ETH/USD, which points to a major upside hurdle near $295.00. It seems like a major bearish trendline with a current resistance near $295.00 acting as a barrier for further upsides.
Earlier, the pair was rejected from the $275.00 support region and recovered well above the $300.00 level. However, the upside move was capped by the 50 percent Fibonacci retracement level of the last leg down from the $352.70 high to $275.04 low.
After the failure to settle above $310.00-311.00, the pair started a brief consolidation with slight bearish bias. There is a range pattern forming with support above $290.00 and resistance close to $300.00.
On the upside, the first bearish trendline on the same chart can be considered as an initial breakout point at $295.00. Above the mentioned $295.00, the pair faces a key resistance at $310.00. Should there be a close above $310.00, there can be an upside drift toward $340.00 or even $350.00.
On the downside, an initial support is near $290.00, but the most important support is at $275.00. Moving on to the hourly chart of ETH/USD, there is a clear broad range forming with support at $292.00 and resistance at $298.00.
A break on either side would set the pace for the next move either above $300.00 or below $290.00. The overall trend is bullish, but there can be more ranging moves below $300.00 before the next leg.
Disclaimer:
The content on ETHNews.com is provided for informational purposes only and it is not intended to be, and does not, constitute financial advice or any other advice. You should not rely on any ETHNews.com content to make an investment decision. ETHNews.com is not responsible for any investment decision made by you. You are responsible for your own investment research and investment decisions.