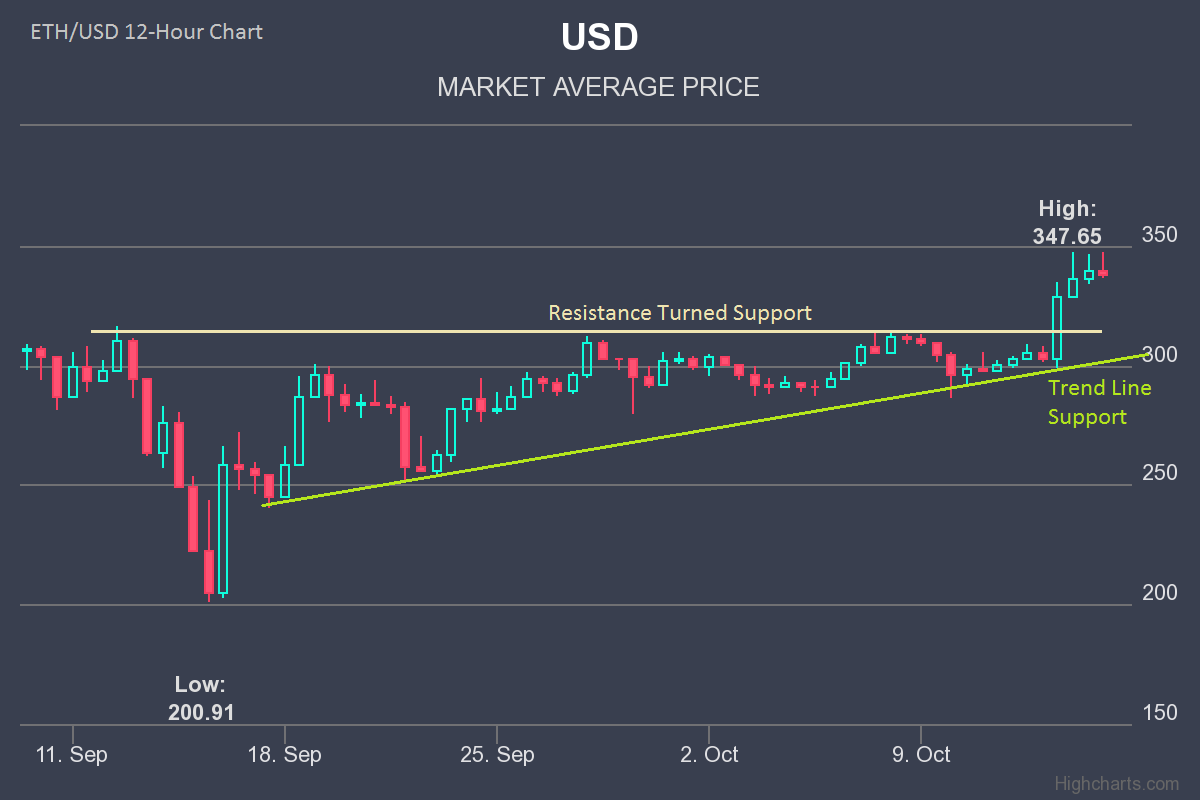 Ether Technical Analysis
ETH/USD finally gained momentum above $313.00 and is likely to accelerate further. However, ETH/BTC is bearish and impacting the market sentiment for Ether.
Technically, the 12-hour chart indicators moved higher in the bullish territory.
Ether Price Resistance Turned Support
This past week was action-packed as the ETH/USD pair finally gained momentum and was able to surpass a major resistance area near $313.00. It traded above $340.00 and formed a new monthly high at $347.65.
On the other hand, the ETH/BTC pair remained under heavy selling pressure, failing to hold the 0.060BTC support area. ETH/BTC's bearish market sentiment is impacting ETH/USD's rally in the short term.
Looking at the 12-hour chart of ETH/USD, the pair succeeded in overcoming selling pressure near a major resistance at $313.00-314.00. The last three candles on the chart are pointing to a strong rise in bullish sentiment and suggests that the recent break was convincing.
The pair traded as high as $347.65 and almost tested the 76.4 percent Fibonacci retracement level of the last major downside wave from the $395.41 high to $200.91 low at $349.50.
On the downside, the broken resistance near $313.00 would now serve as a key support if the pair corrects lower from current levels. Below $313.00, there is a crucial bullish trendline forming with support at $302.00 on the same chart.
As long as the pair remains above the $302.00-300.00 support levels, it should continue the uptrend and poise for more gains in the near term. Moving on to the 2-hour chart of ETH/USD, there is a consolidation pattern forming with support above $330.00 and resistance at $347.00.
Below the consolidation support, the next major support is at $320.00. To the topside, a successful close above $347.00 is required for a push above $349.50 and $350.00.
Overall, the market sentiment is very bullish for ETH/USD. The upcoming Byzantium fork could have a huge impact and will most likely ignite further upsides towards $360.00 or $380.00.
Disclaimer:
The content on ETHNews.com is provided for informational purposes only and it is not intended to be, and does not, constitute financial advice or any other advice. You should not rely on any ETHNews.com content to make an investment decision. ETHNews.com is not responsible for any investment decision made by you. You are responsible for your own investment research and investment decisions.