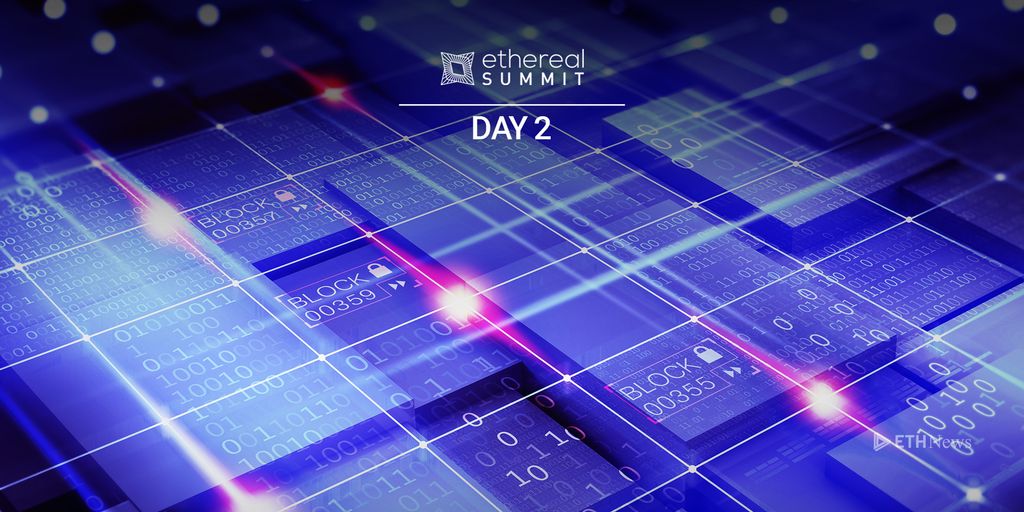 During the second day of Ethereal, speakers sought to answer: What does the future hold for blockchain technology and mass adoption?
Crypto prices may have crashed since the December peak, but the crowd at Ethereal is largely focused on the power of the technology, and most are still looking forward. Saturday's speakers gave their piece on a critical question: Where do we go from here?
Media Drives Adoption in Development and Society
"Once [a blockchain developer's] project is live, they have no power, no influence, on whether it succeeds," said Vlad Zamfir, an Ethereum blockchain researcher. He emphasized that blockchain development is shaped by social consensus, and getting people to side with a specific fork is a responsibility held by the crypto-focused media. 
Ronny Chieng, a comedian from "The Daily Show," received a roar of laughter from the crowd as he joked about his lack of knowledge on blockchain, but he still managed to get his point across: To reach people with no interest in tech, enthusiasts must speak their language. When those in the community reach out to mainstream media and effectively communicate with them, they will use their influence to spread the word, and reach the lay audience.
Vanessa Grellet, executive director of social impact at Consensys, spoke on reaching individuals in a different way: identifying critical problems facing humanity and building solutions tailored to their needs. 
Driving Government Involvement
Governments need to understand this new wave of technology. Brian Forde, former tech advisor to President Obama, pointed out US representatives' poor understanding of tech, as evidenced by the Mark Zuckerberg fiasco. He also wants to see blockchain implemented as an accountability tool: Constituents can voice their opinions on a public blockchain to influence their representative's vote, unlike the current system of private tallies made by secretaries for each constituent phone call.
Tokenize Everything
Yorke Rhodes, founder of Blockchain at Microsoft, shared his vision for tokenizing our lives. Your car can charge on electric plates at stoplights, with the plate identifying and billing you based on your vehicle's cryptographic ID. Your personal assistant can understand details of your morning commute and alter your alarm wake-up time if any obstacles arise to delay you.
The overall consensus among the day's speakers seemed to be: To reach global adoption, the community must identify and strategically overcome roadblocks, then target the individual.
The Path to a Decentralized Future
Joseph Lubin, founder of Consensys, gave the closing remarks at Ethereal 2018, and shared his vision for our decentralized future. 
"Few people feel they are real stakeholders in this human enterprise," Lubin began. He explained that in this top-down economy, we're held up by large corporations, but challenged their ability to maintain efficiency the larger they grew. In Lubin's vision, the individual, or the small corporation, will hold up our global economy, and we will all hold a stake in each others' endeavors. With shared ownership, he believes everyone will feel a shared responsibility for others' success.
Lubin argued that existing players in the sharing economy aren't truly embracing peer-to-peer exchange. He named AirBnB and Uber as little more than content aggregators and service providers, who rip off the individual with exuberant fees. 
He asserted that Ethereum is the true decentralized web, and that it is creating the real sharing economy. While Netflix is a two-sided market (service provider to consumer) and Facebook is a three-sided market (Facebook is the intermediary, advertisers are customers, and users are the product), the decentralized web is an N-sided market (multiple players interact to reach a shared goal). 
With the decentralized web, individuals can hold a secure and portable version of their identity, and selectively share information with a range of services. The key is for those services to interact with each other, each using only the information you agreed to provide. 
One of the biggest questions people have is when this revolution will reach the general population. To address this, Lubin explained that we must view it not as a revolution, but as an evolution. It took 10 years for the internet to have ramifications for consumers, and we're still discovering its potential. We're only around five years into pushing blockchain as a tool for a variety of industries and needs, and while it may feel that progress is slow, Lubin believes it will soon grow exponentially, and blockchain will be everywhere; it will be part of our everyday lives.
Roni Rose is the founder of Blockchain Bea, a podcast that teaches non-technical people about the basics of cryptocurrency and blockchain tech in a fun and casual way, as well as introduces them to ventures using blockchain to make a positive impact.
ETHNews is committed to its Editorial Policy
Like what you read? Follow us on Twitter @ETHNews_ to receive the latest Consensys, blockchain or other Ethereum ecosystem news.