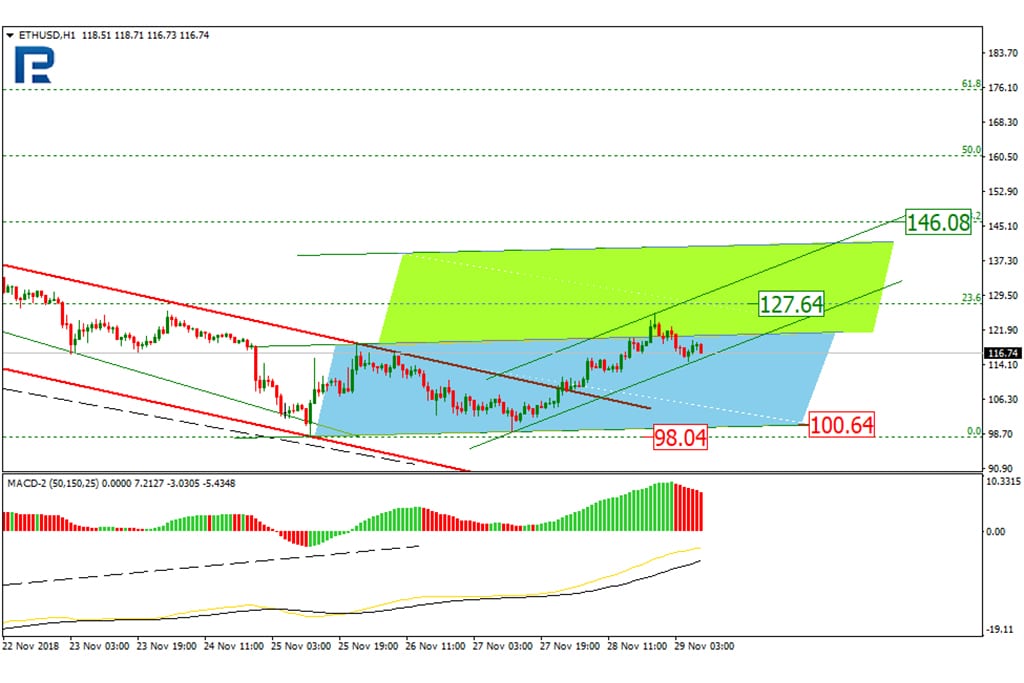 Ether is slightly moving down on Thu Nov 29, trading at $122.20, reports Dmitriy Gurkovsky, Chief Analyst at RoboForex.
On H1, the price is moving into the short term correction phase. This was signaled by the MACD convergence before, after which the downtrend was broken out, and the pullback started, forming a flag. After testing the upper correctional channel boundary, the price bounced back, which may result in a descending move with the target at the support ($100.64). However, this pullback may not be going to last for long, and the price may soon go up again, as per the MACD signals. The upside correction targets may lie at 23.6% ($127.64) and 38.2% ($146.08) Fibo.
Meanwhile, a Chinese ministry published yet another crypto rating, where Ether and EOS were leading the parade. This rating is updated every month, and the leaders are still the same for 7 months.
Curiously, Bitcoin moved a few positions upwards, from 19th to 13th. In its turn, Ethereum is leading because of its practical feasibility, while EOS is highly ranked thanks to its unique technology.
Another Ether-specific news came from Level K that discovered the altcoin had some issues. Due to the network leaks, the users were able to get coins literally out of nothing, using a kind of malware. In order to fix this, Ethereum devs have got to enable additional protection. The exchanges, however, resolved this problem as soon as it had become famous.
Over the last few days, the crypto market cap went up seriously. However, the outlook is rather pessimistic than optimistic, as there are very little positive news out there.
Disclaimer: Any predictions contained herein are based on the authors' particular opinion. This analysis shall not be treated as trading advice. RoboForex shall not be held liable for the results of the trades arising from relying upon trading recommendations and reviews contained herein.