Last updated on February 14th, 2018 at 08:39 am
Nowadays, you can buy Bitcoin almost anywhere. The problem that some people have is finding out whether or not Bitcoin is legal in their country, and which exchanges they can use. This guide aims to help those buying Bitcoin in Hawaii by providing all of the essential information in one place.
Is Bitcoin legal in Hawaii?
Hawaii is a US state, so Bitcoin is legal there. (But keep in mind that Hawaii is a chain of secluded islands in the Pacific.) In 2013, Bitcoin was classified as a convertible virtual currency. In 2015, the Commodity Futures Trading Commission classified Bitcoin as a commodity. Indeed, it is subject to taxes by the IRS. Therefore, it includes the sale, exchange, or purchase of goods with a convertible, virtual currency.
However, there have been some complications for Bitcoin in Hawaii. In particular, Coinbase announced that it was suspending its business in Hawaii, due to the state imposing regulatory policies on Bitcoin.
How popular is Bitcoin in Hawaii?
An increasing number of businesses in Hawaii are accepting the cryptocurrency.  The weekly US dollar volume on LocalBitcoins shows rapid growth throughout 2017.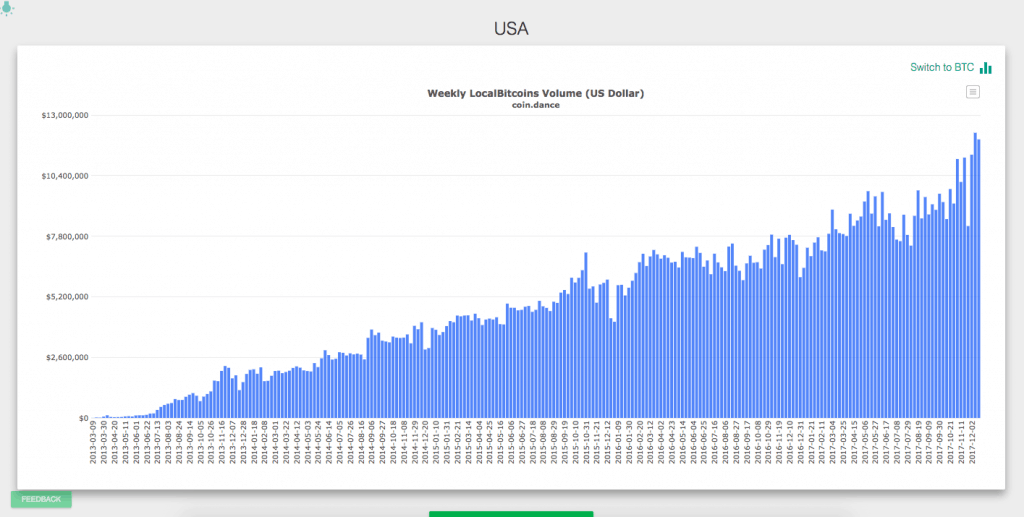 According to Google Trends, Bitcoin had a sharp increase in November and December 2017.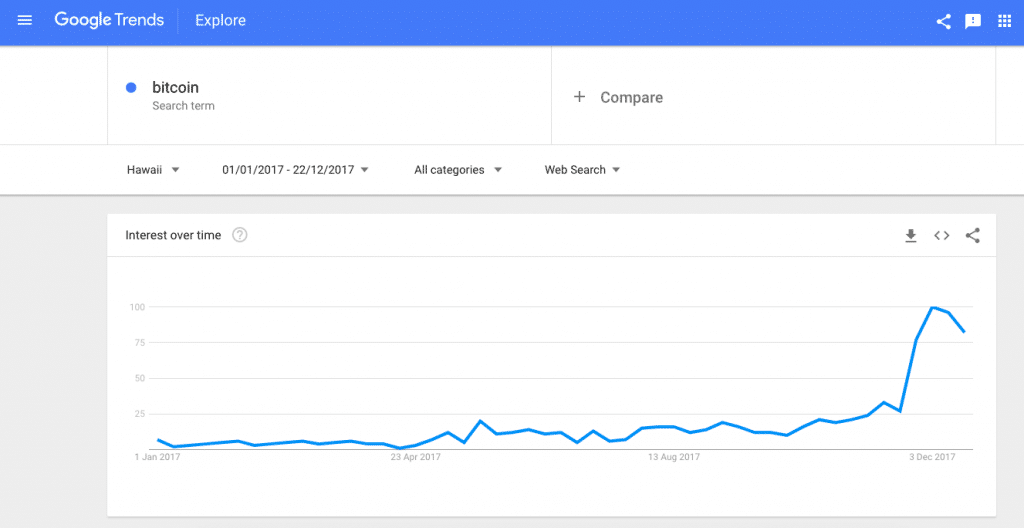 Are there Hawaiian Bitcoin communities?
Unfortunately, there aren't many. However, there is a Honolulu Bitcoin Group on Meetup with over 400 members. There's also a Hawaii Bitcoin resource, which has some useful information and links to Hawaiian businesses that accept Bitcoin. 
Are there any Bitcoin exchanges based in Hawaii?
No, there are no Bitcoin exchanges based in Hawaii. However, there are some US-based Bitcoin exchanges that you can access:
Gemini
Gemini is a licensed Bitcoin exchange based in New York, which was founded in 2015 by the Winklevoss twins. Fees on the exchange are relatively low, but its customer support is better than that of many Bitcoin exchanges. While the exchange is easy to use, it doesn't offer many cryptocurrencies, and it has limited deposit methods.
Kraken
Having been in operation since 2011, Kraken is one of the oldest cryptocurrency exchanges. It operates in the USA and Canada, as well as Europe and Japan. With Kraken, you're able to buy Bitcoin, and you're able to get a selection of other cryptocurrencies with USD. The fees are relatively low, though the platform isn't the most beginner-friendly. 
Uphold
Uphold is a digital-money platform, rather than a cryptocurrency exchange. So it's been recommended by many residents in Hawaii. While funding via credit and debit cards isn't an option, it's easy to deposit via bank transfer. You can then purchase Bitcoin with USD. Keep in mind that deposits and withdrawals are on the slow side, and can take days.
Are there any international exchanges available in Hawaii?
In addition to Bitcoin exchanges in the USA, you have the option of a few international exchanges: 
LocalBitcoins
LocalBitcoins is a peer-to-peer marketplace based in Finland. It directly connects buyers and sellers, and is available in many countries around the world, including the USA. There are a wide range of possible payment methods in Hawaii, including cash, PayPal, and Western Union. Keep in mind that Bitcoin prices are typically higher in Hawaii. 
Bitstamp
Based in Luxembourg, Bitstamp was founded back in 2011. Users of Bitstamp can purchase Bitcoin and a number of cryptocurrencies with USD. It offers users the option of buying Bitcoin with a credit or debit card. However, there is a 5% fee attached to it. For the average user, the most likely transaction fee is 0.25%. 
How many Bitcoin ATMs are there in Hawaii?
According to CoinATMRadar, there are two Bitcoin ATMs in Hawaii (as of December 2017). Both of them are located in Honolulu, the state capital. Specifically, one Bitcoin ATM can be found at Hawaiian Island Stamp & Coin. It's a BitTeller ATM, which allows users to buy Bitcoin with cash. Buying fees are 15%, again according to CoinATMRadar.
The other Bitcoin ATM can be found at Vape Kings, which is a Lamassu ATM that enables the purchase of Bitcoin and Ethereum with fiat. Again, fees are reportedly 15%.