Last updated on January 10th, 2018 at 09:46 am
What Is EOS?
Seen by many as a potential competitor to Ethereum, EOS is a blockchain-based platform that will support decentralized applications (Dapps). Dapps run on a decentralized, peer-to-peer network, rather than on centralized servers. They don't require a third party or middleman. Instead, they directly connect providers and users.
Dan Larimer created EOS (which stands for Ethernet Over SONET). He is also the cofounder of BitShares and Steemit.
By its very design, EOS intends to be more scalable and flexible than Ethereum, which makes it easier for developers to create decentralized apps. EOS has made the following claims:
That it will not have transaction fees
That it has the potential for millions of transactions per second
However, the project is still in its early stages, so it doesn't have a working product yet.
EOS is funded via the sale of tokens. It's unique, in that one billion ERC-20 tokens will be distributed over a one-year period. In other words, everyone will have an equal chance to buy tokens.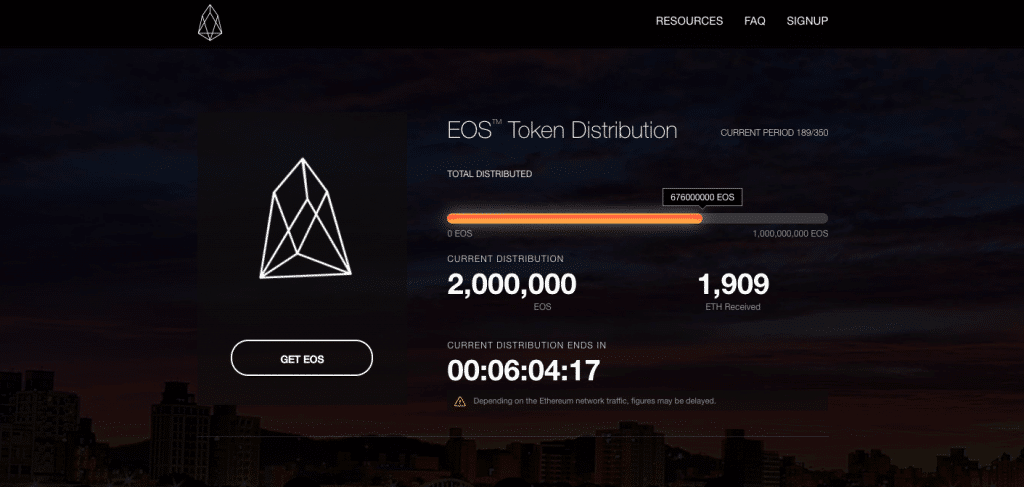 Step 1 : Choosing an EOS Wallet
While there are currently no official EOS wallets, EOS uses the ERC-20 token. As such, you can store your EOS tokens in an ERC-20 compatible wallet. There are a few different types of wallets available to you:
Desktop Wallets for Storing EOS
Jaxx and Exodus are among the most popular desktop wallets for EOS. They are both multi-cryptocurrency wallets that are available on Windows, Mac, and Linux. In fact, Jaxx is also available on Android and iOS.
Both Jaxx and Exodus have ShapeShift built in, which allows for the quick, easy trading of cryptocurrencies.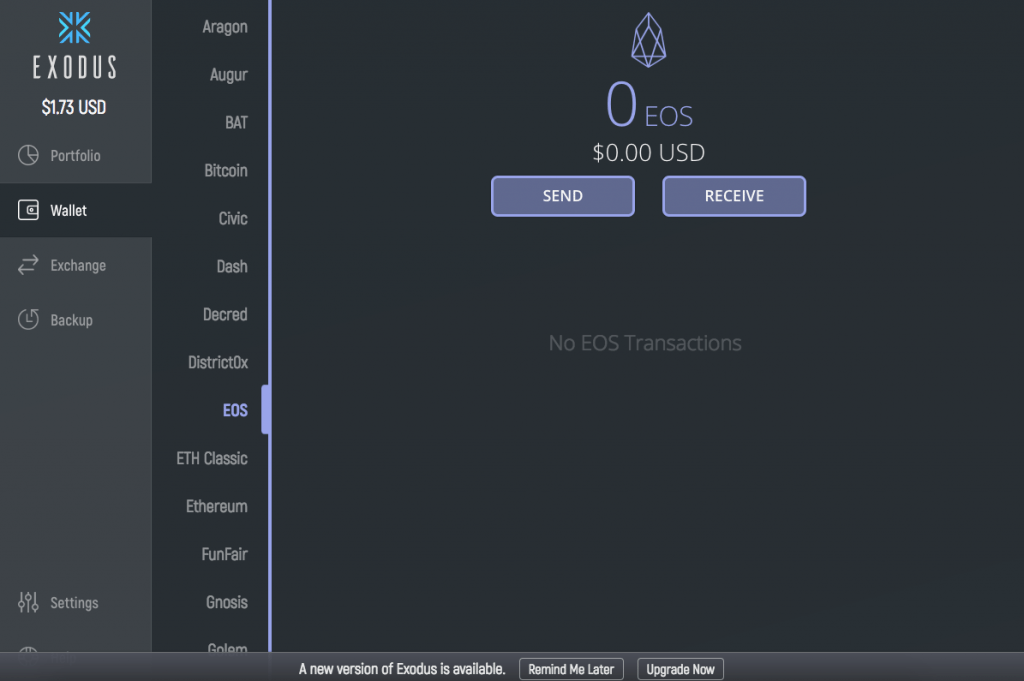 Hardware Wallets for Storing EOS
You can use the Ledger Nano S and Trezor hardware wallets to store ERC-20 tokens. But you'll need to connect your hardware wallet with a MyEtherWallet.
Both the Edger and Trezor wallets are compatible with Windows, Mac, and Linux. They're popular options that offer greater security than most other wallet types.
Web Wallets for Storing EOS
Arguably, the best wallet for storing your EOS tokens is the MyEtherWallet. Unlike many online wallets, it's an open source that allows you to store Ether on your own computer, rather than on their servers. This feature makes it much safer than most web wallets, since you're in control of your wallet's information.
Mobile Wallets for Storing EOS
Jaxx is also available for mobile devices. In other words, you can store your EOS ERC-20 tokens on your Android or iOS device. Jaxx supports many different cryptocurrencies, and it has a very intuitive interface, which makes it particularly suitable for beginners.
Step 2: Find an EOS Exchange
Since EOS tokens are available on many major cryptocurrency exchanges, it should be easy enough for you to buy them wherever you're located.
Here's a list of the most popular options:
Buy EOS on Binance
Launched in 2017, Binance has quickly established itself as one of the most popular cryptocurrency exchanges. It has listed dozens of altcoins, including EOS tokens. Unfortunately, you can only fund your Binance account with cryptocurrencies, which can be somewhat limiting. However, you do have the options to get BTC and ETH pairs.
Buy EOS on Kraken
Like Binance, Kraken has both BTC and ETH pairs with EOS. However, Kraken offers a little more flexibility. For instance, you can fund your account with EUR, USD, JPY, and CAD.
Kraken is known for being relatively easy to register, and for offering comparatively low fees. However, it its performance has recently suffered during peak trading times.
Buy EOS on HitBTC
HitBTC is a cryptocurrency exchange based in Europe. It offers many different cryptocurrencies, including EOS. You can make a deposit using EUR or USD. While the exchange is easy to use, it doesn't have the best online reputation, since many claim that it lacks transparency. You should treat HitBTC with caution, as it is an unregulated exchange.
Buy EOS via Shapeshift
While all of the other cryptocurrency exchanges in this list require registration, ShapeShift requires no personal details whatsoever. It allows you to exchange many different cryptocurrencies for EOS. The fees are on the steep side, but it's a small price to pay for the convenience and privacy that it offers.
Buy EOS on Bithumb
Bithumb is one of the largest exchanges in South Korea, and it has the highest trading volume of  EOS. However, unless you're located in South Korea, it's probably not the best option for you, as they only accept KRW. The exchange is relatively simple for beginners, and it has little to offer, as far as advanced trading features.
Buy EOS on Bitfinex
Bitfinex is one of the few cryptocurrency exchanges with an EOS/USD pair, so it's a popular option for anyone buying EOS. However, it's not a particularly beginner-friendly platform, since it has a rather complex interface.
Buy EOS with Cash
Unlike with Bitcoin, there is currently no viable way to buy EOS with cash. This situation may well change when the EOS platform has been launched. You could always buy Bitcoin with cash on LocalBitcoins, then trade it for EOS on a major cryptocurrency exchange. However, this process may be more complicated than necessary.
Buy EOS with Credit Card
Very few cryptocurrency exchanges allow you to buy crypto with a credit or debit card. Your best bet is to use Coinbase or CEX.IO. Then you can purchase another cryptocurrency (such as Bitcoin or Ethereum) with your credit or debit card. You can then transfer it to another exchange, trade it for EOS, or trade it directly to EOS via Changelly.
Buy EOS with PayPal
Much like a credit card, there isn't a way to directly buy EOS from PayPal. However, if you're willing to buy another cryptocurrency and trade it for EOS, you can take a look at LocalBitcoins and VirWOX.
Again, you'd need to trade the cryptocurrency that you purchased for EOS via Changelly, since you can't directly buy EOS via the options listed above.
Step 3: Withdraw your EOS tokens to your wallet
Remember, never leave coins or tokens on an exchange. If you use a trading platform to buy EOS like the ones mentioned above, make sure to withdraw your coins from that exchange into your own personal wallet. Therefore, you are protected if the exchange gets hacked or becomes insolvent.