Last updated on March 29th, 2018 at 05:55 am
What Is Tron?
Tron (TRX) is a blockchain-based, decentralized platform for the digital entertainment industry. It was founded by CEO Justin Sun and the Tron Foundation in 2017. Tron's content entertainment system will be decentralized, free to use, and available worldwide thanks to its use of blockchain and distributed storage technology. This will solve many of the problems that come with centralized entertainment content.
With Tron, users are able to publish, store, and own data. The content they create remains in their ownership and under their control. There are no third parties thanks to the peer-to-peer blockchain technology. Content creators, therefore, have increased control as well as greater potential for profit because there are no third-party fees to contend with. Tron's TRX token will be used to facilitate data sharing, allowing users to view a creator's content.
Step 1: Choose a Tron Wallet
Storing your Tron tokens on a cryptocurrency exchange isn't recommended because exchanges can be hacked or even shut down. Even smaller issues such as scheduled maintenance can prove problematic. TRX is an ERC-20 token, which means that it can be stored in Ethereum wallets. There's no official Tron wallet available as of yet.
Web/Online Wallets
MetaMask
MetaMask is an Ethereum browser that can also be used as a wallet. It supports every ERC-20 token, including TRX. Launched in 2016, MetaMask is available as an extension on Chrome, Firefox, Opera, and Brave. No login is required, but passwords and private keys are encrypted and protected on the browser itself. MetaMask also has a Blacklist feature, which prevents users from accessing malicious sites such as fake cryptocurrency exchanges.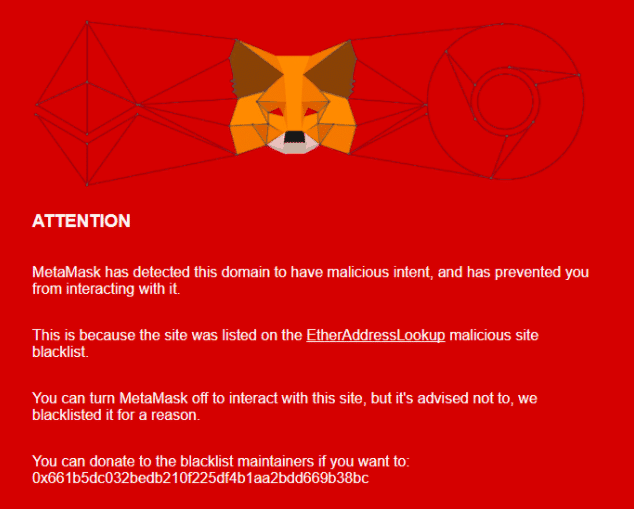 MyEtherWallet
A client-side interface for Ethereum, Ethereum Classic, and ERC-20 tokens, MyEtherWallet is another popular place to store TRX tokens. Launched in 2015, it offers plenty of features, particularly in relation to security. This isn't the typical web or online wallet, as users have complete control of their private keys. Indeed, MyEtherWallet has hardware wallet compatibility, can be used in conjunction with MetaMask, and can even be used offline and locally.
Hardware Wallets
Ledger Nano S
The Ledger Nano S is a hardware wallet that was launched in 2016. It's a multicurrency wallet that's compatible with Bitcoin, nearly two dozen altcoins, and ERC-20 tokens. In order to store TRX on your Ledger Nano S hardware wallet, you'll need to use MyEtherWallet, which is compatible with the Ledger Nano S. Here's our review of the Ledger Nano S.
Trezor
As with the Ledger Nano S, Trezor is compatible with MyEtherWallet. This hardware wallet was launched in 2014 and supports a dozen cryptocurrencies as well as all ERC-20 tokens such as TRX. Here's our review of Trezor and its newest model, Trezor T.
Both the Ledger Nano S and Trezor are compatible with Windows, Mac, and Linux. Hardware wallets are arguably the safest type of wallet because they're offline and free from malware.
Step 2: Buy Tron on an Exchange
Despite TRX's having a market cap in the billions of dollars, there isn't a wealth of choice when it comes to reputable exchanges on which to buy it. This may change in the near future as Tron leaves the Ethereum blockchain onto its own mainnet. Right now, the most common TRX trading pairs are with Bitcoin (BTC) and Ethereum (ETH).
Binance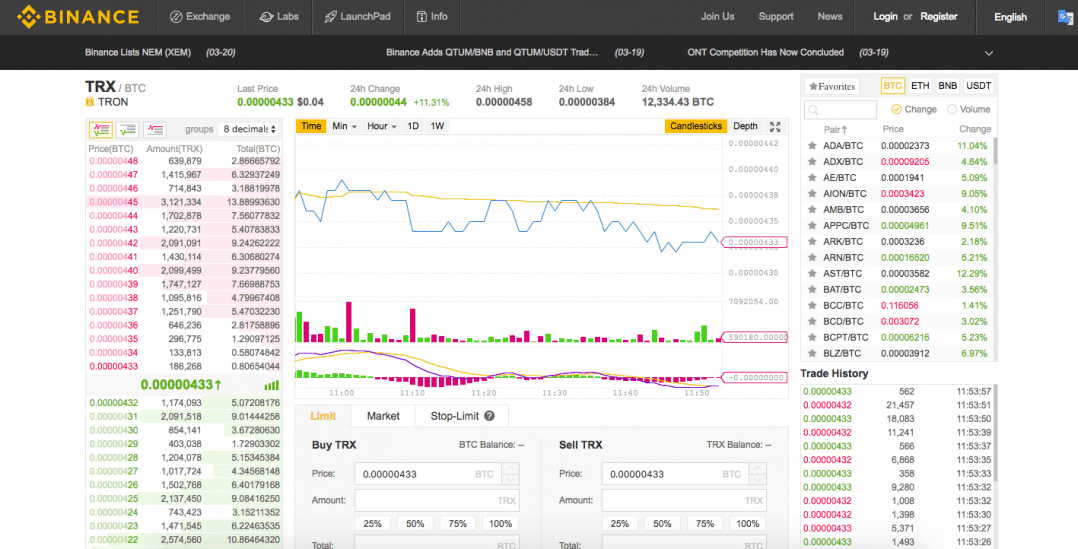 Binance is arguably the best place to buy Tron, and this is evidenced by the very high volumes compared to other exchanges. Although Binance only launched in 2017, it has quickly established itself one of the most popular cryptocurrency exchanges. Unfortunately, there are no fiat pairings available, so it's therefore necessary to buy Bitcoin or Ethereum on another exchange before sending it over to Binance and trading for TRX. You can read our full Binance review here.
Bittrex
A US-based cryptocurrency exchange founded in 2014, Bittrex offers a TRX/BTC trading pair. In February 2018, Bittrex CEO Bill Shihara stated that Bittrex would soon accept USD fiat deposits, which would certainly make buying TRX easier for many. Another reason to consider this exchange is the relatively quick and easy registration process. However, Bittrex generally has poor reviews from users concerning customer support (or the lack of it). You can read our review of Bittrex here.
Summary
Tron has certainly captured the interest of many cryptocurrency investors, and it's recently announced an advanced mainnet release date (May 31, 2018). However, there's still plenty of work to do since there's no official wallet and few reputable exchanges on which TRX can be bought.
Have you used any of the above wallets or exchanges? What do you think of Tron? Let us know in the comments below!