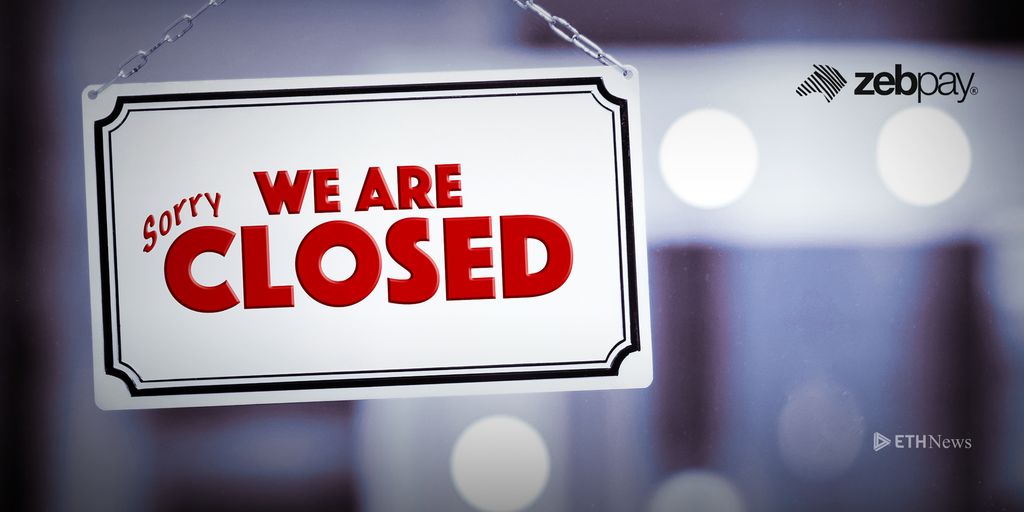 September 28, 2018 6:56 PM
The ban on banks engaging in cryptocurrency dealings was announced in April. Zebpay held on as long as it could.
The Reserve Bank of India's (RBI) ban on banks dealing with cryptocurrency is creating casualties. Yesterday, Zebpay, a large and recognized cryptocurrency exchange in India, announced it was shuttering its exchange business as of today at 4:00 pm:
"We will cancel all unexecuted crypto-to-crypto orders and credit your coins/tokens back to your Zebpay wallet. No new orders will be accepted until further notice."
According to the announcement, users can still make cryptocurrency deposits and withdrawals, and their wallets will still work, for now at least.
RBI, the country's central bank, declared in early April that RBI-regulated entities could no longer do business with individuals or companies dealing with virtual currencies, which obviously includes cryptocurrency exchanges. Those with existing relationships had three months to sever ties. Though exchanges challenged the edict in court, the Supreme Court has not overturned the ban. It went into full effect on July 5, making exchanges like Zebpay ineligible for bank accounts or loans.
In its statement, Zebpay acknowledged the effect of the ban on its operations: "The curb on bank accounts has crippled our, and our customer's [sic], ability to transact business meaningfully."
Zebpay had already modified its business in an attempt to outlast the ban, moving to crypto-to-crypto trading on April 23 and adding additional currencies and trading pairs over subsequent months. That's a strategy other Indian exchanges, among them WazirX and Unocoin, have also adopted.
It remains to be seen whether these other exchanges will be able to pick up enough of Zebpay's customers to survive, or if it's just a matter of time before they too close. 
Jeff Benson is Managing Editor of ETHNews. He's worked as a writer and editor everywhere from Sudan to Reno. He holds a bachelor's in politics from Willamette University and a master's in nationalism studies from University of Edinburgh. When he's not in the newsroom, he trots the globe and writes about it. He holds a bit of value in ETH.
ETHNews is committed to its Editorial Policy
Like what you read? Follow us on Twitter @ETHNews_ to receive the latest Zebpay, Reserve Bank of India or other Ethereum wallets and exchanges news.