Important: At the time of writing, eToro services aren't available to US customers.
eToro is a digital global trading market for currencies, cryptocurrencies, commodities, indexes, and stocks. Like most cryptocurrency trading platforms, it's experiencing rapid growth and now boasts over 7 million users worldwide.
In operation since 2008, eToro aims to offer fluid web-based and mobile platforms, enabling users to trade almost anything in one portfolio. Branded as a social investment network, it combines a lag-free modern trading system with the ability to interact with other users.
Young CEO Yoni Assia wants the platform to disrupt the outdated banking system and help usher in a new digital financial age. If you're investing in cryptocurrencies, then there are probably some ideals to be matched in this respect. eToro provides trading for a select number of cryptocurrencies.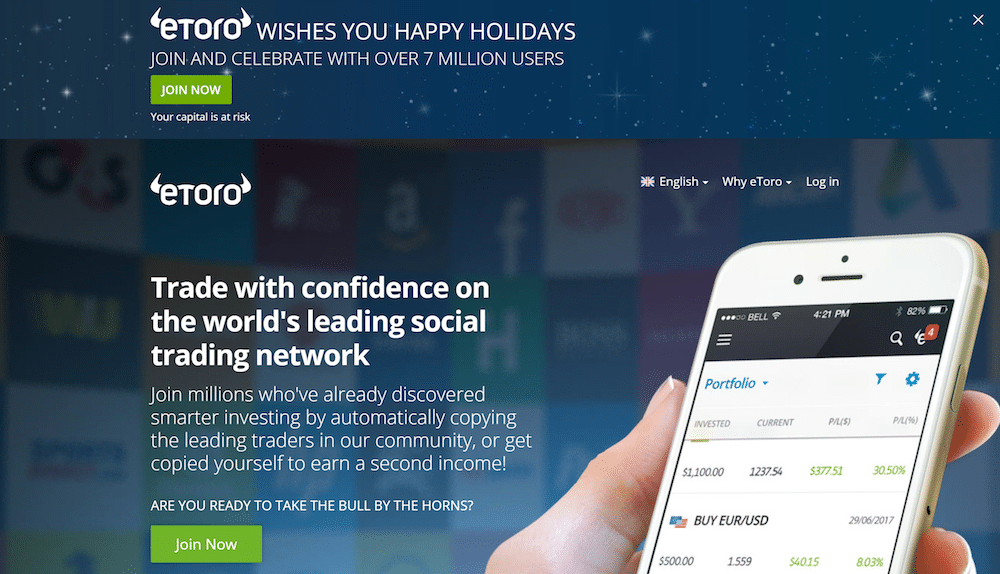 With an angle on cryptocurrencies in this review, we'll take a hands-on look at the eToro platform, its pros and cons, and whether it's right for your trading goals.
Using eToro
The usability of eToro is astonishingly fluid. It's painless and straightforward to get started. Signing up takes less than five minutes, and there's no need for slow verification methods or confirmations. Simply hit the Sign Up button and add your personal details.
Next, you'll be greeted with a questionnaire to assess your trading personality—quite a nifty feature on the face of it, but it rang more alarm bells than I would have liked. Revealing my income levels, my employer, and my other investment levels felt like a bit much. More importantly, all users are left trusting eToro with sensitive personal data.
After some more digging, I found that this is part of a standard KYC (Know Your Customer) process eToro is compelled to perform as part of its being a regulated company.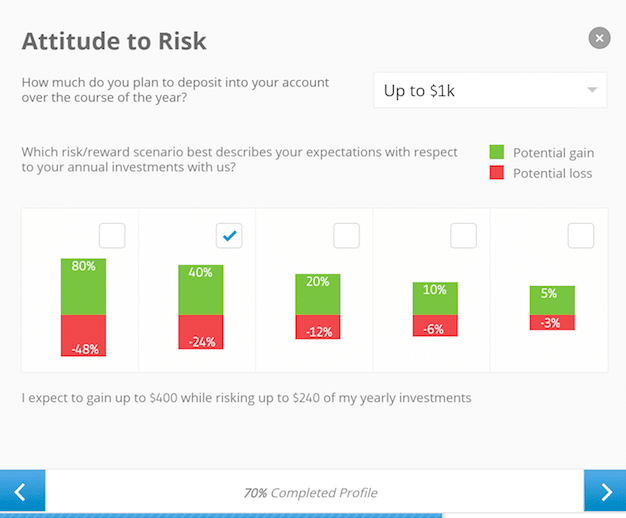 The system as a whole is smooth, with no lag or connection problems. After you sign up, deposits are made swiftly via credit, debit, or PayPal at no fee. You can start trading to a limit of $2,000 immediately without verification, which should be enough for most to do a little test of the service.
Portfolio trackers, watch lists, featured markets, and the ability to follow successful traders are all sitting in this slick, modern trading client. In under ten minutes, you can be ready to go and opening positions on Bitcoin and Facebook simultaneously.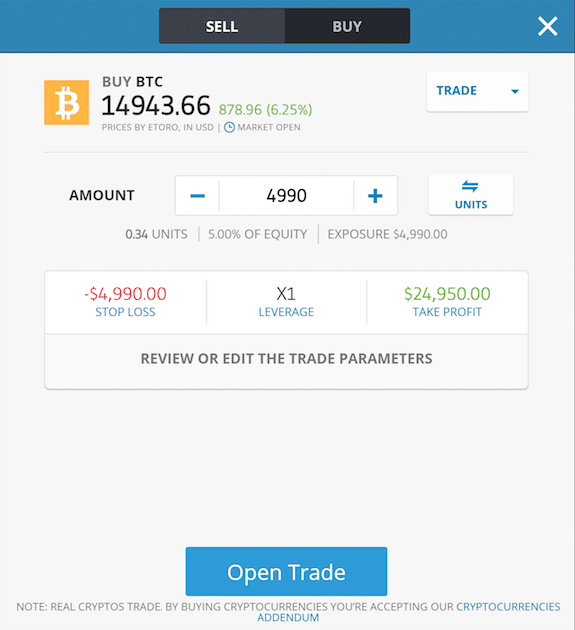 Currency Support
As eToro is not a cryptocurrency-dedicated exchange, there are currently only a select few cryptocurrencies available. That being said, what they do offer is a pretty decent collection—more than some other notable names in the industry.
Bitcoin
Bitcoin Cash
Ether
Ethereum Classic
Ripple
Litecoin
Dash
There are some real powerhouse cryptocurrencies listed there, and while Bitcoin is still king, it's exciting to see Ripple, Litecoin, and Dash open for business on the exchange. Keep in mind that when trading on eToro, you don't have actual access to your coins; you're only speculating on the USD value of those coins.
Fees
Due to the complex amount of trading options on eToro, the fee structure varies from asset to asset. Looking directly at the cryptocurrency trade fees will be quite a shock for serious investors. Bitcoin costs a hefty 0.70% fee when exiting a position, higher than most other exchanges.
The other altcoins trade at a 2%–5% fee which is extortionate. For example, you'll be paying 5% on Bitcoin Cash. Check out the full list of fees here.
Keep in mind that there's also a withdrawal fee applicable when you decide it's time to cash out. You can only cash fiat money out of eToro, and you'll be charged $25 for each withdrawal.
Another sting in the tail exists for some unfortunate users. eToro charges an inactivity fee to users who have not logged in for 12 months. If you're a long-term holder, don't get caught out by this; your account balance will be debited $5 per month once it's deemed inactive. Remember to log in and check up on your investments every quarter.
Customer Support
eToro has experienced rapid growth over the past year. One imagines this is down to its push on cryptocurrency trading. Unfortunately, this means it hasn't escaped the issue dogging the whole blockchain industry: customer support is always an unhappy feature in reviews. Companies can't seem to cope with their own success, and this includes eToro.
Quite inspiringly, the eToro team isn't trying to hide its shortcomings. The contact area of the website carries an apology message to help users understand that they aren't being ignored. Of course, complaints and bad reviews still exist, but it's nice to stay informed.

Public Opinion/Online Reviews
Bad news travels like wildfire, and people are always more likely to write bad reviews than good ones. That being said, there seems to be one particular worrying point investors bring up upon using the service: the platform seems to get a little temperamental with withdrawals. Many reports of extended waiting times for withdrawing funds to bank accounts and PayPal litter online forums.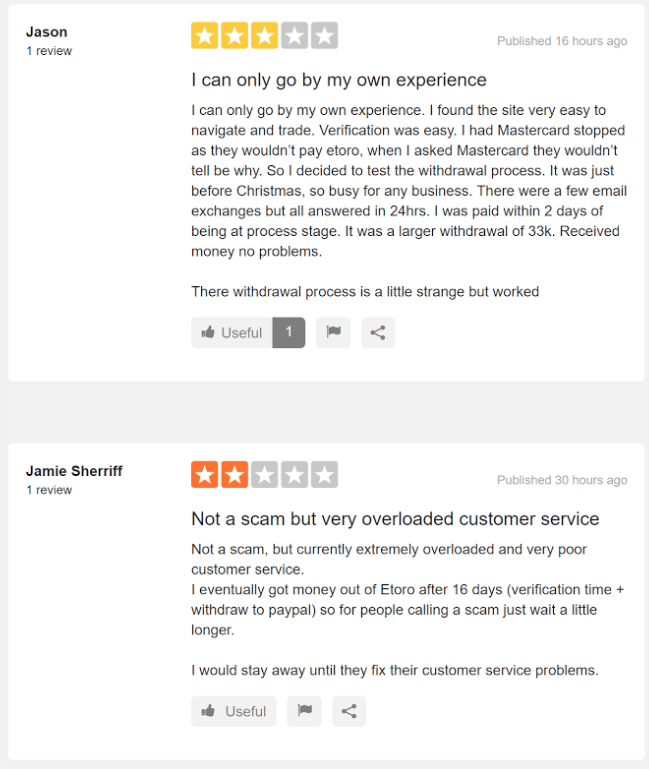 A few comments have popped up saying the experience was smooth with no problems. Seven million users can't all be struggling to liquidate their assets, or the company wouldn't be where it is today.
Conclusion: Is eToro a good place to trade cryptocurrencies?
The eToro platform as a whole is a joy to use. Its browser is responsive, intuitive, and packed with handy features. Add a decent selection of cryptocurrencies to this, and you can really get a lot out of the exchange. Within ten minutes you can be trading and opening positions in Bitcoin, Ethereum, Ripple, Litecoin, and more.
That being said, there are clearly issues for users when liquidating assets and withdrawing funds. Perhaps this is down to the overloaded customer service, where sometimes you'll have to be patient. The fees for cryptocurrencies are also overpriced, and for me, that's a big turnoff.
If you're looking to trade and leverage currency, then other services such as Bitmex might be better suited for you. If you're looking to create an all-around investment portfolio that includes some cryptocurrencies for long-term holds, then you might just do alright with eToro.
Have you tried eToro yourself? We'd love to hear what you think about it in the comment section below.
eToro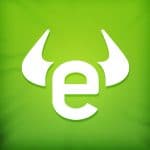 Pros
Suitable for beginners
Intuative user interface
Wide variety of popular cryptocurrencies
Accepts multiple payments as deposits
Cons
Slow support
Withdrawal issues
You don't actually own the coins
Not available in the US