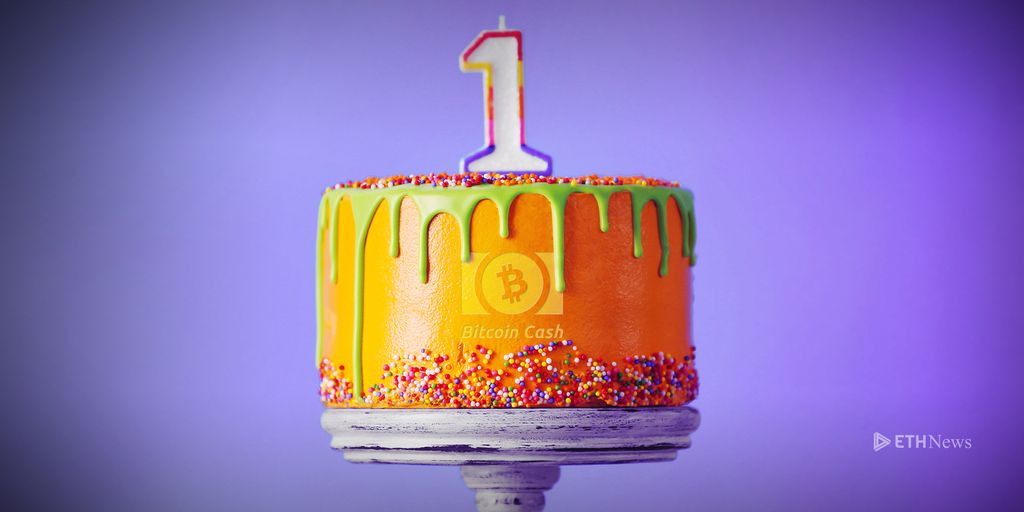 A year ago, bitcoin split into two. That's about the only thing the bitcoin and bitcoin cash communities agree on.
On August 1, 2017, "Bitcoin Jesus" (Roger Ver) issued two Twitter edicts. First, he instructed his followers to use the /r/btc subreddit rather than the "censored" /r/bitcoin subreddit. A few hours later, Ver shared an article from Bitcoin.com about SegWit, (a soft fork that changed Bitcoin's code to allow for faster confirmation times). In his second tweet, Ver appended a lone hashtag: #BitcoinCash.
No celebratory tweets from Ver. No emoji with party hats and streamers. Just the simple hashtag to commemorate the launch of a new cryptocurrency: bitcoin cash. Bitcoin cash uses a larger block size than bitcoin, allowing for faster transaction speeds (at the potential expense of decentralization). 
When bitcoin forked a year ago today, creating bitcoin and bitcoin cash, it was unclear how that fork would play out, with hodlers left to draw conclusions based on who joined which side. Several early bitcoin adopters, like Erik Voorhees, signaled support for BTC:
Gavin Andresen took a wait-and-see approach:
But everyone knew where Roger Ver stood:
Both sides – those backing BTC and those behind BCH – laid claim to Satoshi's glorious legacy and positioned their token as the one, true bitcoin. Though, it's worth noting Vorhees later expressed support for the existence of both coins, despite his preference for bitcoin.
So, why didn't bitcoin cash become known as bitcoin? After all, when Ethereum forked, the original Ethereum became "Ethereum classic" and those in favor of reversing The DAO got to keep the name. Yet somehow the original bitcoin is still bitcoin.
The simplest answer may be inertia. ETC backers asked the Ethereum community to prioritize the "code is law" ethos above reinstalling people's trust (and funds) in the project less than a year after its creation. The bitcoin split, however, occurred nearly a decade into its existence. When BCH split, BTC had a market cap around $45 billion and a price of $2,700 per coin, according to CoinMarketCap. The status quo was working just fine for a lot of people.
Note: Bitcoin cash is trading at around $750 to the US dollar after opening around $310 a year ago. Its market cap, which was $7.8 billion the day after it opened, is now $13.33 billion. Today, BTC is at $130 billion and a price of nearly $7,600.
Despite the numbers, it's too soon to declare a "winner" – and perhaps it's even unnecessary so long as the coins coexist. But a glance toward social media certainly makes it feel like the war is still being fought. Just recently, Bitcoin.org owner Cøbra was asked to step down, seemingly because he showed too much support for bitcoin cash. And bitcoin cash supporters like Craig Wright (who may not be Satoshi after all) have their own feelings:
With both sides taking shots over social media – and being wounded by all the sniping (don't you dare call it "bcash"), it's awkward for bystanders to know how to refer to this odd day in bitcoin history. The terminology has the potential to ruffle some sensitive feathers.
The bitcoin cash community seems to have settled on "Independence Day," as if they were liberated from the confines of block size. Of course, bitcoin core supporters won't accept that narrative. Core believers might prefer the snarkier "Guy Forks Day" (a clever play on Guy Fawkes Day):
Unfortunately, "happy birthday" doesn't really work either – since both BTC and BCH ultimately claim birth from Satoshi. Therefore, maybe, before we settle on a name, we should wait for what Satoshi has to say.
Jeff Benson is Managing Editor of ETHNews. He's worked as a writer and editor everywhere from Sudan to Reno. He holds a bachelor's in politics from Willamette University and a master's in nationalism studies from University of Edinburgh. When he's not in the newsroom, he trots the globe and writes about it. He holds a bit of value in ETH.
ETHNews is committed to its Editorial Policy
Like what you read? Follow us on Twitter @ETHNews_ to receive the latest bitcoin, bitcoin cash or other Ethereum opinion news.