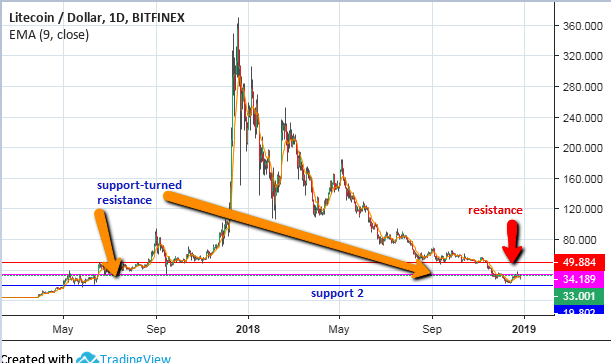 The pairing of Litecoin (LTC-USD) with the US dollar finds itself pushing against a previous support that now functions as a resistance level. This is within the context of what's increasingly looking like an inverted head and shoulders formation on the daily chart. This analysis piece will attempt to highlight the possibilities of price action in the early part of 2019.
Fundamental Outlook
The Litecoin team continues to make moves to improve its visibility and promote mainstream adoption by engaging in sponsorship of events and promotions. An announcement was made recently that Litecoin was sponsoring an Ultimate Fighting Championship (UFC) event — a first in the crypto world. Also, regulated US exchange itBit has been given approval by the New York Department of Financial Services (NYDFS) to list Litecoin as part of its traded assets.
Litecoin is still led by Charlie Lee, though his leadership has been called into question with criticisms of both owning LTCs and selling his stash. Still, Lee remains one of crypto's loudest optimists, and has made some correct predictions over the last year.
Technical Outlook
To get a good picture of the relevant key levels of support and resistance on the LTC/USD daily chart, we have zoomed out the chart image to show previous key levels dating back to 2017. The chart shows that the December 2018 low of $19 was actually a previous support level that was seen as far back as May 2017.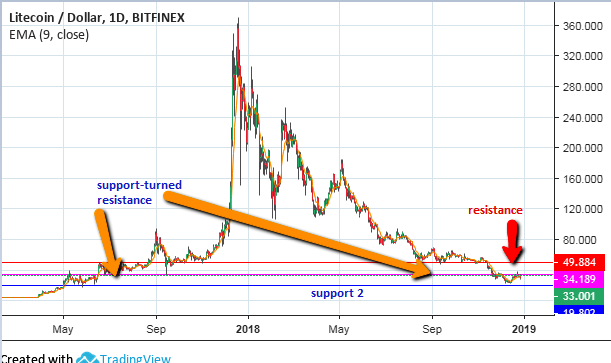 LTC/USD Daily Chart: December 28, 2018
We also see that price is presently pushing to the upside, presently contending with the resistance level seen at $34.189. This also was a price that previously found support in September 2017, but was broken in December 2018. It's now performing a role reversal and successfully resisted price action two weeks ago. That level is being tested once again. Above these two price levels is the $49.88 price resistance (red line), which had previously acted as a support price level for most of Q4 2018 before it was broken in the late November 2018 crypto market meltdown.
Having identified the key levels of support and resistance on the daily chart, we now zoom in for a closer look at what's happening presently. This chart snapshot shows that the price action of late November and December 2018 has formed what looks like an inverted head and shoulders pattern, with the $34.18 resistance currently acting as the neckline.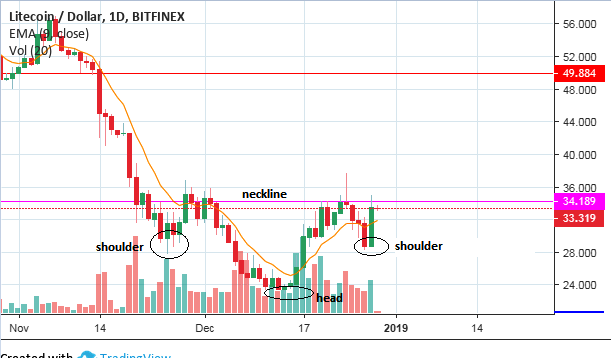 LTC/USD Daily Chart (Zoomed In): December 28, 2018
Putting all these points together, what are the possible trade scenarios for LTC/USD as we head into 2019?
Trade Scenario 1
The first trade scenario will have to look at the emerging pattern. The resolution of an inverted head and shoulders pattern is for price action to break the neckline to the upside and continue upwards for a distance that is equivalent to that between the neckline and the low formed by the head. However, this move will have to be sustained by an increase in buying volume. With the current daily candle pushing hard against the $34.18 resistance neckline, we need to see a close of a candle above the neckline with at least a 3% penetration, accompanied by a marked increase in the green volume bars, for the upside break to be considered valid. Already, we can see that the orange 9-EMA line has been broken and is expected to provide dynamic support to price action if things stay the way they are. If the upside breakout plays out as described, we expect price to at least get to the $44 mark, and if the momentum is strong enough, it may test the next available resistance at the $49.88 price level.
Trade Scenario 2
What happens if the pattern fails to complete as described above? A failed test of the current resistance at $34 will see price breakdown to retest the $19 support area. Considering the distance between present price levels and this support level, it's possible that price may have to go through several minor support levels on the way, which may cause price to stall or to trade within tighter ranges. These are best visualized on the four-hour chart below, which shows minor price support areas at the $30.70 (MS1), $28.07 (MS2) and $23.14 (MS3) price levels.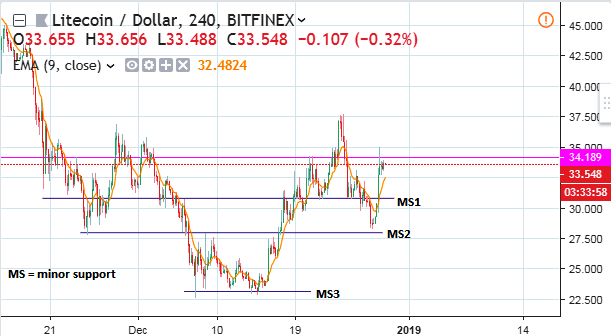 At these minor support areas, we may then see prices trading in ranges, or if there's a bearish market sentiment, price will then have to test and break each of these areas sequentially on its way down south.
Market Sentiment:
The long-term and mid-term outlook of LTC is:
Long-Term – neutral
Mid-term – neutral to bullish
The long-term market outlook is neutral because price is trading within long-term consolidation ranges. The outlook for the medium term can be seen on the daily chart, and in the light of emerging pattern, may be considered as neutral to bullish, assuming the inverted head and shoulders pattern follows through. Furthermore, many experts consider Litecoin to be in oversold territory and ripe for a bullish upsurge.
It must be mentioned that this analysis was done on daily charts, where price action typically takes several days or weeks to play out.
Well, the crypto craze may have deflated. But that's not a bad thing! In fact, if you still believe in the transformative power of blockchain, it means that many of these technologies are back to early adopter prices. At the Coin Agora, our focus is on altcoins – the smaller cap cryptos that have massive potential to disrupt business ecosystems. Don't miss out—the price craze may return in 2019 and it's your chance to get in now. Let us help you cut through the noise and find winners – join the Coin Agora community today!
Disclosure: I/we have no positions in any stocks mentioned, and no plans to initiate any positions within the next 72 hours. I wrote this article myself, and it expresses my own opinions. I am not receiving compensation for it (other than from Seeking Alpha). I have no business relationship with any company whose stock is mentioned in this article.