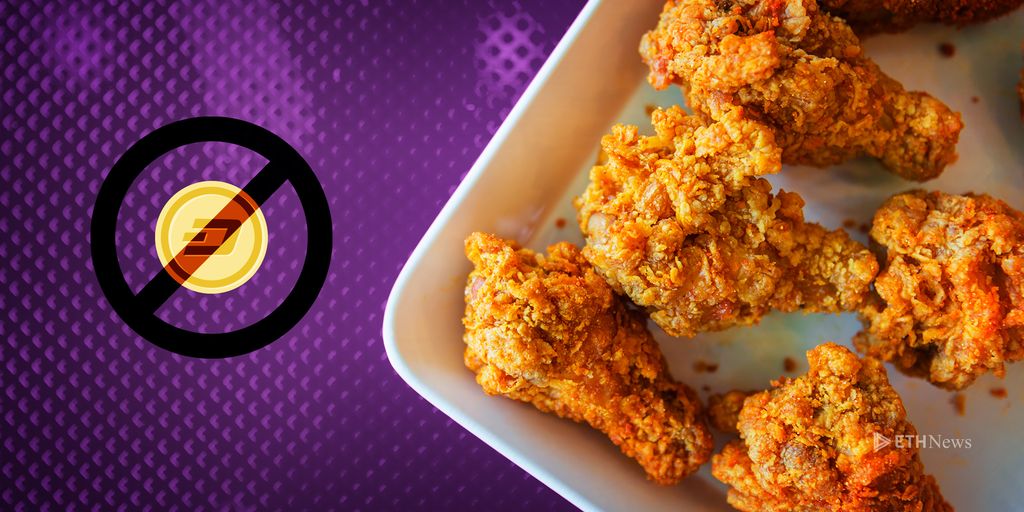 December 13, 2018 12:21 AM
After a clarification from KFC Venezuela's CEO, and an apology from Dash, Church's Chicken makes a big announcement.
On December 7, Mark Mason, director of media and PR for Dash News, tweeted that the cryptocurrency Dash would be accepted as payment at KFC Venezuela locations in Caracas, with 24 more locations to be added around Venezuela.
However, on December 10, according to a report in Spanish news outlet CriptoNoticias, Antonia Sampayo, CEO of KFC Venezuela, stated that the announcement had not been authorized and that Dash would not be accepted as payment. Sampayo explained that KFC Venezuela and Dash had only been in talks to begin to carry out tests to accept the cryptocurrency as payment in one of its locations, but nothing had been finalized. The next day, December 11, Dash Merchant-Venezuela tweeted an apology, noting: "Unfortunately, the message released was premature and reflected our optimism instead of the current state of our discussions with KFC Venezuela."
And if that wasn't enough to wet your crypto chicken beak, there's more. Today, December 12, Dash News announced the cryptocurrency had partnered with Church's Chicken, one of the US's largest chicken restaurant chains, to accept the cryptocurrency at 10 of its 13 Venezuelan locations. A Facebook post by Church's Chicken Venezuela claims it is now the number one fast food chain in the world to accept cryptocurrencies as a payment method, and that all of its Venezuela locations will accept Dash.
Dash's Venezuelan Presence
Dash now being accepted at Church's Chicken isn't a random occurrence. In August, ETHNews covered the Venezuelan rollout of the sovereign bolivar, which replaced the country's pervious currency, and is pegged to Venezuela's official cryptocurrency, the petro. The transition wasn't great, to say the least, and the petro didn't fair any better.
Where the sovereign bolivar and the petro failed, Dash stepped in, becoming the most used cryptocurrency in Venezuela, seemingly exceeding all other combined cryptocurrency usage in the country. Now, it appears that Dash is acting intentionally toward wider adoption in the country. Back in September, Caracas hosted a Dash conference intended to train entrepreneurs, journalists, and community leaders.
In today's Dash News announcement, Orlando Gustavo Navas, the general manager of Church's Chicken, directly references Dash's work on the ground level, stating, "The Dash Venezuela and Dash Core Group teams have been instrumental in helping us adapt our payments systems, staff training, and providing counsel on all essential internal and legal processes."
Aligning with a major fast food chain, and in talks to offer its services with another, Dash seems to be holding up its claim to make Venezuela "the 1st Dash Nation."
Nicholas Ruggieri studied English with an emphasis in creative writing at the University of Nevada, Reno. When he's not quoting Vines at anyone who's willing to listen, you'll find him listening to too many podcasts, reading too many books, and crocheting too many sweaters for his dogs, RT and Peterman.
ETHNews is committed to its Editorial Policy
Like what you read? Follow us on Twitter @ETHNews_ to receive the latest CriptoNoticias, Venezuela or other Ethereum cryptocurrencies and tokens news.