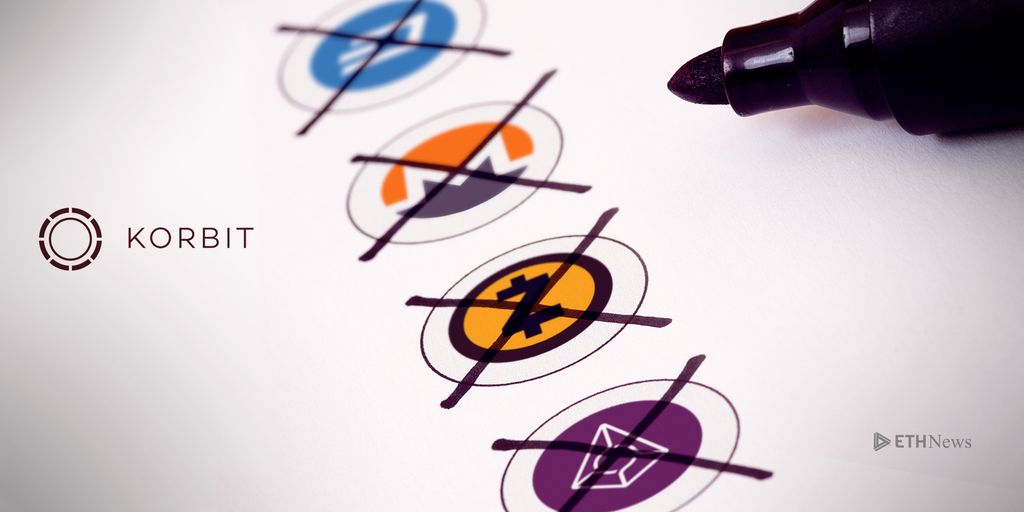 A South Korean cryptocurrency exchange has revealed that it will delist Monero, Zcash, Dash, Steem, and Augur.
Korbit, a cryptocurrency exchange in South Korea, will delist several privacy coins and other digital assets, according to a May 21 announcement on the company's blog.
Customers will have until May 28 to buy Zcash, Monero, Dash, Augur, and Steem tokens on the platform, and will be able to sell them through June 21. Dash, Zcash, and Monero are colloquially known as privacy coins because certain of their technical features enable them to protect user anonymity more effectively than some other cryptocurrencies.
In its statement, the company said:
"We strive to facilitate secure trades of more cryptocurrencies, but we have yet to determine the date for resumption of trades of the affected coins. We thus advise you to protect your interests by either selling or withdrawing the said cryptocurrencies."
While ETHNews is not aware of any regulatory pressure to delist the tokens, Korbit said in a May 8 announcement that Steem withdrawals would be "suspended indefinitely" as a result of "external issues." It's possible that this mention of "external" factors is a coy reference to pressure from government agencies.
South Korean regulators have previously intervened in the cryptocurrency space over concerns that digital assets may enable people to conduct (illegal) transactions anonymously. Notably, the Financial Services Commission mandated that exchanges only serve customers who use a bank account bearing their legal name, rather than a pseudonym.
If the Korean government were pressuring exchanges to drop privacy coins, then the effort would be consistent with sentiments that some officials have expressed toward cryptocurrency in general.
Korbit's May 21 blog post relates that although its "[Other Digital Assets] service" is to be phased out, customers will still be able to trade in Ripple's XRP tokens as well as Litecoin and bitcoin cash.
In April, reports suggested that Japan's Financial Services Agency was privately encouraging exchanges to delist privacy coins.
Last week, without making any mention of the agency, the Japanese exchange Coincheck announced that it would delist Monero, Dash, and Zcash, as well as Augur. 
Adam Reese is a Los Angeles-based writer interested in technology, domestic and international politics, social issues, infrastructure and the arts. Adam is a full-time staff writer for ETHNews and holds value in Ether, Bitcoin, and Monero.
ETHNews is committed to its Editorial Policy
Like what you read? Follow us on Twitter @ETHNews_ to receive the latest Korbit, delist or other Ethereum wallets and exchanges news.