There is a positive correlation between Bitcoin Cash (BCH-USD) and Bitcoin, which is why the prices of both cryptocurrencies tend to move in tandem. Therefore, traders should watch for price movements of Bitcoin when trading Bitcoin Cash. The analysis presented today happens to be that of the BCH/USD pairing as at September 29, 2018.
Fundamental Outlook
The main market news for Bitcoin Cash that is likely to impact the price of this pair has come from the proposed Bitmain IPO as well as the listing of BCH by Gemini and Bittrex. There is also the impact of fundamental activity on Bitcoin, which continues to have a correlating impact on Bitcoin Cash.
Added support for trading on Gemini for Bitcoin Cash is expected to boost trading volume, increase demand for BCH and lead to a short-term "pump" in price, if the similar experience with the listing of ZCash on Gemini in May 2018 is anything to go by.
Technical Outlook
Technically speaking, the long-term chart of BCH/USD has featured an identified horizontal support as well as a descending trendline resistance. The dip of Bitcoin Cash below the support levels of April to July 2018 has caused a readjustment to the support line, which is now slanting downwards as opposed to being strictly horizontal. This has transformed the pattern on the weekly chart to that of a falling wedge.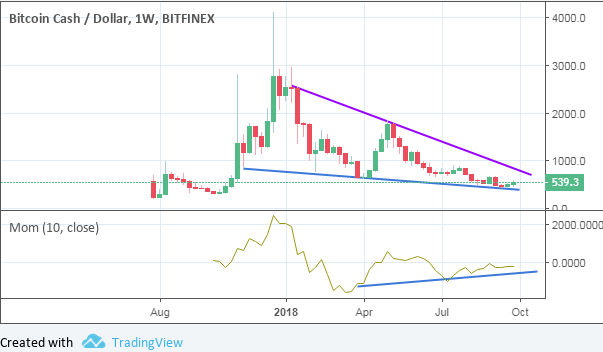 BCH/USD Weekly Chart: September 29, 2018
We also see that the momentum indicator has formed troughs which are progressively getting higher while the price lows are getting progressively lower. This is a divergence situation.
In the context of a chart pattern, price action usually bounces between the lower trendline border (acting as support) and the upper trendline border (acting as resistance). This usually continues until a breakout occurs close to the apex of the pattern. Therefore, we would expect this to play out as well with the falling wedge pattern that is presently evolving on the BCH/USD long-term chart.
There are two possible scenarios as to how this setup will eventually play out.
Scenario 1
A divergence scenario has been identified and is also occurring just as the price of BCH/USD is bouncing off the lower trendline in the falling wedge. The price is expected to move upwards in order to correct the identified divergence. Furthermore, price action is not yet close to the point of convergence of the trendlines. There is, therefore, a lot of space for price to move within the pattern itself. At present levels, the only possible direction is upwards, which would also tally with the divergence correction.
If the divergence occurs as described, then the price action will have enough reason to push upwards from the lower trendline border of the falling wedge, at least to the opposing boundary. But to do this, it would need to overcome the 10-day exponential moving average, which is a cap within the pattern to further upside movement. So it is safe to say that while price is expected to head upwards, it needs to close above the 10-day EMA as a confirmation for this move.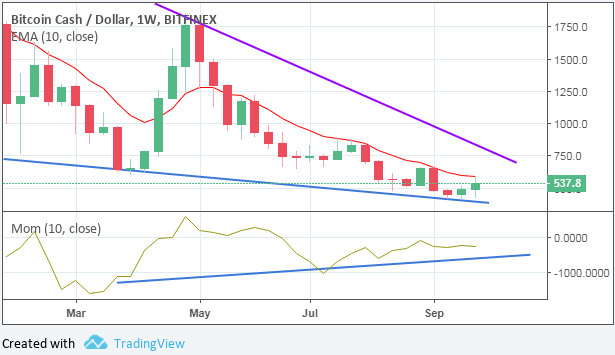 Scenario 2
It is also possible that BCH/USD will respond more to the fundamental plays of Bitcoin rather than the technical setups of its own. Bitcoin is presently locked in a seesaw battle between the bulls and the bears, causing it to be stuck in a range located between the $6,280 and $6,650 mark. If this occurs, then BCH/USD may also be stuck in a range as well. However, this is the less likely of the two scenarios to occur.
Bitcoin still has further upside left in its move to the descending trendline resistance. If Bitcoin prices move upwards this new week, expect it to pull up Bitcoin Cash as well. That is why it is important for traders of the BCH/USD pair to also watch the situation on the Bitcoin charts to get some direction for their trades.
Ultimately, if price action continues to respect the boundaries of the falling wedge on the weekly chart, price will eventually end up with an upside breakout. However, this outcome is still several weeks or even months away. Such a breakout may not even be on the cards for 2018. So traders may well have to continue to trade within the boundaries of the wedge pattern for some time to come.
Market Sentiment
The long term, midterm and short-term outlook of the BCH/USD pair is:
Long Term – bullish
Midterm – bullish
Short term – neutral
Disclaimer: Please note: this analysis was done on a weekly chart. It takes a whole week for a candle to form, so the price moves described above may take several weeks to play out. Entries should be made on shorter time frame charts such as the daily chart.
Bitcoin may have come down from the stratosphere, but there's still an abundance of opportunities in cryptocurrencies. At the Coin Agora, our focus is on altcoins – the smaller cap cryptos that have massive potential to disrupt business ecosystems. Invest with us for your chance to get in on the ground floor. Our mission is to help you find small, new and growing coins and reap rich returns. Let us help you cut through the noise and find winners – join the Coin Agora community today!
Disclosure: I/we have no positions in any stocks mentioned, but may initiate a long position in BCH-USD over the next 72 hours.
I wrote this article myself, and it expresses my own opinions. I am not receiving compensation for it (other than from Seeking Alpha). I have no business relationship with any company whose stock is mentioned in this article.