After a strong start to 2018, CRISPR Therapeutics (CRSP) has seen its stock price drop off in performance of late in a year that has largely been difficult for biotech stocks. The underwhelming performance may not be unconnected with the latest earnings reports which showed an increase in its operating losses for Q3 2018.
However, the charts seem to suggest that good things may yet happen for this stock before the year runs out.
Fundamental Outlook
CRSP's approach with its gene-editing technology has been to target the biggest genetically-linked ailments. Clinical trials of CTX001, the anti-sickle cell medication which has been developed by the company, are set to begin. If the trials succeed and the drug is approved for human use, that would be well received by investors. According to a recent report, the first of CRSP's genome-editing drugs could be available for medical use by 2022. That's a long road away, but good news between now and then will send speculators toward CRSP's potential, buoying the price back to Q3 2018 levels.
Indeed, these breakthroughs keep CRSP as an enticing biotech buy for the long-term. That's been reflected, as well, through capital investment like Monashee's recent $5 million purchase of CRSP shares. Analysts have called for a CRSP buy rating with a price target of $62.
Technical Outlook
The weekly chart shows price action in the midst of the downward channel, with price action currently located at $38.33. This is very close to the initial resistance seen at the $40.27 price level. This is the same area where price initially found support in April 2018. It is now performing a role reversal function, having been broken in October 2018.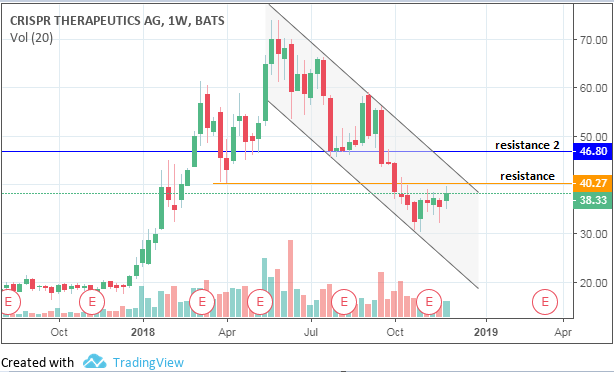 CRSP Weekly Chart: November 30, 2018
To get a clearer picture of what is going on with CRSP, we step down as usual to the daily chart, where some important points can be noted from the chart.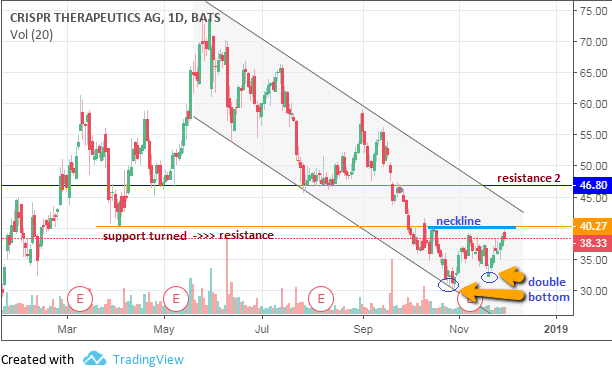 CRSP Daily Chart: November 30, 2018
The following can be seen on the daily chart:
There is a downward channel, with the price candle for the week having bounced off the lower channel trendline.
Pushing up from the lower channel trendline price made a run to the initial horizontal resistance at $40.27, then retreated to form another price bottom, but at a level that was not as low as the first bottom. This double bottom may yet prove significant.
With the formation of the double bottom, the $40.27 resistance level will now serve as the neckline; an important area that price action has to break to the upside for price to start its climb to the next resistance at $46.80.
So what are the trade scenarios for CRSP going forward?
Trade Scenario 1
At $38.33, price action is close to testing the neckline resistance at $40.27. If the price is able to break above this price level on the daily chart, then price should make the dash to the next resistance level at the $46.80 mark. It may not be a straightforward break, as price may experience a pullback after closing above the neckline. An increase in buying volume would provide enough impetus for those traders who are bullish on CRSP to initiate buys at that area.
As a general rule, the distance from neckline to projected end of move = distance from the head to the neckline. So any buys at the break and pullback of a neckline (assuming this occurs) must consider this information in setting price targets for possible trade exit.
Trade Scenario 2
It is also possible that price may test the neckline several times and fail to break it. If this is the case, the double bottom pattern can be considered to have failed and greater attention paid to the channel. It is also possible that price may break above the neckline, and stall at the upper channel border. This would continue the price movement within the channel as the big picture; something already happening on the weekly chart.
Disclaimer: Please note, this analysis was done on a weekly chart. It takes a whole week for a candle to form, so these moves may take several weeks to play out. Entries should be made on shorter time frame charts such as the daily chart or the hourly chart.
Bitcoin may have come down from the stratosphere, but there's still an abundance of opportunities in cryptocurrencies. At the Coin Agora, our focus is on altcoins – the smaller cap cryptos that have massive potential to disrupt business ecosystems. Invest with us for your chance to get in on the ground floor. Our mission is to help you find small, new and growing coins and reap rich returns. Let us help you cut through the noise and find winners – join the Coin Agora community today!
Disclosure: I am/we are long CRSP.
I wrote this article myself, and it expresses my own opinions. I am not receiving compensation for it (other than from Seeking Alpha). I have no business relationship with any company whose stock is mentioned in this article.