Here is the analysis for Incyte Corporation (INCY), which closed the 1st week of trading in December at a price of $64.51. This is close to the lowest the stock has traded in 2018. What can we expect in a long-term analysis of INCY?
Fundamental Outlook
The next earnings report for INCY comes up on February 19, 2019. Therefore, earnings numbers are not expected to play any role in price action in the next eight weeks. Attention, until then, is on developments of Incyte treatments, like its mainstay, Jakafi. The drug had a successful mid-stage report this week, shooting INCY shares up more than 5%.
Jakafi is being developed as an adjunctive treatment against graft-versus-host disease (GVHD). Trials of Jakafi are still at an early stage, with an FDA review action date in late February 2019. This year, the industry has outperformed INCY in the last year, with the stock losing 29% against 13.8% industrial decline.
Technical Outlook
The weekly chart shown below displays the price action of INCY's stock from 2012 till date, thus presenting the long-term price action. The chart has been shrunk to provide historical basis for any of the price movements that we see at the current time. We have delineated the various price patterns as they have occurred over time; something that should interest budding technical analysts.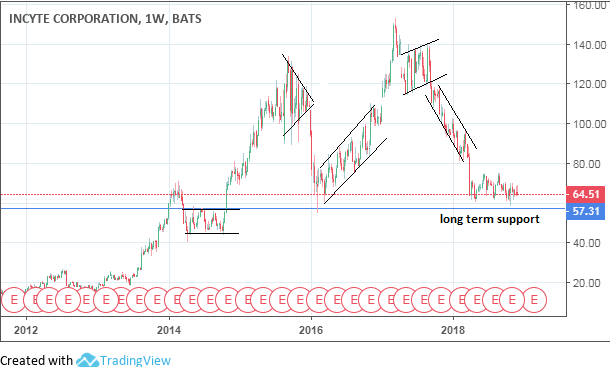 INCY Weekly Chart: December 8, 2018
From this chart, we see that the key price level in focus is the long-term support that is seen at the $57.31 price area, which is a price level that served as a previous resistance way back in 2014. Price has been in a downtrend since late 2017, and what we presently see is a period of price consolidation on the weekly chart.
But what is the medium term and short-term outlook on INCY? To get this perspective, we look to the daily charts, where we can see that price action is presently sitting on a support level within the confines of a symmetrical triangle. Indeed, price is sitting at a short-term support level that was seen in July 2018. Just south of the lower border of the symmetrical triangle, we also see a support line at $60.68 (marked "next support"), which is the site of a support level last seen in May 2018 as well as several times in 2017 (not shown).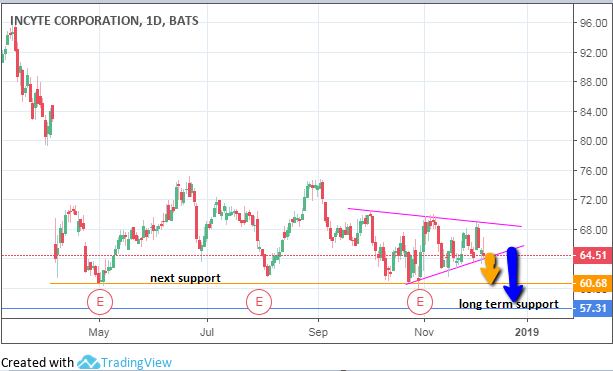 INCY Daily Chart: December 8, 2018
At $64.51, price not only sits on a support line, but also sits at the support formed by the lower border of the symmetrical triangle. So what can we expect in terms of price action?
Trade Scenario 1
The first scenario that could occur is that we may see a downside break of the symmetrical triangle. This is because the pattern behaves mostly as a continuation pattern and price has been in a downtrend on the long-term chart. A downside break of the symmetrical triangle will see price action attaining the price support of $60.68 as the first target. If downward price action is strong enough, then this support level could break down and we will see price aiming for the long-term support price of $57.31.
Trade Scenario 2
There is nothing that says that price cannot break to the upside, especially if there is positive market sentiment in the healthcare sector or if there is strong news for INCY. If the price action eventually breaks to the upside, it has to be accompanied by an increase in buying volume and will first test the next available resistance area at $72.
Market Sentiment
The long term and medium-term outlook of INCY is:
Long Term – bearish
Mid term – neutral to bearish
The long-term market sentiment as seen on the weekly chart is bearish because price action is in a downtrend and price at the moment is in a consolidation phase on the weekly chart. The medium-term outlook is neutral to bearish, as the expectation is for price to break below the symmetrical triangle in continuation of the long-term downward trend.
Please note: A lot of this analysis hinges on the trend seen on the weekly chart. It takes a whole week for a candle to form, so the price moves described above may take several weeks to play out. Trade entries are best made on shorter time frame charts such as the daily chart.
Bitcoin may have come down from the stratosphere, but there's still an abundance of opportunities in cryptocurrencies. At the Coin Agora, our focus is on altcoins – the smaller cap cryptos that have massive potential to disrupt business ecosystems. Invest with us for your chance to get in on the ground floor. Our mission is to help you find small, new and growing coins and reap rich returns. Let us help you cut through the noise and find winners – join the Coin Agora community today!
Disclosure: I/we have no positions in any stocks mentioned, and no plans to initiate any positions within the next 72 hours. I wrote this article myself, and it expresses my own opinions. I am not receiving compensation for it (other than from Seeking Alpha). I have no business relationship with any company whose stock is mentioned in this article.