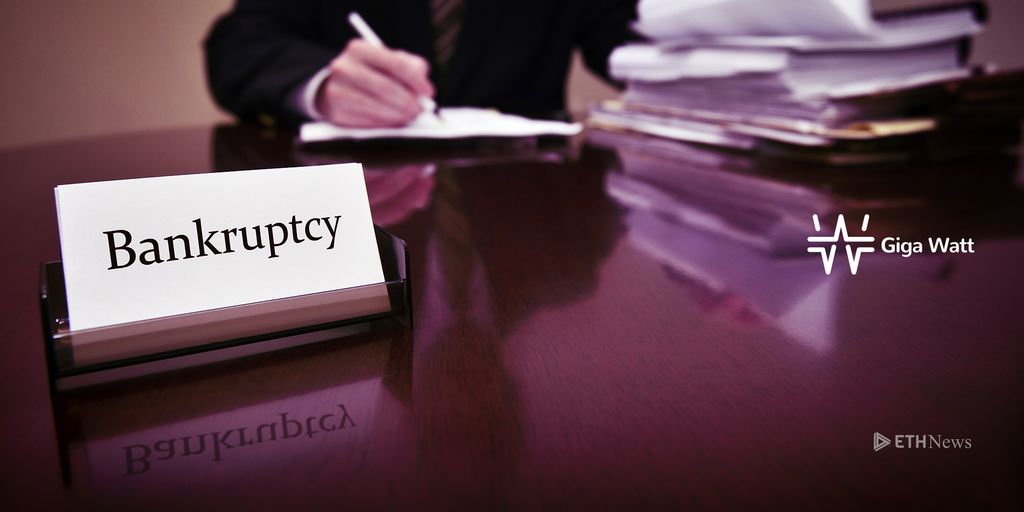 November 21, 2018 9:51 PM
Giga Watt is in hot water.
On Monday, November 19, the East Wenatchee, Washington-based cryptocurrency mining outfit Giga Watt filed for bankruptcy under Chapter 11 of the US Bankruptcy Code, according to the corporation's court documents. The firm also faces eviction from the Port of Douglas County, which has reportedly started the process to evict the company.
Per the documents, Giga Watt "is insolvent and unable to pay its debts when due" and has liabilities estimated at over $10 to $50 million, although the company's assets are only estimated at $0 to $50,000. The filing also notes that Giga Watt's reorganization under Chapter 11 would best serve the corporation's creditors.
The decision to file for bankruptcy is preceded by a history of hardship for the firm. Washington news agency iFiberOne reports that Giga Watt is involved in two class-action lawsuits alleging the company committed wire fraud and exhibited impropriety during its ICO. Moreover, the mining corporation's staff was cut from 63 workers to 16 in September.
In addition to these self-inflicted wounds, crypto mining via GPU rigs is not as profitable as it used to be. According to a recent CNBC report, profits went from "$150 last summer" to "$0 for November." Considering this general decline in mining profitability, a firm such as Giga Watt filing for bankruptcy is unsurprising, even if it does not necessarily rely on GPU rigs.
Apparently, the firm's managing director, George Turner, said news of the bankruptcy filing "came as a surprise" to him, as it had not passed through his office.
Of Giga Watt's arrears, $460,658 is owed to Neppel Electrical & Controls of Moses Lake, a local electric business, and $355,344 is owed to Talos Construction of Chelan, along with the company's smaller debts. The mining operation is also indebted to its affiliate companies, Cryptonomos and Giga Watt PTE, to the tune of millions.
Although bankruptcy is serious business, the company continues to mine crypto and take advantage of Wenatchee's inexpensive hydropower. "I don't know what the long-term ramifications are for us yet," said Turner.
Daniel Putney is a full-time writer for ETHNews. He received his bachelor's degree in English writing from the University of Nevada, Reno, where he also studied journalism and queer theory. In his free time, he writes poetry, plays the piano, and fangirls over fictional characters. He lives with his partner, three dogs, and two cats in the middle of nowhere, Nevada.
ETHNews is committed to its Editorial Policy
Like what you read? Follow us on Twitter @ETHNews_ to receive the latest Giga Watt, crypto mining or other Ethereum law and legislation news.