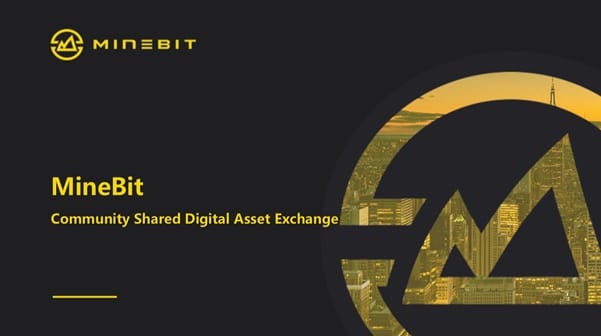 On this Nov 17 of EST, MineBit made its first official appearance on the Boston Blockchain Summit, which is hosted by BCIC and ICBA, cohosted by BitBlock Capital and MIT SLOAN, to give a speech and make the announcement that MineBit has recently launched its English version website as the first step of its International strategy.
As Korea's first community shared digital asset exchange, MineBit has earned a good reputation among Korean users and won their supports since launched on Aug 24.  Now with the launching of the English website, MineBit team has reached another milestone of its roadmap, and this also reveals its coming expansions into the larger and wider International market.
MineBit dedicates to create a digital asset exchange platform with features of self-autonomous, high-efficiency, transparency and fairness. Through its creative decentralized organization mechanism, MineBit will let the community speak on its behalf, create an exchange ecosystem sharing rights, information and revenues. The concept of sharing is not only written in the Minebit WhitePaper, but also the spiritual guide of MineBit founding team.
MineBit shares the vision of "let each member benefit from the development of community economy". As a Korean-market based community shared digital asset exchange, MineBit appreciates the community members' demands a lot. With its creative mechanisms of decentralized organization and revenue sharing, accompanied by a series online and offline operation events, MineBit reached its target to be one of the Top 3 Korean exchanegs in only three months, won great reputation among community members. The success of MineBit in Korean market has laid a solid and stable foundation for the realization of its integrated strategy plan.
Until now, MineBit has 3000+ Kakao group members, 100,000+ registered users, 24H volulme reaches up to 0.17 billion USD, with accumulated distributed revenue of 1100+ BTC. Since MBT listed for trading on Oct 17, 24H volume of MBT reaches up to 50,000,000+.
Accompanied by the launching of  MineBit English website, MineBit will start expansions into the US, Southeast Asia and other English-speaking markets while keep deepening the Korean market. "MineBit has been highly accepted by the Korean users, there are positive and warm stories between users and MineBit. When we do online broadcasting, there are users watching and leaving comments to describe MineBit staff as cute; during the offline meetups, there are users buying us coffee. Although lots of differences exist between the English-speaking users and Korean users, we believe in the consensus of community benefits and the development mode of user friendly. We have faith in the concept of shared, this concept will be accepted by users beyond languages. "
With its remarkable achievements and successful experiences in Korean market, will MineBit achieve the same success in its Internal strategy? We all look forward to witnessing that.