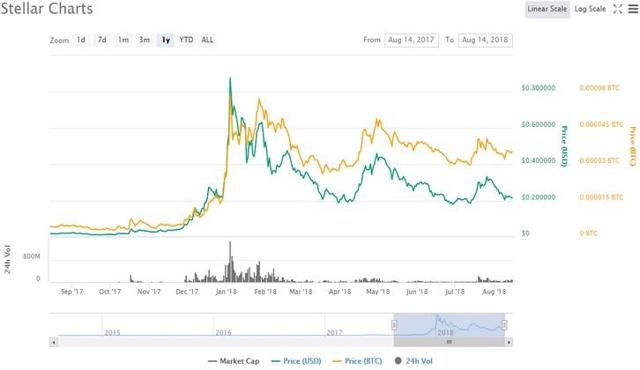 Not even Stellar Lumens (XLM-USD) has been spared the suffering cryptocurrencies have experienced in 2018. The fifth largest cryptocurrency has lost over 72% of its value since January.
However, like we have seen in the past, certain developments can breathe life back to a coin, and for this reason, we have every reason to believe XLM could rally soon. Below we will look at reasons why now might be the right time to invest in Stellar Lumens.
Global adoption plans
News of a special team being set up to help the cryptocurrency platform achieve global adoption has spurred XLM to overtake EOS in the 5th position in coin market cap.
The team will be made up of Shift Markets that has partnered with Lightyear.io. Commenting on this partnership, Ian McAfee, Shift's CEO, said it was an exciting partnership for the platform as many of its clients would love to have Stellar Lumens trading on the exchange.
He praised Stellar for its commitment to providing financial technologies that cost less in developing countries, and this made it perfect for Shift's market.
He added that the exchange aimed to increase the liquidity of Stellar Lumens and its usage for both major fiat currencies and exotic fiat currencies.
The news also had the Director of Sales and Partnerships at Lightyear.io, Paul Arnautoff, excited, and he said by partnering with Shift Markets, they would help expand the utility and the reach of the Stellar's blockchain network.
He also added that Stellar's customers would now be lucky to have access to an increasing number of liquidity providers in new and emerging markets, thanks to Shift's market technology and customer base.
The Projects
As teams work on expanding Stellar's international reach and adoption, the innovation surrounding Stellar remains strong. And its standing as a platform will be valued on what is being built on top of Stellar; the projects utilizing the platform and providing value for XLM-USD holders.
So what's going on with Stellar projects? Well, we should start with the biggest one: KIN. While KIN has said it won't run exclusively on Stellar, it will run part of its operation on the chain. And in Stellar, KIN, the coin of the now-infamous mega-ICO, sees a potentially better platform than Ethereum. KIN aims to be an in-app coin for the app generations; a mobile payment solution that can facilitate micro-transactions at no cost. And it's a creation by the team behind Kik, the popular messaging app with millions of daily users. This could help KIN, and its Stellar blockchain usage, be one of the first widely adopted in-app currencies.
From KIN, a coin corresponding to an app with millions of daily average users, we see Stellar's partner list that includes IBM, a noticeably mainstream company for the ever-crazy crypto markets. IBM has been partnered with Stellar for some time, but it has also illuminated the power of a platform that is now looking at breaking into a lot: African payment processing, real estate, and peer-to-peer lending. The diversity should signal some interest in just how far-ranging this platform can go.
Though far-reaching the likely long-term potential for success of these partners seems, we can revisit the IBM partnership, which gave a boost to Stellar a few weeks ago as IBM announced it was exploring a stablecoin based on, you guessed it, Stellar's blockchain. What's the big deal with stablecoins? Well, it can be pegged to a dollar, allowing a blockchain-based asset to use this technology (quicker speed, lower cost) without the volatility that we're seeing in coins like Bitcoin and Stellar.
And if international monetary systems are of interest to you, then Stellar's recent certification might interest you.
Stellar Received Sharia Certification
The coin received a huge boost in July after a document was published which indicated that the Stellar network had received the Cryptoverse's very first Sharia Certification from the Shariyah Review Bureau (SRB).
This was after the agency which is licensed by the Central Bank of Bahrain took a look at the properties and applications of Stellar and ascertained that they were Sharia compliant. SRB then came up with guidelines which would see Sharia-compliant applications of the Stellar platform utilized in Islamic financial institutions.
According to the document, the certification would help Stellar grow its ecosystem in areas where compliance with Islamic financing laws was required.
"What does this certification mean for the Stellar ecosystem? In partnership with SRB, this certification will help grow the Stellar ecosystem in regions where financial services require compliance with Islamic financing principles. For example, Islamic financial institutions in the Gulf Cooperation Council (i.e. Bahrain, Kuwait, Oman, Qatar, Saudi Arabia, UAE) and parts of Southeast Asia (e.g. Indonesia and Malaysia) will now be able to integrate Stellar technology in their Sharia-compliant product and service offerings. This is a big advancement for the Stellar network given that these regions are endpoints of popular foreign worker remittance corridors."
At that time, the news saw XLM outperform the other altcoins and gain over 20% in a 24-hour trading period to trade at $0.27.
Since then, the coin's price has sunk, but the members of the Stellar Development Foundation continue to meet with global financial institutions to show the benefits of Stellar's platform. And now that it can pitch to institutions with a Sharia-compliant chain, it opens the door to more financial products and services. That 20% rise may not have been a fluke, but a real tell of optimism that Stellar's blockchain can be a part of a diverse and innovative future.
Price Movement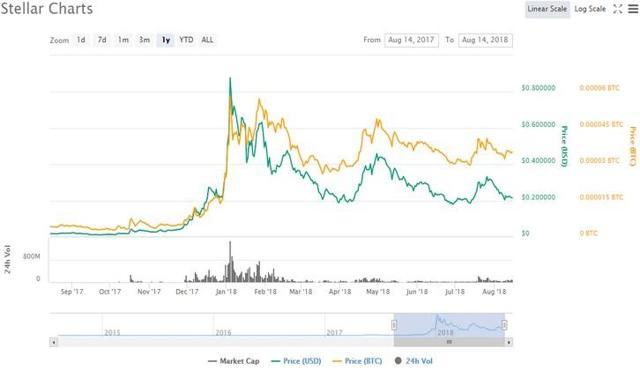 XLM one-year trading chart
Stellar achieved its highest price back on January 4th when the coin traded at $0.93. Since then, XLM has lost over 72% of its value, and it's currently trading at $0.21. However, as we have seen with these new developments, all of which point to global adoption, at least we can expect the coin to surpass its highest price very soon.
I understand that the crypto's recent moves have investors skittish, but this was always a high-risk market – big upswings and big nosedives. For those interested in the possibility of blockchain platforms, these nosedives are times to scoop up coins at discounted prices. And there's enough good news surrounding Stellar (we didn't even talk about the much covered Coinbase announcement) that the current price might just be the steal you're looking for in crypto.
The page above lists the market that XLM-USD is traded on. If you're interested in trading in XLM, our recommendation is to use Binance or Bittrex using whatever trading pair you're comfortable with (USDT-USD, ETH-USD, or BTC-USD).
Bitcoin may have come down from the stratosphere, but there's still an abundance of opportunities in cryptocurrencies. At the Coin Agora, our focus is on altcoins – the smaller-cap cryptos that have massive potential to disrupt business ecosystems. Invest with us for your chance to get in on the ground floor. Our mission is to help you find small, new and growing coins and reap rich returns. Let us help you cut through the noise and find winners – join the Coin Agora community today!
Disclosure: I am/we are long XLM-USD.
Business relationship disclosure: This article was written in collaboration with a researcher. No one involved has any relationship with the Stellar team.