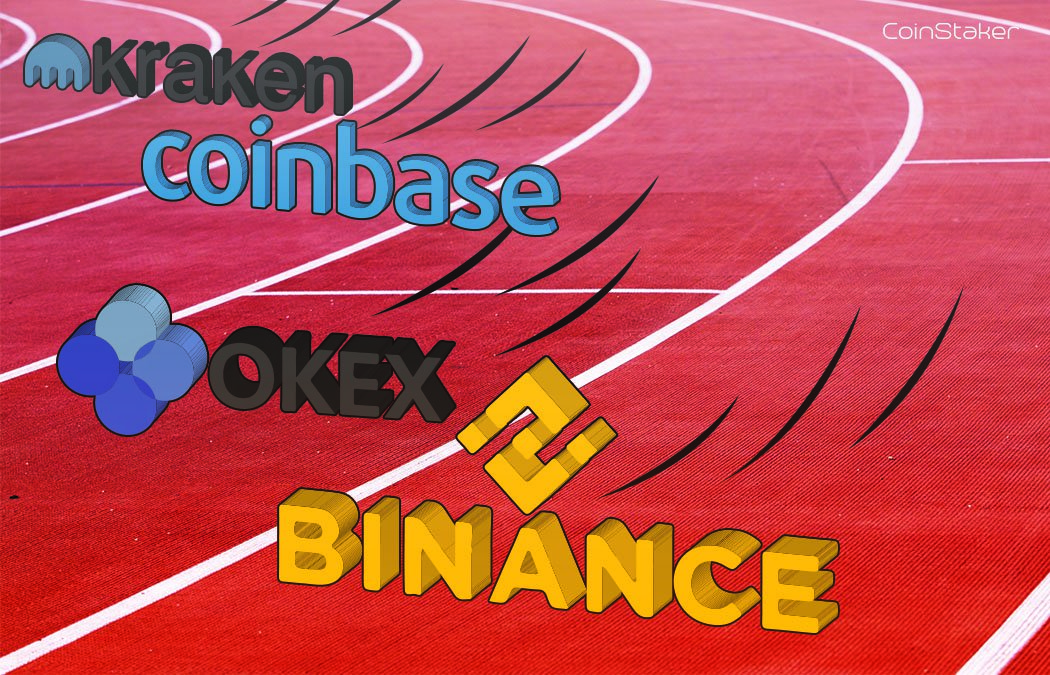 It is true that since the end of 2017, cryptocurrency prices have been riding the downtrend and altcoins were hit the most. But how did this affect the popular exchanges? It looks like Coinbase has lost a majority of its user base in favor of OKEx and Binance. All three exchanges are executing very aggressive plans for global expansion, but it seems that the Asian exchanges are crushing the competition.
OKEx and Binance are pulling more users
"The leaders: Bitcoin, Ethereum, Ripple, Litecoin and Bitcoin Cash are responsible for over 50% of all cryptocurrency trade volume on the markets. However, the market downfall is taking major US exchanges in its wake. Traded volumes on Coinbase, Bitstamp and Kraken have seen steep declines."
A part of the problem for Coinbase is that they offer a smaller number of cryptocurrencies. This limits traders and investors, and forces them to create an account at other exchanges. Unlike Coinbase, Binance and OKEx offer a vast amount of cryptocurrency projects, ready to be bought and traded, which gave them a big advantage over the competition.
The research was made by the producer Diar and numbers show that trading Coinbase has lost trading volume since the beginning of 2018. On the other hand, OKEx and Binance increased their userbase and their trading volumes either increased or stayed the same. The two Asian exchanges are number one and two biggest Cryptocurrency exchanges in the world leading the competition by a big margin.
On Coinbase the volume of the dollar/cryptocurrency trading pairs has decreased by more than 80%. Bitstamp was hit too, dropping around 70%. The Coinbase team is not blind about the problem, as recently they acquired the decentralized exchange – Paradex. There you can find trading pairs with Binance Coin, Huobi Token and more altcoins. This is Coinbase's way of wining back the user base. It remains to be seen how will Coinbase innovate their way out of this position. More than 50% of Coinbase users are from the United States, an important market to have a hold on.
Read more: