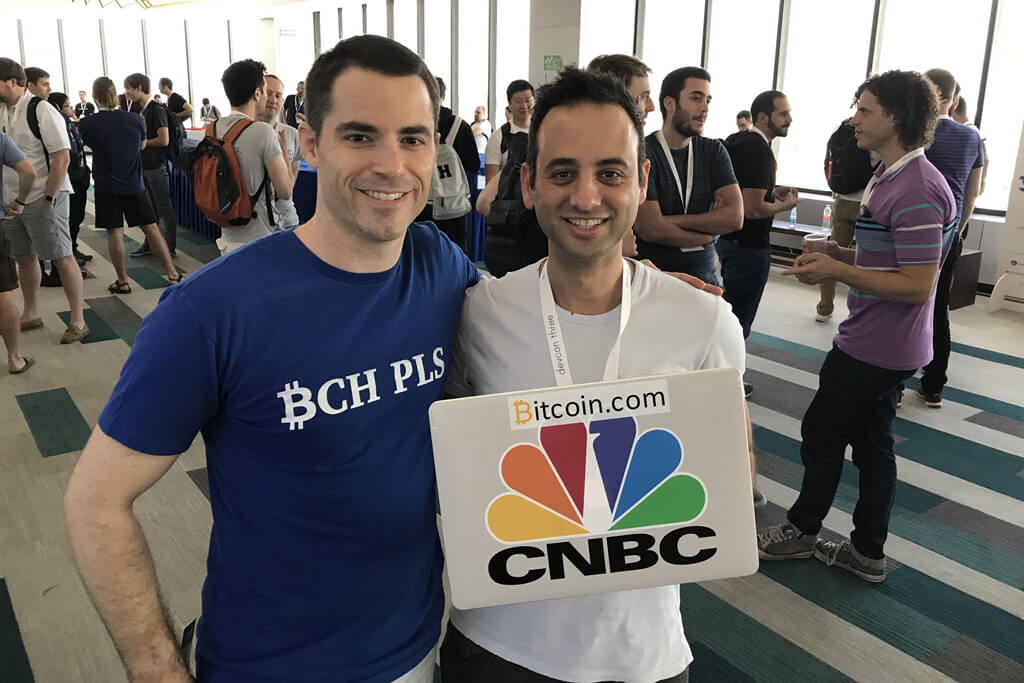 The well-known cryptocurrency investor strikes an upbeat tune about Bitcoin Cash (BCH) despite its steady decline in price in the wake of recent hard fork that he called an upgrade.
Yesterday CNBC's reporters interviewed Roger Ver who sometimes referred to as the "Jesus of Bitcoin" since he was one of the first investors to recognize the long-term prospect behind digital currency. Roger Ver was invited to share his vision of Bitcoin Cash (BCH) and to discuss the further development of Bitcoin's derivative following a deployed hard fork.
Despite what its naysayers keep peddling about Bitcoin Cash (BCH), Roger Ver endorses it saying that unlike Bitcoin and many other listed digital currencies, Bitcoin Cash (BCH) was developed specifically for transactions, thus it fully conforms to the version of Bitcoin described by Satoshi Nakamoto in his white paper. Additionally Ver explained his current bullishness on Bitcoin Cash (BCH) the exact same reasons applied to his bullishness on Bitcoin (BTC) back in 2011.
Bitcoin Cash was forked from Bitcoin (BTC) last year by a group of developers who recognized upgrades in the original software could improve the coins transaction efficiency as well as address the issue of Bitcoin's limited scalability. Referring to Bitcoin (BTC) as Bitcoin Core Ver emphasized the software's slowness, expensiveness and unreliability. However, at the end of February this year, Bitcoin's transaction fees were reported to be cheaper than those of Bitcoin Cash (BCH).
Nevertheless, Ver who is CEO of Bitcoin.com, a website that guides investors in the cryptocurrency market, continually advocates his point of view saying that a vast majority of innovative business are being built with Bitcoin Cash (BCH) in mind "because it actually works." Speaking to CNBC, he told:
"All of these existing businesses are building their new products on top of Bitcoin Cash, the economic path that bitcoin cash is on is the one that lead to Bitcoin's original success."
Last month Bitcoin Cash (BCH) named the best performing coin beat other large-cap currencies like Ethereum and Bitcoin even though it is currently on a very losing streak. Today it is trading at a low of $1 273,41 according to data from CoinMarketCap.Com.
The recently announced hard fork of Bitcoin Cash (BCH) increases the maximum blocksize from 8 to 32 MB whereas reactivating several Bitcoin script operation codes. This update was conceived to create a network that enables a huge numbers of transactions since newly implemented hard fork allows as many as 61 transactions per second to occur. However, on the contrary, it became a reason for robust debates within crypto-community as some say that an increase in block size makes operation of full nodes more expensive, also leading to less decentralization of the network as well as lower propagation speeds.
No wonder that released hard fork did not generate any upticks in Bitcoin Cash's price during the lead up to it. In fact, just the opposite has happened, Bitcoin Cash (BCH) has lost around 12% in the 24 hours since the update. Suggested explanation is that among the abovementioned pitfalls, this latest fork failed to benefit the primary owners of Bitcoin Cash (BCH). Traditionally a fork would reward currency holders by doubling their amount of equivalent coins. Holders would retain their original investment and receive the same amount on the new blockchain. With this fork, holder's coins will simply be moved to the new blockchain at the same value.
Considering all of this, Roger Ver still remains positive towards Bitcoin Cash (BCH) and has even predicted that it will double in price by years end. As he told CNBC:
"That's what actually gives it it's underlying value, that you can use it in commerce to pay for things. Whereas, a lot of these other tokens out there just kind of turn into speculative assets that don't actually have any utility."