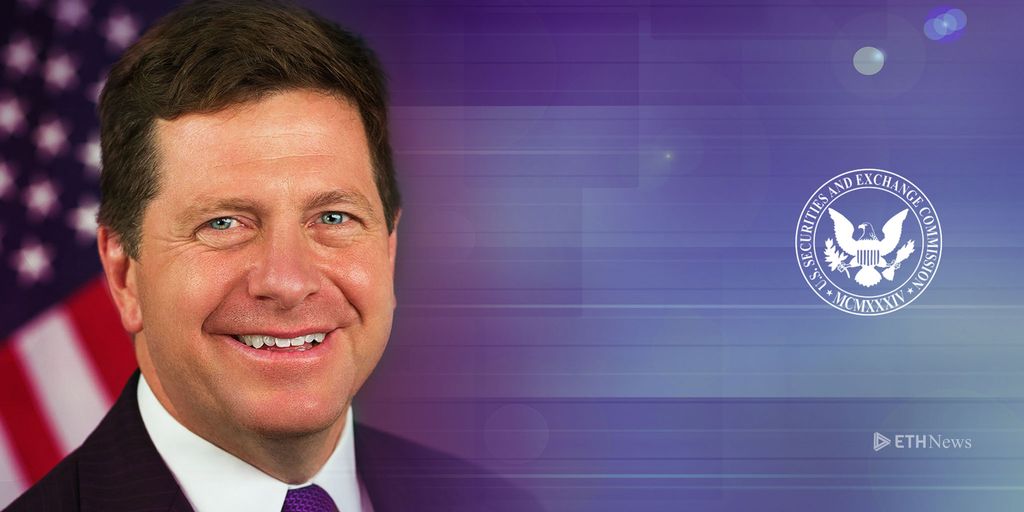 December 11, 2017 11:59 PM
On the afternoon of December 11, 2017, SEC Chairman Jay Clayton released a statement directed to "Main Street" investors and market professionals regarding his general views on cryptocurrency and the market for token offerings (ICOs).
What does the leader of the US securities market regulator think of cryptocurrency? On Monday, SEC Chair Jay Clayton published his views on the burgeoning alternative financial market and its fundraising mechanisms.
"A number of concerns have been raised regarding the cryptocurrency and ICO markets, including that, as they are currently operating, there is substantially less investor protection than in our traditional securities markets, with correspondingly greater opportunities for fraud and manipulation."
To date, "no initial coin offerings have been registered with the SEC," he shared. "The SEC also has not to date approved for listing and trading any exchange-traded products (such as ETFs) holding cryptocurrencies or other assets related to cryptocurrencies."
Clayton emphasized, "If any person today tells you otherwise, be especially wary."
Just hours after the Commission filed a cease-and-desist order against Munchee, Clayton's statement reiterated the agency's focus on the cryptocurrency markets. The chairman expressed the commission's ongoing interest in investor protection while referencing the July 2017 DAO report and fraudulent token offerings called RECoin and DRC World.
Throughout, Clayton proclaimed the importance of due diligence. "If you choose to invest in these products, please ask questions and demand clear answers," Clayton implored.
"Please also recognize that these markets span national borders and that significant trading may occur on systems and platforms outside the United States. Your invested funds may quickly travel overseas without your knowledge. As a result, risks can be amplified, including the risk that market regulators, such as the SEC, may not be able to effectively pursue bad actors or recover funds."
Nonetheless, the chairman assessed that token offerings demonstrate potential. "I believe that initial coin offerings – whether they represent offerings of securities or not – can be effective ways for entrepreneurs and others to raise funding, including for innovative projects," he wrote.
"However, any such activity that involves an offering of securities must be accompanied by the important disclosures, processes and other investor protections that our securities laws require. A change in the structure of a securities offering does not change the fundamental point that when a security is being offered, our securities laws must be followed."
Clayton called on market professionals to help uphold the SEC's mission of investor protection.
 "Tokens and offerings that incorporate features and marketing efforts that emphasize the potential for profits based on the entrepreneurial or managerial efforts of others continue to contain the hallmarks of a security under U.S. law.  On this and other points where the application of expertise and judgment is expected, I believe that gatekeepers and others, including securities lawyers, accountants and consultants, need to focus on their responsibilities. I urge you to be guided by the principal motivation for our registration, offering process and disclosure requirements: investor protection and, in particular, the protection of our Main Street investors."
He further warned stakeholders in cryptocurrency projects about potential grievances.
"I also caution market participants against promoting or touting the offer and sale of coins without first determining whether the securities laws apply to those actions.  Selling securities generally requires a license, and experience shows that excessive touting in thinly traded and volatile markets can be an indicator of "scalping," "pump and dump" and other manipulations and frauds.  Similarly, I also caution those who operate systems and platforms that effect or facilitate transactions in these products that they may be operating unregistered exchanges or broker-dealers that are in violation of the Securities Exchange Act of 1934."   
On cryptocurrency more broadly, Clayton explained that "simply calling something a 'currency' or a currency-based product does not mean that it is not a security." Additionally, he wrote, "Brokers, dealers and other market participants that allow for payments in cryptocurrencies, allow customers to purchase cryptocurrencies on margin, or otherwise use cryptocurrencies to facilitate securities transactions should exercise particular caution, including ensuring that their cryptocurrency activities are not undermining their anti-money laundering and know-your-customer obligations … As I have stated previously, these market participants should treat payments and other transactions made in cryptocurrency as if cash were being handed from one party to the other."
Before concluding, Clayton seemed to predict additional SEC action in the near future. "I have asked the SEC's Division of Enforcement to continue to police this area vigorously and recommend enforcement actions against those that conduct initial coin offerings in violation of the federal securities laws."
Clayton included the following list of questions for investors considering cryptocurrency or ICO investment opportunities.
Matthew is a writer with a passion for emerging technology. Prior to joining ETHNews, he interned for the U.S. Securities and Exchange Commission as well as the OECD. He graduated cum laude from Georgetown University where he studied international economics. In his spare time, Matthew loves playing basketball and listening to podcasts. He currently lives in Los Angeles. Matthew is a full-time staff writer for ETHNews.
ETHNews is commited to its Editorial Policy
Like what you read? Follow us on Twitter @ETHNews_ to receive the latest SEC, Jay Clayton or other Ethereum law and legislation news.