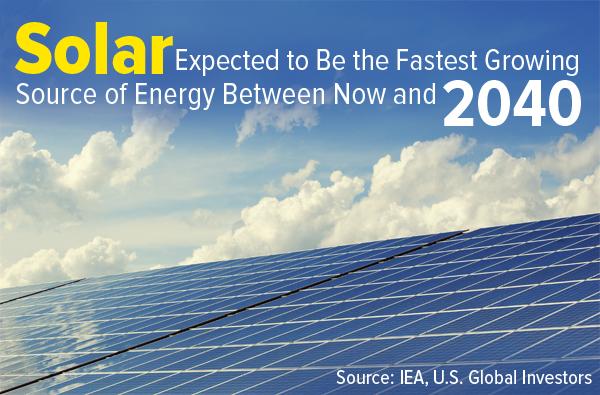 By 2040, the world will need to add the equivalent of India and China's current energy system to meet the demands of a surging global population and rising incomes. Among all other forms of energy, solar PV (photovoltaic system) is forecasted to see the largest and fastest growth in new capacity additions as prices continue to plummet and world governments enact policy favoring renewables.
The claims above, which come from the International Energy Agency's (IEA) just-released World Energy Outlook 2017, is constructive for SolarEdge Technologies (NASDAQ:SEDG). The company was up more than 202 percent in 2017 as of November 13, jumping nearly 20 percent in a single day last week after record revenues and profitability were announced for the third quarter. The S&P 500 Energy Index, by comparison, has delivered negative returns for the year.
SolarEdge contracted last November on fears that the incoming Donald Trump Administration would curtail incentives for "green" energy capacity additions.
SolarEdge at the Cutting Edge of the Solar Market
SolarEdge just closed out a stellar third quarter. During the earnings call last week, founder and CEO Guy Sella reported record revenue of $166.6 million, up 30 percent from the same quarter last year; record cash flow generation of $33.6 million; and net income of $28 million, with diluted earnings per share at $0.61. This beat consensus estimates by 11 cents. Gross margins stood at 35 percent for the quarter. Oh, and the company has carried absolutely no debt for at least the past year.
There isn't much about SolarEdge, in other words, that I can find fault with.
Some investors might believe that after such a phenomenal run, SolarEdge is due for a correction. Obviously I can't predict the future, but for whatever it's worth, the company's own guidance for the fourth quarter has revenues reaching between $175 million and $185 million—which, if achieved, would set another fresh record.
So who are SolarEdge's customers? According to Sella, the U.S. accounted for a little less than half of the Israeli company's quarterly sales, with market share in Europe climbing. Australia, India and Japan are also "beginning to bear fruit."
"We remain confident in our technology leadership, innovation and intellectual property we have to defend it," Sella said, adding that consumers can expect to see a new product line soon that will add to its residential power optimizers, solar inverters and more.
China and India Driving Renewables Adoption
SolarEdge's success is emblematic of the impressive growth we've been seeing in the broader renewables space. As I've shared with you before, new solar PV capacity additions were the largest of any other form of energy in 2016. Since 2010, according to the IEA, costs have come down approximately 70 percent, making solar more affordable for everyday consumers and businesses.
This trend could continue, as shown below. Solar PV has been forecasted to represent the largest share of all new energy capacity additions between 2017 and 2040. As you can see, new coal capacity growth is forecast to shrink dramatically compared to the 2010-2016 period. Natural gas should remain about the same. New nuclear power capacity additions, meanwhile, are expected to be negligibly higher.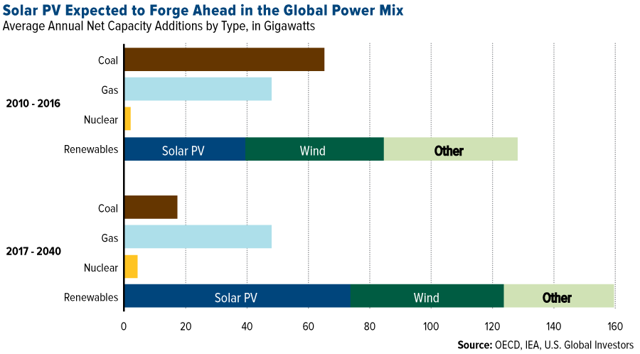 According to the IEA, China and India will make up the lion's share of renewable energy demand, solar PV especially, as the two governments are committed to improving their air quality and lowering costs.
"To meet rising demand, China needs to add the equivalent of today's United States power system to its electricity infrastructure by 2040," the IEA writes, "and India needs to add a power system the size of today's European Union."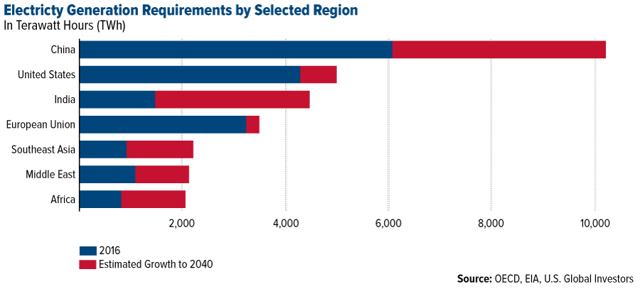 In its September briefing paper, Asia Europe Clean Energy (Solar) Advisory (AECEA), a Hong Kong-based advisory company, reported that China was on track to add 50 gigawatts (GW) of new solar PV capacity this year, a new annual record anywhere around the world. This comes after the Asian country added 34.54 GW in 2016, itself a 128 percent increase from 2015.
As for India, the country just opened the bidding process to install as much as 20 GW of new solar capacity—the most ever for a single deal, according to Indian business newspaper Mint.
Managing Expectations
Whatever your position is on renewables, it's important as serious investors to recognize where the trend appears to be headed. The tailwinds are undeniably at renewables' backs at the moment and potentially for the next couple of decades at least.
Disclosure: I am/we are long SEDG.
I wrote this article myself, and it expresses my own opinions. I am not receiving compensation for it. I have no business relationship with any company whose stock is mentioned in this article.