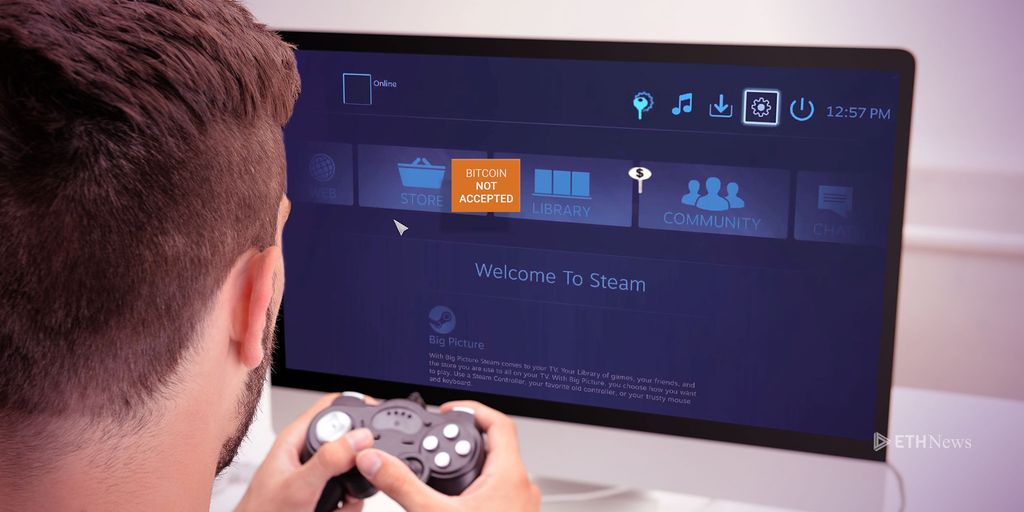 December 7, 2017 12:38 AM
Steam is letting some air out of the alleged cryptocurrency bubble. The decision to drop bitcoin from its payment options portend challenges to bitcoin functioning as a currency for several reasons.
On Wednesday, digital distribution platform Steam announced that it will no longer accept bitcoin transactions.
As of today, Steam will no longer support Bitcoin as a payment method on our platform due to high fees and volatility in the value of Bitcoin.
"In the past few months we've seen an increase in the volatility in the value of Bitcoin and a significant increase in the fees to process transactions on the Bitcoin network," the company wrote. "For example, transaction fees that are charged to the customer by the Bitcoin network have skyrocketed this year, topping out at close to $20 a transaction last week (compared to roughly $0.20 when we initially enabled Bitcoin)."
The explanation continued: "Unfortunately, Valve has no control over the amount of the fee. These fees result in unreasonably high costs for purchasing games when paying with Bitcoin. The high transaction fees cause even greater problems when the value of Bitcoin itself drops dramatically."
On Steam, some of the top-selling games include Call of Duty: WWII ($59.99), PLAYERUNKNOWN'S BATTLEGROUNDS ($29.99), and Rocket League ($19.99). At current rates – approximately $6.30 per transaction on the bitcoin network – the cost of using bitcoin would account for approximately 9.5 percent, 17.4 percent and 24 percent of the total sale price respectively.
Steam's decision to drop bitcoin from its payment options portends challenges to bitcoin functioning as a currency.
First, if you can buy one of these titles for less money by using dollars (or another medium of exchange), then why use bitcoin? For consumers, the transaction fees are prohibitive.
Second, the volatility of bitcoin makes it difficult to be certain that you're receiving good value. In the morning, you might buy a standard edition video game, but by mid-afternoon, maybe you could've bought the deluxe edition for the same price.
Third, if you believe that the long-term value of bitcoin will increase, then why use bitcoin on this purchase? By using alternatives, you can continue to "hodl."
Finally, if it doesn't make financial sense for retailers to accept bitcoin (because of the associated transaction fees and volatility), then that perception might dissuade widespread adoption of bitcoin as a currency.
At this very moment, scaling solutions are being developed (i.e. Lightning) that could negate some of Steam's concerns. Even though volatility remains problematic, removing transaction fees could make purchases in cryptocurrency much more palatable for consumers.
So, if you're holding out hope of using bitcoin to buy your video games, don't get too low. Steam closed its announcement by saying, "We may re-evaluate whether Bitcoin makes sense for us and for the Steam community at a later date."
Matthew is a writer with a passion for emerging technology. Prior to joining ETHNews, he interned for the U.S. Securities and Exchange Commission as well as the OECD. He graduated cum laude from Georgetown University where he studied international economics. In his spare time, Matthew loves playing basketball and listening to podcasts. He currently lives in Los Angeles. Matthew is a full-time staff writer for ETHNews.
ETHNews is commited to its Editorial Policy
Like what you read? Follow us on Twitter @ETHNews_ to receive the latest Steam, bitcoin or other Ethereum cryptocurrencies and tokens news.