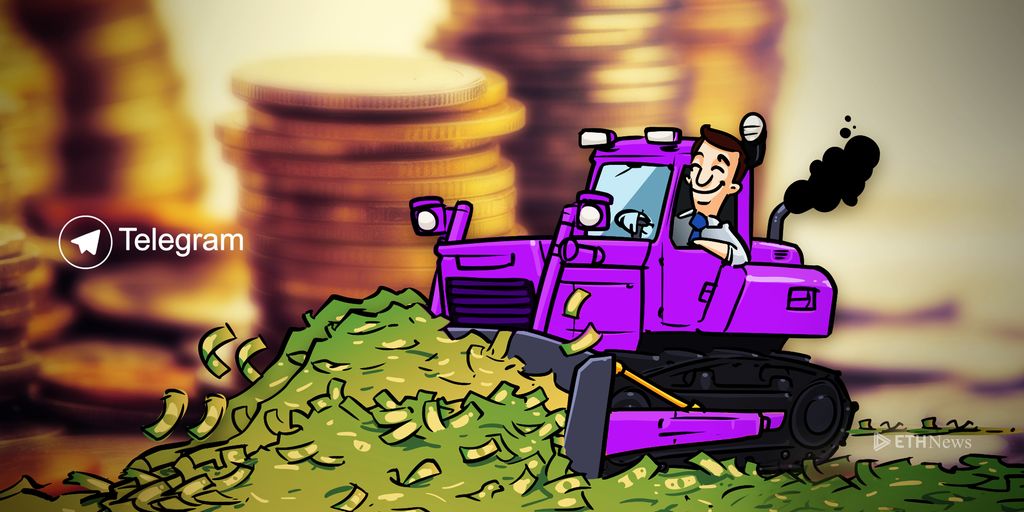 Telegram's plans to launch a multi-billion-dollar initial coin offering for its Telegram Open Network project hit the skids upon news that early-accredited investments met Telegram's fundraising goal.
Per a report by The Wall Street Journal, a "person familiar with the matter" of Telegram's fundraising exploits said the company canceled the public portion of its ICO, following the collection of $1.7 billion from fewer than 200 private investors in the Telegram Open Network (TON).
Note: The TON whitepaper refers to its blockchain's representative cryptocurrency as "TON coins" and "Grams" interchangeably.
Historically, the prices of many post-presale tokens have jumped when they were first listed on digital asset exchanges, at least temporarily. According to the report, Telegram – which extended its fundraising goal from $1.2 billion to $1.7 billion before pulling the plug on the public sale – has stated it plans to use the money raised for TON to "build out its technology and further redevelop and maintain its main messenger service." A total of 12 million TON coins were sold.
ETHNews contacted the Telegram ICO team, which identified itself as a "reseller of TON coins" separate from Telegram's management. Stating its collective "opinion," the team confirmed the cancellation of the public ICO sale. "By our information, there is no ICO, due to overwhelming demand by fiat investors," the ICO team told ETHNews. "You can treat TON fiat investors as 'new money' in the cryptocurrency [world] and this is a good thing for crypto, in our opinion."
It is possible that Telegram opted out of the public sale to prevent undue regulatory scrutiny, including the ongoing probe by the US Securities and Exchange Commission into a number of ICOs, which include BitConnect, Munchee, REcoin, and DRC World.
An accredited investor is an investor that is recognized to either have the resources or the education to mitigate the risk of an unregulated investment or an unregistered securities purchase. In the United States, this means that the investor must have an annual individual income of $200,000 or a joint income of $300,000 for the last three years, a net worth of $1 million, or a managerial or ownership stake in the securities' issuer.
Telegram's $1.7 billion tally makes it one of the most profitable ICOs in history. However, with much of the public cashflow surrounding TON happening outside of Telegram's auspice, some are seeing red flags. With no timeline set for the market introduction of the coins, those desperate to get their hands on Grams are only left with over-the-counter options, where the markups can be significant. Worse, this large blossoming of wealth will be controlled by an already wealthy handful of individuals.
This is for a project that many felt was lofty to begin with. "Telegram/TON's 132 page whitepaper says nothing substantial about the hard parts of designing a decentralized protocol. It is essentially a wishlist of things they want to have, and how it will work assuming that their wishlist doesn't crash and burn," Charles Noyes of Pantera Capital wrote. "The entire thing should have a disclaimer attached: 'all of the technical things we said this will do are completely unproven and have not been subjected to outside scrutiny.'"
In Russia, the government has ordered an immediate ban of the app, which claims to have 200 million active users, in part due to Telegram's refusal to share user data with the Russian Federal Security Service. Per the ICO team, one million TON tokens will be airdropped to #digitalresistance supporters next month.
Frederick Reese is a politics and cryptocurrency reporter based in New York. He is also a former teacher, an early adopter of bitcoin and Litecoin, and an enthusiast of all things geeky and nerdy.
ETHNews is committed to its Editorial Policy
Like what you read? Follow us on Twitter @ETHNews_ to receive the latest , or other Ethereum cryptocurrencies and tokens news.