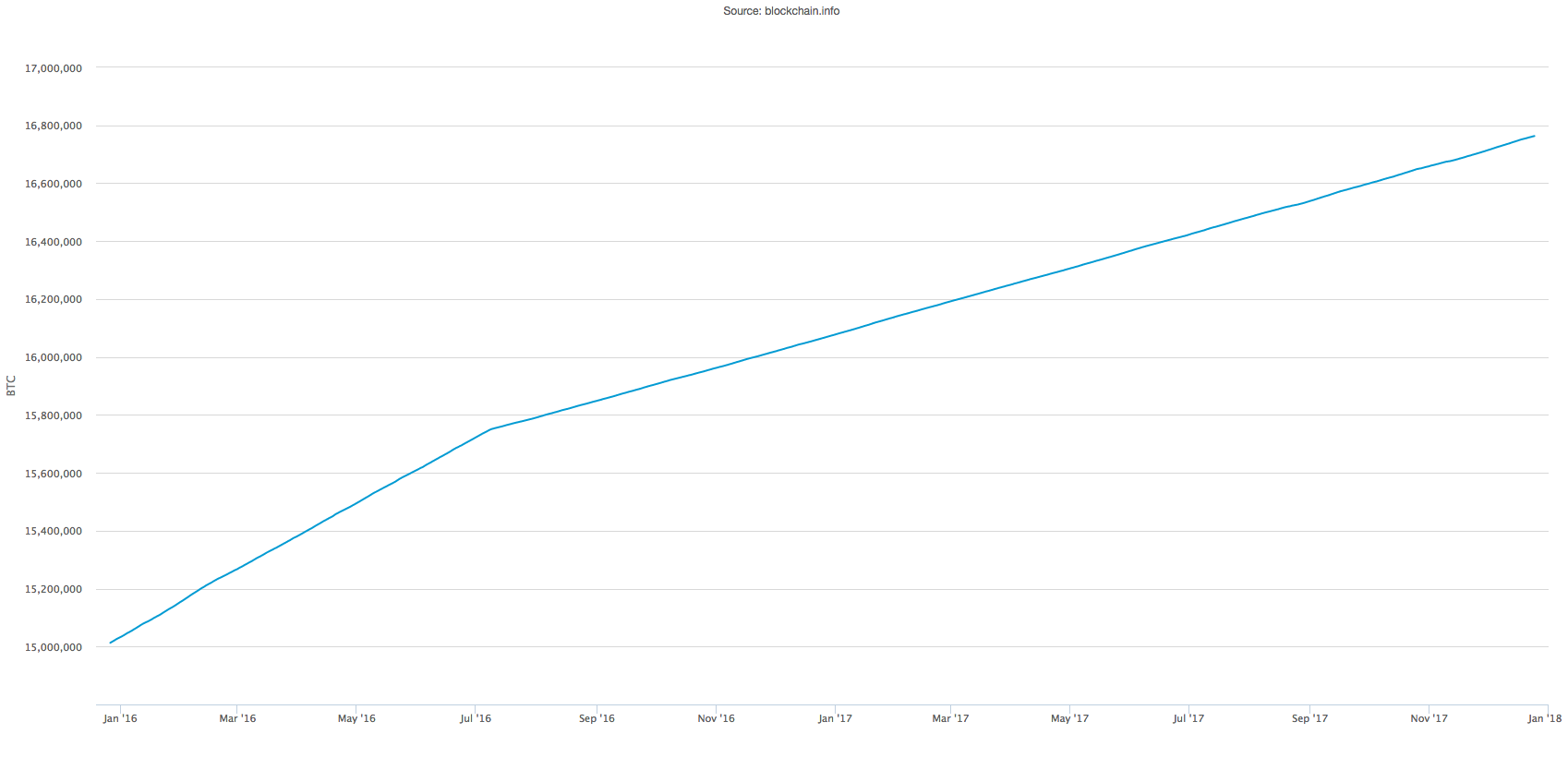 There's been debate for years now on Bitcoin's role in the crypto economy (or world economy). Paul Krugman wrote on it in 2013, others have tried to defy the myth of volatility, and the Bitcoin vs. Bitcoin Cash communities debate rages on till this day.
But 2017 has seen the narrative of Bitcoin being a "store of value" really solidify. No longer is the central discussion of sending BTC from person to person (no matter what Satoshi's original vision was). It's of BTC possessing a scarce resource, one that sits outside of the world's longstanding financial institutions, and one with growth opportunity that makes "HODLing" a favorite motto of crypto investors.
So let's start by confirming this narrative. Bitcoin is, and likely will continue on as, a store of value. It just no longer makes sense to use it transactionally. As this Bloomberg article points out, merchants hardly ever receive payment in BTC now, and only three of the top 500 global merchants accept BTC (down from five). Mainly, this is because BTC has gotten expensive and slow to transfer — exactly the opposite of its promise. Personally, I moved .25 BTC last week from one exchange to another — a move that cost me .001 BTC (set fee) which is $17, and it took over 90 minutes. No currency can be effective like that.
So that has led to the store of value (SoV) argument. It's become louder and louder. And most on that side say that customers aren't willing to use BTC because they want to keep it, believing its price to increase, even if its value inside the commercial world is reduced. Whether you believe it's a good store of value or not is a subject for a different article (though there are big names on the positive side). This is now a conventional perspective, and that means two important things on the investment side.
1. 2018 Is Going To Be The Year of "Scarcity", And That's Not A Good Thing
Right now there are new Bitcoins created every single day. About 1,800 or so, to be precise. There will continue to be new Bitcoins created every day until it reaches the max circulation of 21 million — set for a few years for now. Here's the historical chart of Bitcoin creation: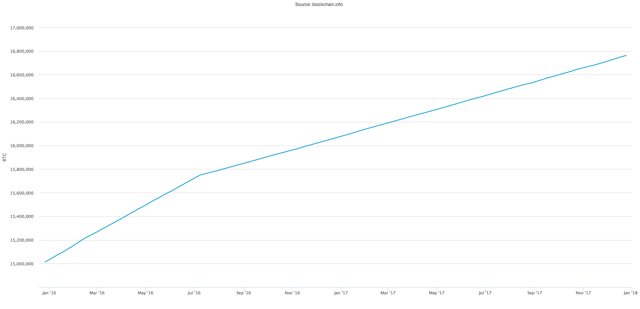 This growth does some work to stave off scarcity, but there's an end in sight. And I think 2018 will be the year when the narrative shifts to BTC being "rare" and see even more Bitcoin's taken out of circulation.
Why do I think this?
Well, daily transactions (doubled since January 2016) have outpaced the circulation growth (10% in same time period). So there seems to be some liquidity, though as discussed these transactions are not purchasing; they're likely mostly trading.
In fact, just Tuesday (December 26th), the market saw nearly $8 billion worth of Korean Won get put into BTC (as the contributor of this chart pointed out — that's nearly ¼ of GDAX's normal weekly volume). Each week it seems to set its own record for transaction volume.

(source: SamSlate on Tradingview)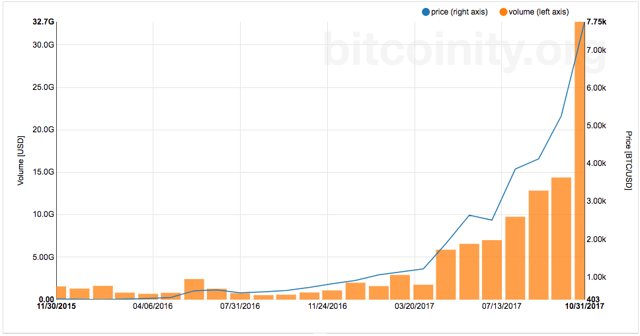 So we have increasing demand that far extends beyond the increasing supply — which most know has a finite end, as well. Add to this the blunder in Bitcoin of lost and forgotten keys, as well as improperly sent transactions. (Some estimates have that in the millions of coins).
That would tell us there's going to be a squeeze. That should send prices skyward for a period of time — and the question then becomes one of sustainability at that price.
I don't think so. I think that squeeze, as the "scarcity" narrative plays along, is what leads to the bubble popping on Bitcoin. For a while I thought the bubble popping on BTC would pop the whole of cryptocurrencies as well, but I no longer think that. I see some coins losing their footing completely in that, but not all.
Of course, many will sell as that bubble pops, and many will buy back in, continuing to grab up the limited resource and holding as loyalists. In this way, the scarcity narrative will become a larger actuality down the line (say 5-10 years from now) as Bitcoins are moved less, the price stabilizes, and the markets trade on futures instead of coins themselves. The short term is bleaker, and once the scarcity narratives really start making headlines, it might be a good time to check out.
2. The Door Is Open For Another Coin To Fulfill the Dream of P2P Cryptocurrency
Satoshi's original vision was that Bitcoin could be a decentralized system to exchange value on, without relying on institutions he/she saw as fundamentally flawed. Well, that doesn't seem to be happening. Even with upgrades to Bitcoin (SegWit, Lightning), the network and price won't allow for it. It Bitcoin can do these upgrades, it may be faster, but sending the price up just makes it more expensive to maintain its mining infrastructure. If it crashes, consumer trust goes out the window and reliance on it to be an exchangeable currency likely goes with that.
So, BTC stays as store of value (see above) and another coin comes in to be something that I use to pay a friend back for dinner (or pool for March Madness). There are three main contenders right now: Ethereum, Bitcoin Cash, and Litecoin. Personally, I think the replacement is going to be Litecoin.
Let me start by saying that I am still long on Ethereum. But I think that fits an entirely different use case. If Etheruem lives up to its promise, its network will be filled with all sorts of use cases, limiting it (at least in the short term) from being a truly sustainable peer to peer transfer system. Though I will say that the $0.45 fee I paid recently to transfer ETH is a lot more attractive than the BTC fee.
Bitcoin Cash and Litecoin were truly envisioned to be peer-to-peer systems, both modeled after Satoshi's original vision for a currency. And they are strikingly similar. Both propose a coin faster than Bitcoin, with lower fees. And both have lived up to that promise. These coins are so much better than BTC at being transactional that I myself (and may other traders) will convert BTC to one of these and send that to an exchange, only to convert it back to BTC to buy an "alt" coin. There are fees incurred with each of these, but it's still lower than sending BTC itself.
Both coins are actively going after commercial partners, because their aim is adoption, rather than the store of value (or other blockchain use cases). These partners are given the choice of the two coins, as this article demonstrates, with picks being chosen by matters of fractions of cents on fees. No other coin can do this on the scale that these two can.
So why is Litecoin primed to take the spot as the crypto currency that you and I might use as everyday people? One is simple: the name. This seems silly, but it's not. People (or casual crypto investors) have a much harder time understanding the nuanced difference between Bitcoin and Bitcoin Cash and what a "fork" is. Consider this, coupled with the Bitcoin Cash community's drive to become the "real" Bitcoin (yes, this is very much a thing), and the mission of being an adopted currency gets muddled. It's more of a power play than a product. Litecoin is a product. And it has a team behind it that drives it that way.
That's the second reason. Bitcoin Cash uses a decentralized dev team (like Bitcoin), but Litecoin has Charlie Lee and a team behind it, with a roadmap of updates and technology. It's also pushing the kind of technology that would enable it to be consumer-worthy.
This thread walks through some of the other differences between the two blockchains. Litecoin has consistently pushed itself toward being a lightweight and consumer-friendly chain (lightweight protocols like SegWit, for instance).
2018 will be a year where we see Litecoin used in users' personal lives (Bitcoin Cash likely too, but I see this happening more with LTC and getting more press for it). While we see Bitcoin go through that squeeze, we'll see Litecoin enter into the lexicon of economical feasibility — especially with debit cards and Square (NYSE: SQ) coming into the crypto field for consumers to use as spending capital.
(Note: If it's not Litecoin that takes off, it will be because the market has shifted toward more anonymous coins. If that starts to happen, you'll need to keep an eye on Monero, DASH, and ZCash).
Disclosure: I am/we are long BITCOIN, LITECOIN.
I wrote this article myself, and it expresses my own opinions. I am not receiving compensation for it (other than from Seeking Alpha). I have no business relationship with any company whose stock is mentioned in this article.
Editor's Note: This article covers one or more stocks trading at less than $1 per share and/or with less than a $100 million market cap. Please be aware of the risks associated with these stocks.