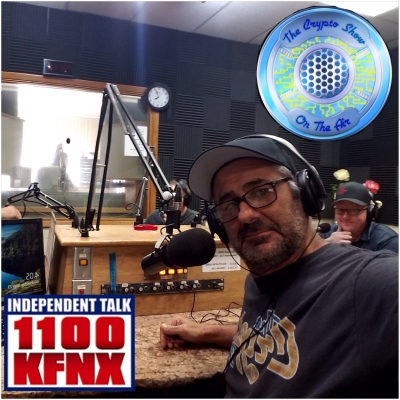 This is our debut on 1100 Am KFNX in Phoenix AZ. We have taken the bold move of going on to a major conservative talk network during afternoon drive. Our goal is to talk crypto basics to the masses. We air live on wed. afternoon 4pm to 5pm pst.
We would love audience participation so feel free to join in (602-277-KFNX) http://1100kfnx.com
A little rough for our 1st episode, it is a new line up and our goal here is to get outside of the echo chamber to reach and create new users of crypto currency. Remember when adoption was everyone's goal?
Well this is that!
 
Sponsored by: Dash, CryptoCompare and Defense Distributed
Links
LogosRadioNetwork
TheCryptoShow
FreeRoss
Social Media
The Crypto Show on Facebook
@The_Crypto_Show
@the_crypto_show instagram
The Crypto Show YouTube
Tip with Crypto
BTC: 139R6K7fxTYaFf2aXTid84Le1ayqMVvSCq
Dash: XoeHNrTMKcLWxZpKfUnDMpRbHFNgFmRrLF
LTC: LUTJtk4QqXLiDkK8pDKK3jM73VVwbp7oSr
BCH: qrf5qmpya8zetcefupdcaew9ch87egl6us7xvrfzh4
ETH: 0x10cfd6916832566e82b3ab38cc6741dfd7e6164fo

Views: 559