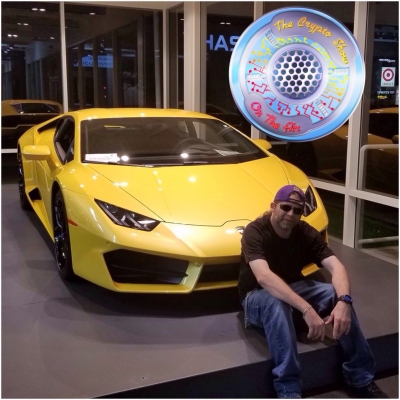 In this episode of The Crypto Show, Danny talks to Jim Blasko about BitcoinTalkRadio.com, Unbreakable Coin, Aspire, Paid Trolls, ICOs and more.
Jim also gives a little insight into the many other projects he's part of as well.
This was a fun episode to make and Jim was very insiring to my son who helped make this episode as well as all of our recent video work on Youtube.
Please check out our Youtube channel and subscribe in the links below.
Hopefully everyone will like the new direction of the show.
Sponsored by: Dash, CryptoCompare and Defense Distributed
Links
LogosRadioNetwork
TheCryptoShow
FreeRoss
Social Media
The Crypto Show on Facebook
@The_Crypto_Show
@the_crypto_show instagram
The Crypto Show YouTube
Tip with Crypto
BTC: 139R6K7fxTYaFf2aXTid84Le1ayqMVvSCq
Dash: XoeHNrTMKcLWxZpKfUnDMpRbHFNgFmRrLF
LTC: LUTJtk4QqXLiDkK8pDKK3jM73VVwbp7oSr
BCH: qrf5qmpya
Sponsored by: Dash, CryptoCompare and Defense Distributed
Links
LogosRadioNetwork
TheCryptoShow
FreeRoss
Social Media
The Crypto Show on Facebook
@The_Crypto_Show
@the_crypto_show instagram
The Crypto Show YouTube
Tip with Crypto
BTC: 139R6K7fxTYaFf2aXTid84Le1ayqMVvSCq
Dash: XoeHNrTMKcLWxZpKfUnDMpRbHFNgFmRrLF
LTC: LUTJtk4QqXLiDkK8pDKK3jM73VVwbp7oSr
BCH: qrf5qmpya8zetcefupdcaew9ch87egl6us7xvrfzh4
ETH: 0x10cfd6916832566e82b3ab38cc6741dfd7e6164fo

Views: 904