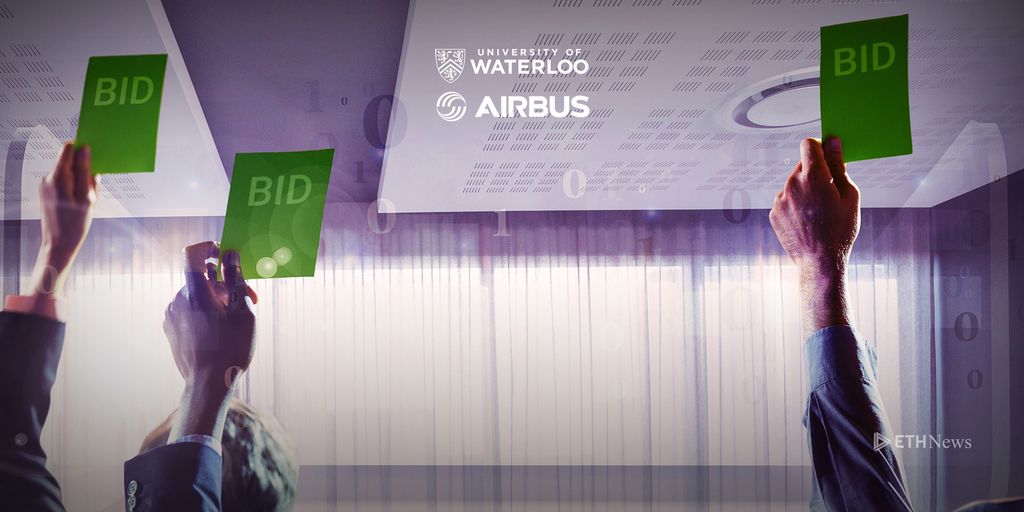 September 25, 2018 11:49 PM
A new blockchain protocol might make the bidding process more secure and fair for all participants.
A researcher at the University of Waterloo, in collaboration with Germany-based aircraft manufacturer Airbus, has developed a blockchain auction protocol intended to guarantee the confidentiality of bids and eliminate the chance of "nepotism and corruption" in auctions, according to a September 24 press release.
The Strain white paper, authored by Florian Kerschbaum, a computer science professor and director of the Cybersecurity and Privacy Institute at the University of Waterloo, and Erik-Oliver Blass, Ph.D. and researcher for Airbus, describes the problem. The paper states that "blockchains offer transparency and integrity features which could make them ideal for hosting auctions," but that "today's blockchain transparency features disqualify them in scenarios where input data must remain confidential."
Strain, a protocol to be housed on the Ethereum blockchain, addresses the problem with zero-knowledge (ZK) proofs, which allow the order of bids to be made public, but do not show the amount bid, or the identity of the bidders or supplier.
The protocol also boasts low latency. According to the white paper, the "ZK proofs allow everybody to verify correctness … in only 3 blocks (totaling 4 blocks for the entire Strain protocol)."
The next step, according to the press release, is to increase the security of the Strain protocol and open it up to more vendors. So far, the blockchain tool has only been tested in small, closed groups.
This is not the first time blockchain technology has been used in auctions. In June, ETHNews reported that the Dadiani Syndicate, which is the first fine art gallery in the UK to accept payments in crypto, was using the Maecenas blockchain platform to auction "fractional ownership" of Andy Warhol's famous "14 Small Electric Chairs." And, in July, it was reported that a blockchain poetry auction was created at the Hong Kong NIFTY conference and hackathon.
Nathan Graham is a full-time staff writer for ETHNews. He lives in Sparks, Nevada, with his wife, Beth, and dog, Kyia. Nathan has a passion for new technology, grant writing, and short stories. He spends his time rafting the American River, playing video games, and writing.
ETHNews is committed to its Editorial Policy
Like what you read? Follow us on Twitter @ETHNews_ to receive the latest Florian Kerschbaum, Erik-Oliver Blass or other Ethereum technology news.