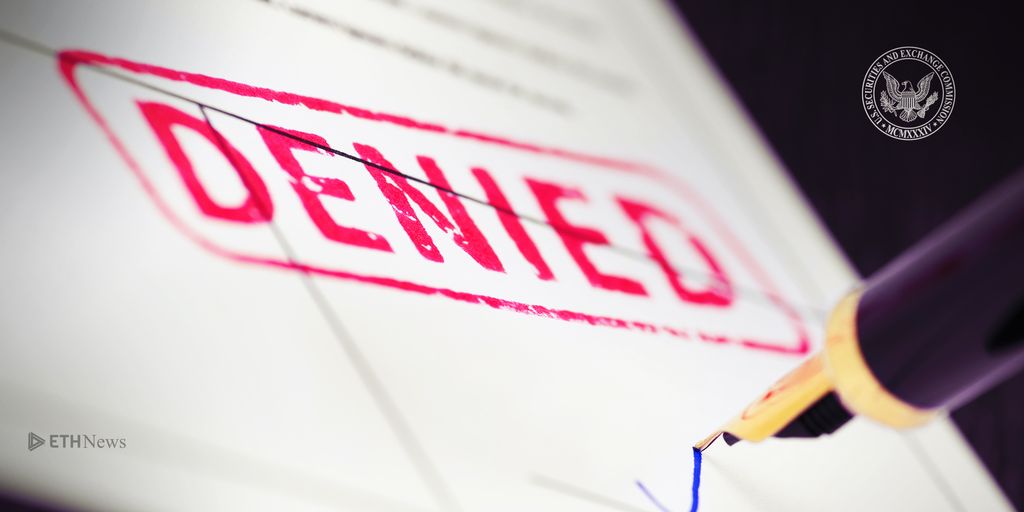 ProShares, Direxion, and GraniteShares were all denied for the same reason.
UPDATED | August 23, 2018 (4:40 pm)
According to tweets from SEC Commissioner Hester Peirce on August 23, the decision to deny nine ETF proposals from three different companies is under review. In her tweets, Commissioner Peirce stated that it was not the SEC commissioners who actually denied the ETF proposals. Instead, they delegated that responsibility to SEC staff, namely, the Division of Trading and Markets. Commissioner Peirce included a letter written by Secretary Brent Fields and addressed to the New York Stock Exchange (NYSE) in which the secretary explains, "In accordance with Rule 431(e), the August 22 order is stayed until the Commission orders otherwise." 
---
ORIGINAL | August 23, 2018
Yesterday, the Securities and Exchange Commission (SEC) rejected nine different proposals for bitcoin-related exchange traded funds (ETFs) from ProShares, Direxion, and GraniteShares.
Notably, all three companies were denied for the same reason. The SEC said that the companies failed to prove that their ETFs would adhere to SEC requirements and were designed to prevent fraud.
The below excerpt is from the SEC order disapproving the ProShares ETF, but the denials for Direxion and GraniteShares were worded similarly.
"Although the Commission is disapproving this proposed rule change, the Commission emphasizes that its disapproval does not rest on an evaluation of whether bitcoin, or blockchain technology more generally, has utility or value as an innovation or an investment. Rather, the Commission is disapproving this proposed rule change because, as discussed below, the Exchange has not met its burden under the Exchange Act and the Commission's Rules of Practice to demonstrate that its proposal is consistent with the requirements of the Exchange Act Section 6(b)(5), in particular the requirement that a national securities exchange's rules be designed to prevent fraudulent and manipulative acts and practices."
The rejection of these nine ETFs comes only weeks after the Winklevoss bitcoin ETF was denied – a decision SEC Commissioner Hester Peirce strongly disagreed with.
Nathan Graham is a full-time staff writer for ETHNews. He lives in Sparks, Nevada, with his wife, Beth, and dog, Kyia. Nathan has a passion for new technology, grant writing, and short stories. He spends his time rafting the American River, playing video games, and writing.
ETHNews is committed to its Editorial Policy
Like what you read? Follow us on Twitter @ETHNews_ to receive the latest ETF, Exchange Traded Fund or other Ethereum business and finance news.