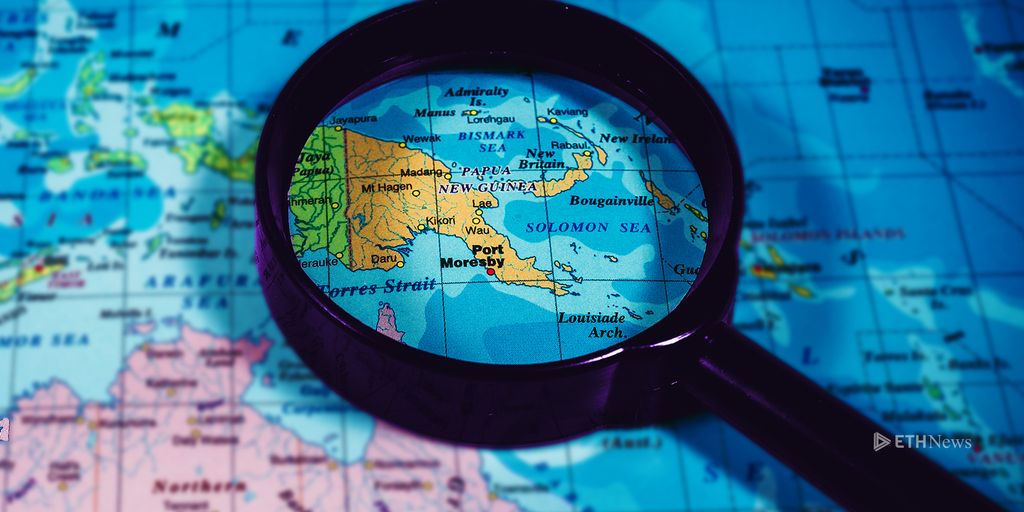 Ledger Atlas, a blockchain firm recently launched by mentees of billionaire venture capitalist Tim Draper, has signed an agreement to "develop and operate" a special economic zone in Papua New Guinea.
A US-based blockchain company has signed a Memorandum of Understanding (MoU) stating that it will operate and devise the rules for a soon-to-be-established special economic zone within Papua New Guinea.
Ledger Atlas co-founder Jack Saba told ETHNews that the firm will also act as a "participant" in the special economic zone, which will function as a "free market that pushes all [participants] to provide the best possible [blockchain-based] services." The company hopes to grow the zone into a "stable ecosystem," in part by enlisting the cooperation of several government agencies.
The team behind the blockchain-focused startup is seeking investments from local and overseas parties and will allow participants to use any blockchain platform they choose.
Background
The Pacific island nation of Papua New Guinea is home to some 8 million people, many of whom practice agrarian lifestyles. Known for their cultural diversity, the country's citizens speak around 700 languages. A significant share of the nation's revenue comes from mining, natural gas extraction, and wood products. In the World Bank's estimation, the government's tendency to offer unusually low tax rates to some companies in these industries contributes to the relatively small size of the country's GDP, measured at just over $30 billion last year.
Ledger Atlas's other co-founder, Shane Ninai, who hails from Papua New Guinea, had previously founded another company with Saba: the venture capital firm Day One Investments.
Billionaire venture capitalist and crypto-enthusiast Tim Draper, who has been mentoring the young men since before Day One came into being, apparently lauded the decision to launch Ledger Atlas and pledged financial support for the project.
Why PNG?
Earlier this year, Charles Abel, the country's deputy prime minister and minister for treasury, spoke publicly on some challenges that Papua New Guinea faces following its integration into the global economy during the 19th and 20th centuries.
"In reality," he noted, "savings is not really part of our culture, we tend to be people that share everything." In other words, "it is unnatural for us to horde wealth. It is a western concept and is one of the reasons that has made it difficult for our people to be successful in business."
While he admitted that prioritizing individual financial security over communal needs may run counter to "the Melanesian way," Abel touted the importance of saving money so that, among other things, Papua New Guineans who grow old can have the option to retire.
One significant obstacle to this goal: "85% of the low income population are living in rural areas and do not have access to formal financial service," according to the Bank of Papua New Guinea's website.
This lack of access to financial resources is one of the issues that Ledger Atlas hopes to address. As Ninai said, some of the company's work will focus on supporting the creation of "opportunities … to solve problems such as financial inclusion."
Financial inclusion, though, is only part of what the company intends to offer residents of the zone.
In March 2017, Ninai was already discussing the establishment of "regulatory sandboxes" in Papua New Guinea. At that time, he remarked, "Informal and alternative economies and governance systems … are deeply ingrained in our culture and are still alive and well" in the country. By way of example, he related that certain culturally significant goods, such as pigs or shell necklaces, are valued in ways that cannot be understood in purely economic terms, even though they play a role in local commerce.
Rather than "trying to fit the unbanked into a narrow financial system," he said, "blockchain allows us to create and capture these alternative economic systems that bypass normal markets." Last summer, he suggested that majority-unbanked communities might be the best source of ideas for impactful blockchain use cases.
In recent comments to ETHNews, Ninai explained that Ledger Atlas has "a community outreach and engagement plan that consists of working with local community leaders and entrepreneurs to learn about traditional forms of social, economic, and political activities that may be enhanced by implementing Blockchain technologies." Put another way, he believes that blockchain platforms, which many Papua New Guineans could theoretically access through mobile devices, have the power to support community-generated solutions on a large scale.
All the same, there should be no doubt that engagement with the global financial system is one of the initiative's top goals. As Ninai said, the "special economic zone will be designed to maximize blockchain innovation, emerging technologies, and drive foreign direct investment." If all goes according to plan, it will eventually develop into a global blockchain hub. 
In the Special Economic Zone
The precise location and population of the special economic zone have yet to be determined, although Ninai confirmed that it will be established on an island in Finschhafen Open District, Morobe Province. He said that Ledger Atlas has "shortlisted locations with the local Government and will be finalizing this soon." Previously, he had considered East New Britain Province, where shell money is still used as a form of currency, as a potential site for piloting a blockchain initiative.
While many details of the project are still being worked out, the language of the MoU offers a sense of what Ledger Atlas's role in the zone will be:
 "The agreement allows for Ledger Atlas to create a Special Economic Zone for Blockchain technology. This Special Economic Zone is intended to serve as a global financial center for all Blockchain activity. This will be done in partnership with the Government of [Papua New Guinea] … and the local district government. Ledger Atlas will develop this into a commercial global Blockchain and Innovation Hub under the leadership of Ledger Atlas in partnership with the [government of Papua New Guinea] and [the district parliamentarian.] The Special Economic Zone will be designed to maximize Blockchain innovation, emerging Technologies and drive Foreign Direct Investment … Ledger Atlas will fully develop and operate this Special Economic Zone."
Even without a location nailed down, the company has begun "doing feasibility studies and master planning to finalise the design of the zone," according to Ninai, who sees Ledger Atlas as striving to "create a home for the blockchain community, by the blockchain community."
Movers and Shakers
Ninai told ETHNews that Rainbo Paita, the member of parliament for Finschhafen Open District, "is responsible for helping us to coordinate the operations" in the zone. The MP "has been appointed as one of the lead Government representatives on this specific project," as has central bank governor Loi Bakani.
Deputy PM Abel, whose Ministry of Treasury will work "closely" with Ledger Atlas, also instructed Bakani to "consult with Ledger Atlas" on the zone's design. The banker and Ninai are the co-chairs of "a new board for the creation of this Special Economic Zone."
In addition to the central bank, Ninai says, the Investment Promotion Authority will advise Ledger Atlas on "the design of the zone and rules and regulations."
Abel, Paita, and Sam Basil – Minister for Communications, Information Technology, and Energy – signed the MoU on behalf of the government, Ninai said. He added that Abel, Paita, and Bakani had flown to Silicon Valley in 2017 to discuss the project with stakeholders. A local news source also reported Morobe Province Governor Ginson Gohehu Saonu as a signatory to the MoU.
Speaking of the document, Abel said:
"Essentially we're just signing at understanding at no cost to the government, apart from some contributions from the [District Support Implementation Program] from Finschhafen, at the cost primarily from the investor to come in and do this feasibility. We will consult through the Bank of PNG and the Department of Commerce, and Department of Treasury, and they will jointly develop the concept which they will bring to cabinet."
Paita, in his comments on the project, appeared less reserved: "We believe with this zone we are positioning ourselves for success. We are a small country, but that does not mean we shouldn't take bold and calculated risks."