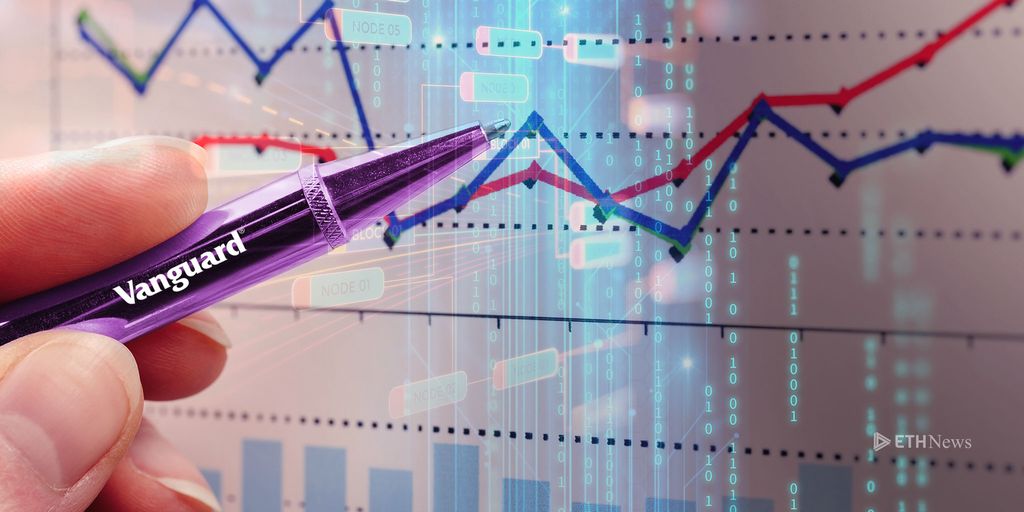 December 12, 2017 10:32 PM
This week, the Vanguard Group ($4.8 trillion in assets under management) announced its collaboration with Symbiont and CRSP on blockchain-based index data sharing. If their pilot is successful, automation of CRSP index data and intra-day updates will occur over a private blockchain network in early 2018.
With close to $5 trillion in assets under management, the Vanguard Group is widely considered the gold standard by low-cost, passive investment strategists. This week, the financial behemoth announced its partnership with Symbiont and the Center for Research in Security Prices (CRSP) "to simplify the index data sharing process through innovative blockchain technology."
At present, Vanguard manages 17 funds based on CRSP indexes, including the $650 billion Total Stock Market Index Fund (VTSMX), according to Reuters. Over the last few months, CRSP, a provider of historical stock market data working out of the University of Chicago's Booth School of Business, has distributed daily index data to Vanguard through Symbiont's blockchain platform in a "testing environment."
"Delivering the data via a blockchain and automating workflows with smart contracts has served to expedite data delivery, eliminate the need for manual updates, and reduce risks," said Vanguard in its press release.
Warren Pennington, principal and global head of Vanguard's Office of Investment Management FinTech Strategies, said:
"Using this platform, investment managers will be able to instantly distribute, receive, and process index data, resulting in better benchmark tracking and significant cost savings that potentially results in better returns for our clients."
David Barclay, COO of CRSP, remarked upon the importance of quickly and accurately sharing pricing data: "Secure, timely, and reliable controlled distribution of highly sensitive and time-critical information is essential to the continued evolution of the investment and financial services environment."
Founded by Jack Bogle in 1974, the Vanguard Group famously pioneered low-cost index funds. As of October 2017, the company has nearly $5 trillion in global assets. For comparison's sake, as of writing, the entire cryptocurrency market is valued at $492 billion – for now, Vanguard is worth about 10 times more. Despite its size, Vanguard is demonstrating that it's on the cutting edge of financial technology.
Pertinent to the development of blockchain-based index pricing data is Delaware's Senate Bill 69, signed into law by Governor John Carney in July 2017. The statute paved the way for "distributed ledger shares," a development that could have broad implications for investment management.
Financial professionals must consider how blockchain could alter their profession. As investors turn toward passive investment strategies, perhaps blockchain-based shares could change the role of investment management companies altogether.
Also important to keep in mind is that Vanguard's blockchain strategy does not equate to an endorsement of cryptocurrency.
In fact, late last month, at a Council on Foreign Relations event, Bogle had harsh words for bitcoin. Responding to an audience question, he said, "Avoid bitcoin like the plague. Did I make myself clear?"
"Bitcoin has no underlying rate of return," he explained. "You know bonds have an interest coupon, stocks have earnings and dividends, gold has nothing. There is nothing to support bitcoin except the hope that you will sell it to someone for more than you paid for it."
 "Bitcoin may well go to $20,000 but that won't prove I'm wrong," added Bogle. "When it gets back to $100, we'll talk."
Matthew is a writer with a passion for emerging technology. Prior to joining ETHNews, he interned for the U.S. Securities and Exchange Commission as well as the OECD. He graduated cum laude from Georgetown University where he studied international economics. In his spare time, Matthew loves playing basketball and listening to podcasts. He currently lives in Los Angeles. Matthew is a full-time staff writer for ETHNews.
ETHNews is commited to its Editorial Policy
Like what you read? Follow us on Twitter @ETHNews_ to receive the latest Vanguard, Jack Bogle or other Ethereum business and finance news.