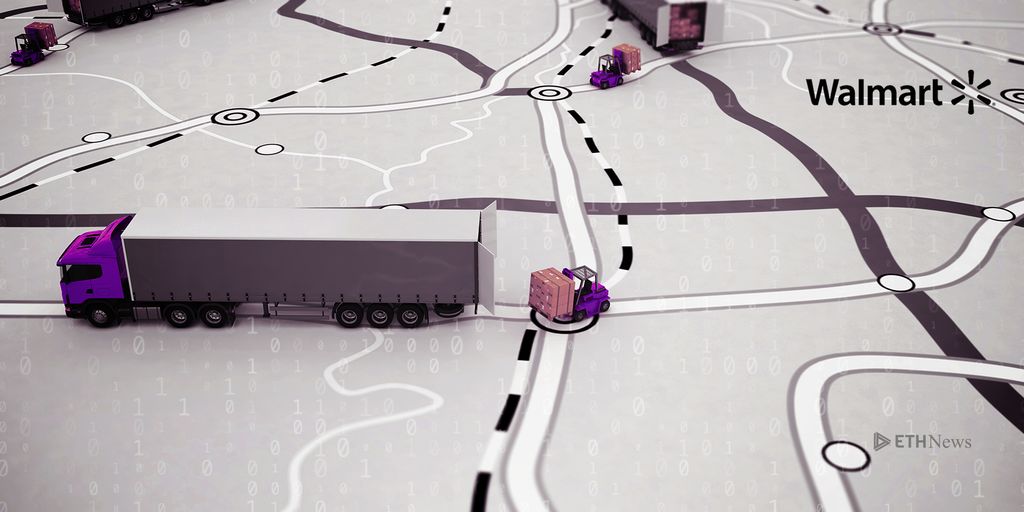 The big box retailer has been making forays into blockchain technology to improve its supply chain. This latest patent may be a bid to compete with Amazon to get goods straight to customers.
Multinational retail behemoth Walmart filed an application for a patent in October 2017 that was published May 10, 2018, which hints at a possible use case for blockchain technology. The system may involve autonomous ground delivery vehicles that would be given access codes to automatically gain entry to secure areas, negating the need for an in-person recipient.
"Products delivered to a home address and left on the property of the customer when the customer is not home (e.g., at work) may be stolen and/or damaged (e.g., by people or weather) before the product is picked up by the customer," the US Patent and Trademark Office application reads. "While it is not uncommon for residences to have restricted access areas protected by gates/doors where the product or products being delivered may be dropped off by the delivery service, such gates/doors typically require an access code that the delivery services do not have and thus cannot access such restricted areas."
ETHNews reached out to Walmart's corporate office for comments but did not receive a response by time of press.
Walmart's application may be a competitive response to services that are available from Amazon.com. Amazon offers both Amazon Key, which includes a keypad door lock that would allow Amazon delivery drivers temporary access to customers' houses; and Amazon Key In-Car, which would open your car's door or trunk for a delivery person. Both are being billed as ways to allow secure delivery of packages without requiring that a recipient be present.
The proposed invention may also be related to Walmart's push to retrofit its supply chain processes with blockchain technology. The retailer announced it was testing blockchain traceability for food safety last May, and Bloomberg reported on April 23 that it was ready for a live run. Arguing that the implementation will reduce waste and contamination, the company is claiming the technology will cut produce tracking from six days to two seconds.
Walmart has been testing IBM's Blockchain-as-a-Service (BaaS) platform since 2016 and is part of an IBM blockchain consortium, which includes Dole, Driscolll's, Kroger, McCormick and Company, Nestle, Tyson Foods, and Unilever, among others.
Frederick Reese is a politics and cryptocurrency reporter based in New York. He is also a former teacher, an early adopter of bitcoin and Litecoin, and an enthusiast of all things geeky and nerdy.
ETHNews is committed to its Editorial Policy
Like what you read? Follow us on Twitter @ETHNews_ to receive the latest Walmart, patent or other Ethereum business and finance news.