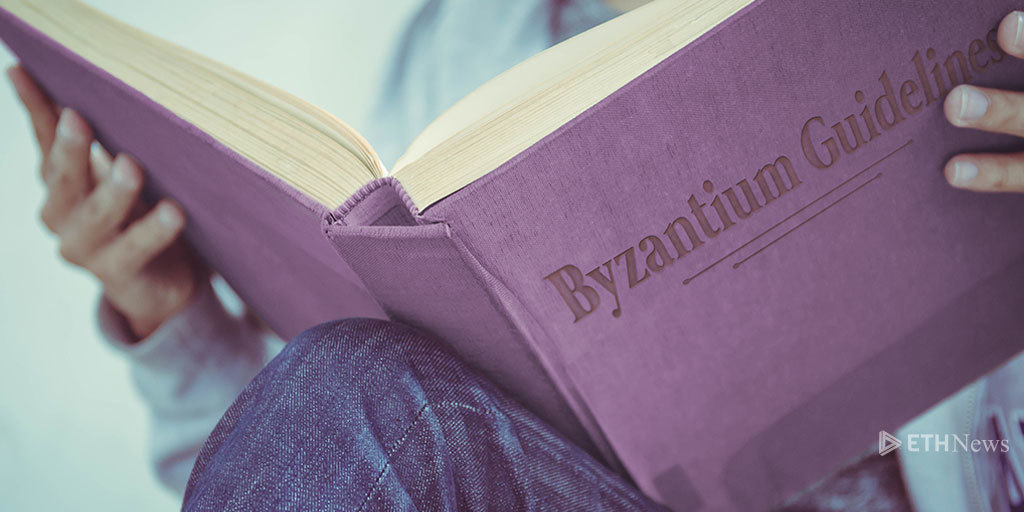 ecosystem

A reminder to Etherians one and all; the Byzantium hard fork is around the corner.
Fast approaching is the impending Byzantium hard fork, set to take place at block number 4,370,000 on the Ethereum mainnet.
While Hudson Jameson had previously substantiated to ETHNews that the aforementioned block is expected to be confirmed on or around October 17, a recent update from the Ethereum Foundation more accurately indicates that the planned hard fork will happen "between 12:00 UTC and 13:00 UTC, Monday, October 16, 2017," at which point, a number of so-named Byzantium Ethereum Improvement Protocols (EIPs) will be implemented. The Byzantium fork will be the fifth to occur on the Ethereum blockchain and is expected to be adopted without much trouble, given its long history of public facing development.
As the first phase of the Metropolis upgrade to be rolled out, Byzantium will improve gas expenditures and network speed, resolve issues with executable distributed code contracts, and (of note to miners) delay the Ice Age difficulty bomb by 18 months while reducing the block rewards to three Ether in a bid to ween the ecosystem away from proof-of-work. It is a scenario in which miners are likely to see a slightly higher payout since blocks will be confirmed faster but at a diminished reward.
Who will this upgrade affect most? In the short run, every Ethereum client needs to adopt the Byzantium EIPs for the fork to go smoothly. On October 11, Parity released an update that included a critical consensus-relevant fix pursuant to the fork. Miners and platforms utilizing disparate programming languages that interface with the blockchain must adopt the EIPs to maintain compatibility.
The Foundation recommends that users download the latest version of the Ethereum client and have provided a series of links:
Latest version of Ethereum Wallet/Mist.
Latest Geth client (v 1.7.1)
Latest Parity client (v 1.7.6)
Latest Harmony client (v 2.1.0)
Wallet providers may need to update for the hard fork as well, so users are encouraged to check in with those providers and third-party mobile applications that store Ether or process transactions to see what steps those services are taking in advance of the hard fork, and what steps users might also need to take.
Dapp developers are reminded that the upgrade will bring with it a change to the manner in which failed transactions are detected, including those for contracts implemented prior to the Byzantium hard fork. Post fork, command "eth.getTransactionReceipt(…)" will return a status field of either 0 or 1, indicating a failed or successful transaction, respectively.
While the ecosystem continues to evolve in a highly technical space, the Ethereum Foundation warns that there will be risks, such as unforeseen bugs, and that by implementing these changes, users are assuming those risks. That being said, the development of the Byzantium protocol has been quite public and the team backing it has been swift to act in preservation of the ecosystem in the past.
In the event of a critical bug, communication will ensue through the Ethereum Foundation Blog, and the Ethereum Foundation Twitter account.
Jeremy Nation is a writer living in Los Angeles with interests in technology, human rights, and cuisine. He is a full time staff writer for ETHNews and holds value in Ether.