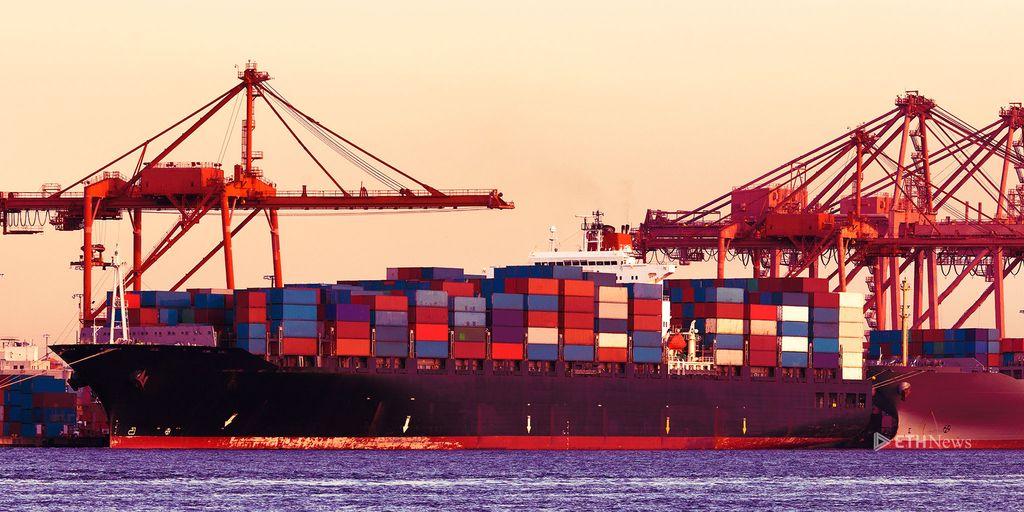 November 24, 2017 2:10 PM
Global shipping conglomerate ZIM has piloted a blockchain-based paperless bill of lading, joining the ranks of shipping logistics companies like Maersk and UPS that are seeking to simplify their systems.
Shipping logistics is an extraordinarily Balkanized and Babel-style construct that lashes together the delicate, rusty inner workings of vast numbers of coordinators, facilitators, producers, and transporters across the globe, all with different technology, some of it decades old. It's a Rube Goldberg machine funneling a cargo of ill-fitting dresses from China to the Bible Belt via trucks with burnt-out clutches and empty promises from Wish.com.
Blockchain technology, with its ability to instantaneously update the status of data across its platform, is an ideal choice for tracking the movement of goods. Its immutability and transparency would make it nearly impossible to lose track of shipments, for counterfeit goods to enter the market undetected, or for delays to occur while waiting for paperwork to be processed between disparate systems.
Now, global shipping conglomerate ZIM Integrated Shipping Services Ltd. has collaborated with SPARX Logistics and Wave Ltd. to pilot a blockchain-based paperless bill of lading – a legally binding receipt of cargo shipped by a carrier. The bill of lading is a storied form of document dating to the early centuries of maritime transport, detailing the type, quantity, origin point, and destination of the cargo and containing contractual terms for that cargo's transport. The original paper form of this document often has to be physically delivered via courier to the recipient of the goods – a laborious process to say the least.
ZIM and Wave aren't the first to expedite logistics using blockchain tech. Maersk, another global shipper, entered into a partnership with IBM earlier this year to streamline supply chain management and reduce the ridiculous paper trail associated with shipping container transport. IBM's own research found gross inefficiencies across the globe: "Just a simple shipment of refrigerated goods from East Africa to Europe can go through nearly 30 people and organizations, including more than 200 different interactions and communications among them."
Currently, international shipments require a sign-off from a cavalcade of actors – banks that provide up-front funding for goods in the form of a loan to be paid when the goods are sold; insurers covering anything that might happen to the goods; customs agents, who must check and verify the contents of the shipment; mortgage and lien providers to the banks and insurers; and, of course, the shipper, carrier, and receiver. "An electronic substitute to the traditional Negotiable Ocean Bill-of-lading has been the industry's Holy Grail for many years," admitted ZIM in a statement explaining the new program.
Wave, an Israeli startup that employs a blockchain to structure shipping nodes and checkpoints, created the application ZIM is using to synchronize the tracking of goods. "Using decentralized technologies, all communication between these parties will be direct and will not pass through a specific central entity," says Wave's CEO Gadi Ruschin.
ZIM's announcement went on to explain, "The new blockchain-based system developed by Wave uses distributed ledger technology to ensure that all parties can issue, transfer, endorse and manage shipping and trade related documents through a secure decentralized network."
In the same vein as ZIM and Maersk, UPS recently announced its membership in the Blockchain in Trucking Alliance (BiTA), a forum for the development of blockchain standards and education for the freight industry. According to UPS, a blockchain-backed system "would help by improving transaction accuracy and by replacing existing paper-heavy and manual processes."
As these entities advance their own blockchains to facilitate the incorporation of data across their own networks, it can be hoped that they will maintain their openness to sharing and collaboration (for example, Wave's application is currently free). Idealistically, they may even progress toward a goal of aligning their proprietary platforms: perhaps Wave's bill of lading tool could assist UPS's "work in the field of customs brokerage," or IBM/Maersk's supply chain Hyperledger tech could incorporate paperless bills of lading a la ZIM. 
In the meantime, your wish.com delivery of a blanket shaped like a mermaid tail will still take two months to reach you and will still be half as large as it appeared in the photos.
Lucinda Michele Knapp is a journalist with over fifteen years of experience covering tech, art, and culture in Los Angeles. Her articles have appeared in the Los Angeles Times, Variety, and Out Magazine among others. She spins fire, dispenses grammar advice, and knows kung fu.
ETHNews is commited to its Editorial Policy
Like what you read? Follow us on Twitter @ETHNews_ to receive the latest ZIM, blockchain or other Ethereum application news.