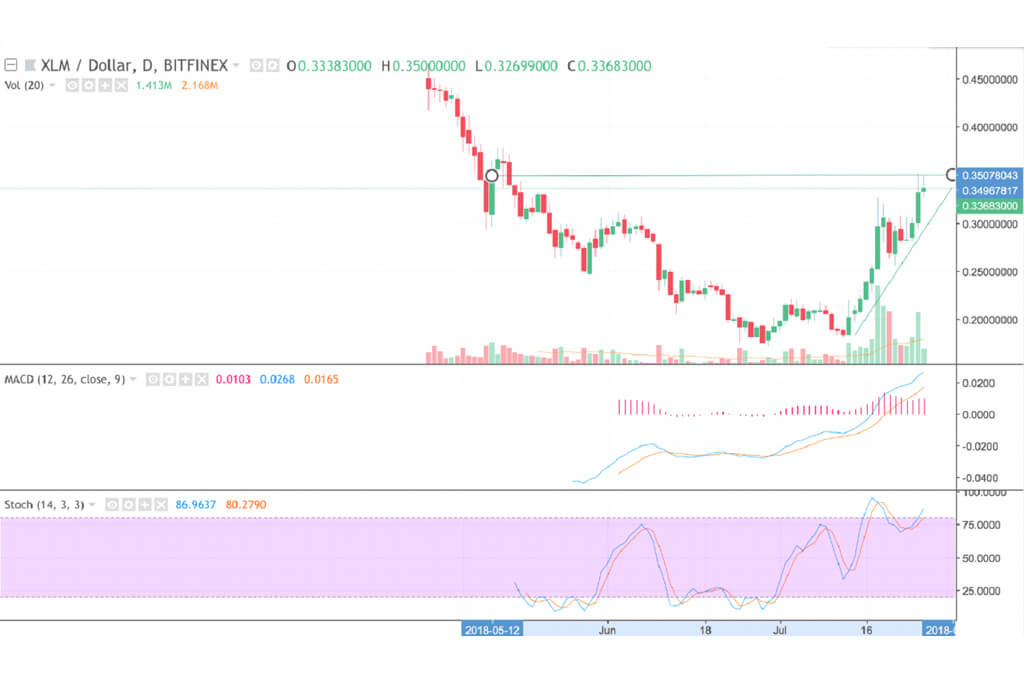 Costing $0.3347 on Thursday, July 26, Stellar continues to grow, but its growth rate has slightly slowed down, reports Dmitriy Gurkovskiy, Chief Analyst at RoboForex.
Stellar can rise and break out the key resistance at the level of 0.3500 as can be easily seen on the time chart. At the same time, we cannot exclude that Stellar may head down towards intermediate support at 0.3078 and 0.3000. If the correction impulse continues, it can press Stellar down even more and make it step back to 0.2940.
The current growth phase for Stellar is the most sustained (it started on July 13) during its entire circulation time. With such an input, one cannot exclude the possibility that the investors, having played all the important fundamental data, will allow the cryptocurrency to consolidate for a while, and then, if no support of the same strength appears, Stellar will begin to head down.
Thus, the key support level for Stellar lies at 0.3500, within the range between 0.3075-0.3078. The important resistance is at 0.3500. On the daily chart, the MACD keeps on rising and is in the positives, issuing a buy signal. Stochastic resumes the growth in the positives and issues a signal to buy.
During the past week Stellar has grown for more than 13% with the news that the Coinbase cryptocurrency platform is getting ready to list this virtual currency. This could provide support for Stellar and quickly make it one of the most promising and dynamically growing altcoins.
Interestingly, it was not yesterday that the news, which are positive for Stellar, came. However, the investors, apparently, had been delaying the purchases, but after the serious fluctuations of Bitcoin, they finally approached Stellar as well. This week the traded value of Stellar has grown at Bitfinex. Collectively, from the minimums tested in June this year Stellar has gained more than 40% of weight.
The inclusion of Stellar by the Coinbase, along with the objectives that the company has set for itself for the next year, can make Stellar one of the most demanded virtual currencies. Meanwhile by its capitalization level, Stellar ranks the 6th.
Alongside this, the information on the inclusion of Stellar in the list of trading cryptocurrencies by BitIra platform is also positive. One more positive factor of support for Stellar is the information on the use of Stellar by IBM computer holding for the creation of a pair with stablecoin. Any use of virtual currencies outside the trading exchange creates a positive support for them.
Disclaimer: Any predictions contained herein are based on the authors' particular opinion. This analysis shall not be treated as trading advice. RoboForex shall not be held liable for the results of the trades arising from relying upon trading recommendations and reviews contained herein.